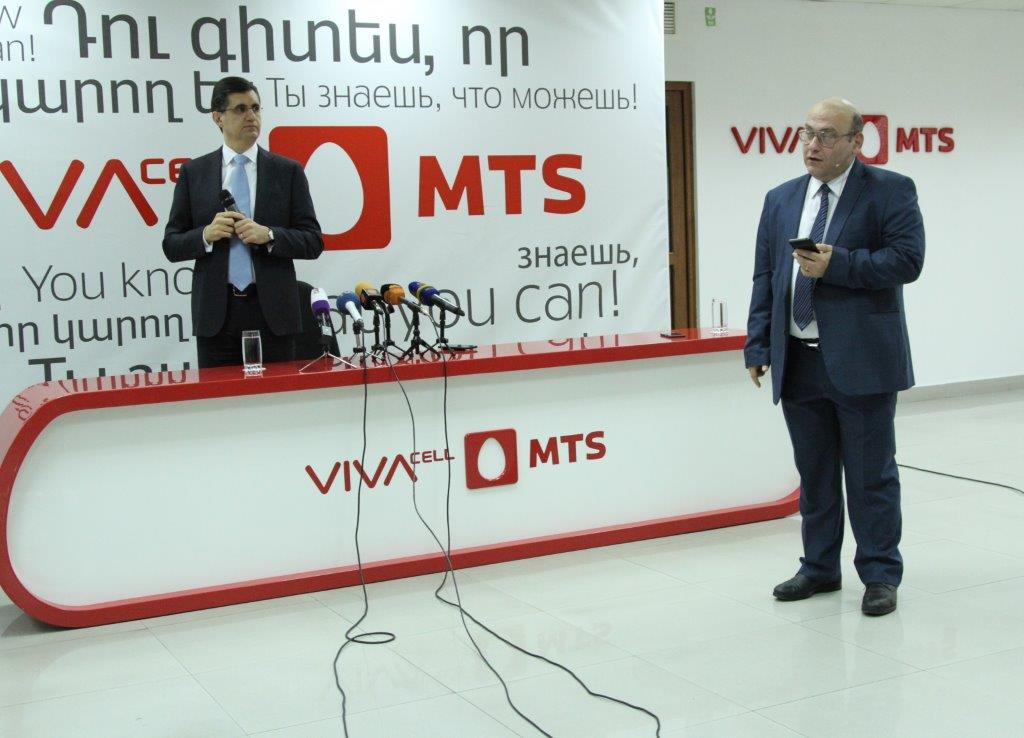 08/12/2017 16:44
Vivacell-MTS: "Wi-Fi Calling" when abroad: make and get on-net calls like in Armenia, without roaming and messengers
The IMS platform deployed by VivaCell-MTS will make Wi-Fi Calling and VoLTE (transmission of voice signal over 4G network) services available for its subscribers
VivaCell-MTS announces the pilot launch of the "Wi-Fi Calling" service introduced in Armenia for the first time. The main feature of "Wi-Fi Calling" is that it allows subscribers who access the service outside Armenia, to make and receive on-net calls within their tariff plan, and subscribers using the service in Armenia, to make and receive on-net calls, calls to and from other GSM and fixed networks, as well international destinations within their tariff plan. To that end, they only need to be connected to Wi-Fi, irrespective of their location.
"Wi-Fi Calling" service does not require roaming activation or installation of special applications, like various messengers (Viber, WhatsApp, Skype, etc.). Besides, unlike messengers, the calls made over Wi-Fi are registered in the phone address book/history, and the subscriber can dial the phone number in the regular format.
"Wi-Fi Calling" service is especially comfortable for the subscribers travelling abroad, who often visit places where the mobile network is loaded, weak, or not available at all. With "Wi-Fi Calling" service, VivaCell-MTS subscribers can make and get calls in hotels, trade and entertainment centers, in underground and train stations, in trains, shops, markets, cafes, play centers and underground locations, where Wi-Fi network is available, as a rule.
""Wi-Fi Calling" service is economically beneficial for the subscriber who is abroad, as the latter does not have to activate the roaming or buy a SIM-card from an operator outside Armenia: he will just use the embedded on-net airtime provided by his tariff plan," said VivaCell-MTS General Manager Ralph Yirikian.
Another advantage of the service is that the caller or the subscriber receiving the call do not have to keep the internet turned on, or download applications and update the existing ones, like they do when making calls via a messenger.
To use the "Wi-Fi Calling" service, the subscriber needs to have the Wi-Fi calling function in the smartphone, installed and activated by the manufacturer.
Ralph Yirikian noted that in order to use the service one needs to activate "Wi-Fi Calling" function in the smartphone settings, then choose calling via Wi-Fi network as the default call mode. After completion of these steps, even if the subscriber is registered in the mobile network, as soon as the smartphone connects to Wi-Fi, the call will be automatically made in "Wi-Fi Calling" mode. The active status of the service is indicated on the top of the screen.
Wi-Fi Calling (or Voice-over-Wi-Fi) and Voice-over-LTE or VoLTE (voice transfer over LTE/4G networks) services are based on the transmission of voice over IP protocol. The abovementioned services utilize IMS (IP Multimedia Subsystem) technology that has been deployed at VivaCell-MTS. The connection time of a call made via "Wi-Fi Calling" and VoLTE takes several seconds. Upon the completion of system upgrade works, implemented by VivaCell-MTS, voice signals currently delivered via 2G and 3G networks, will be transferred over 4G, which will allow subscribers, that actively use Internet at high speeds via 4G network, to continue seamlessly using the 4G network when getting or making calls, without the necessity to switch to 3G. VoLTE also provides HD sound quality.
AMD Rates
10:36 18/05
Buy
Sell
AMD / USD
479.00
481.00
AMD / EUR
533.00
538.00
AMD / RUR
7.38
7.47
dollars
dollars
BTC/AMD
3,825,729
+10.00%
BTC/USD
7974.92128217
+10.09%
ETH/USD
251.746204425
+5.09%
BCH/USD
405.053482561
+12.38%
XRP/USD
0.4002510368
+5.22%
LTC/USD
91.6196287408
+3.57%
BTC
141,244,724,020
+10.13%
ETH
26,720,971,613
+5.13%
BCH
7,206,716,625
+12.42%
XRP
16,863,901,298
+5.22%
Molybdenum
26896.00
+0.00%
Dow Jones
25764.00
-0.38%
Hang Seng
27787.61
-0.57%
CBA Interest Rates
Refinancing
Refinancing Rate
5.75
+0.00
Lombard Repo
Lombard Repo Rate
7.25
+0.00
Macroeconomy
CEA
Coefficient of Economic Activity
+5.80%
Ind. Prod.
3
Volume of Industrial Production
1,737.7
+4.30%
Avg. Salary
2
Average salary
172,357
+3.80%
Services
3
Volume of services
1,764.7
+18.80%
Construction
3
Volume of construction
422.3
+4.50%
1 - mln AMD, 2 - AMD, 3 - bln AMD