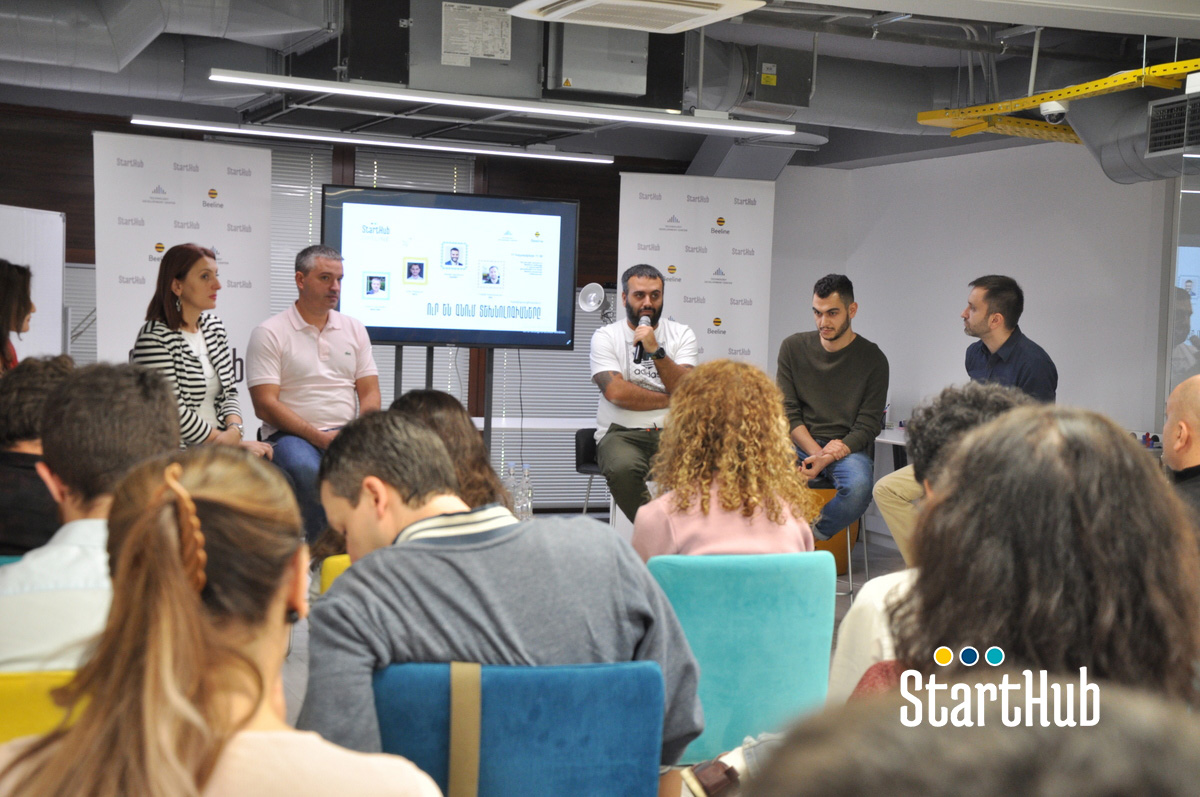 18/10/2018 10:11
The future of technologies – another Starthub Offline discussion held with the support of Beeline
Another Starthub Offline meeting-discussion took place on October 17 in the sidelines of the joint project of Beeline and Technological Development Center Fund called "Starthub Armenia". Starthub Offline is a series of events during which the representatives of start-ups meet and hold discussions with leading IT companies.
The meeting was headlined "The future of technologies".
The speakers were Andrey Pyatakhin, CEO of Beeline Armenia, Areg Gevorgyan representing Innovation Solutions and Technology Center (ISTC), Davit Baghdasaryan representing 2Hz, and IT expert Georgy Avanesov.
During the meeting the speakers shared their views with the guests on expected innovations in the sphere of technologies, new security challenges, Armenia's potential in technological innovations, and the importance of being able to make quick and correct decisions, as well as permanently learning in the technological world.
"For the success of any business one needs competitive advantages. In the case of start-ups these advantages are mainly technological innovations. In this sense it's extremely important that the Armenian start-ups are able to catch the development tendencies of the technological world and try to offer solutions in the newly developing directions.
During the meeting we also talked about the importance of having skillful specialists of future technologies, highlighting the organization of dynamic and effective educational programs", chairman of the board of Center for Technology Development Samvel Chakhalyan said.
"It's already a must to think about the technologies of the future and it's the only way not to lag behind. I am confident this and other meetings will allow us to review our visions and projects for developing them more actively. I also hope that the Armenian start-ups will take into account the opinions of the experts for making their projects more attractive and useful for the public", CEO of Beeline Armenia Andrey Pyatakhin said.
Please, go to www.starthub.am website or Starthub Armenia facebook page to follow the process of StartHub Armenia project and being informed about the upcoming meeting-discussions.
Ucom
- broadband connection starting at AMD 6,000
AMD Rates
08:41 22/10
Buy
Sell
AMD / USD
475.00
476.50
AMD / EUR
528.00
533.00
AMD / RUR
7.43
7.50
dollars
dollars
BTC/USD
8237.90219686
-0.32%
ETH/USD
174.678311383
-0.30%
BCH/USD
231.74021265
+2.56%
XRP/USD
0.2964523711
+1.82%
LTC/USD
54.9829991785
+0.85%
BTC
148,333,619,339
-0.31%
ETH
18,908,302,546
-0.28%
XRP
12,819,387,112
+1.82%
Platinum
13695.71
+126.90
Molybdenum
22928.00
-1.42%
Dow Jones
26827.64
+0.21%
Hang Seng
26786.20
+0.23%
CBA Interest Rates
Refinancing
Refinancing Rate
5.50
+0.00
Lombard Repo
Lombard Repo Rate
7.00
+0.00
Macroeconomy
CEA
Coefficient of Economic Activity
+7.0%
Ind. Prod.
3
Volume of Industrial Production
1,260.1
+9.50%
Avg. Salary
2
Average salary
178,659
+5.70%
Services
3
Volume of services
1,284.4
+15.5%
Construction
3
Volume of construction
208,242
+4.40%
1 - mln AMD, 2 - AMD, 3 - bln AMD