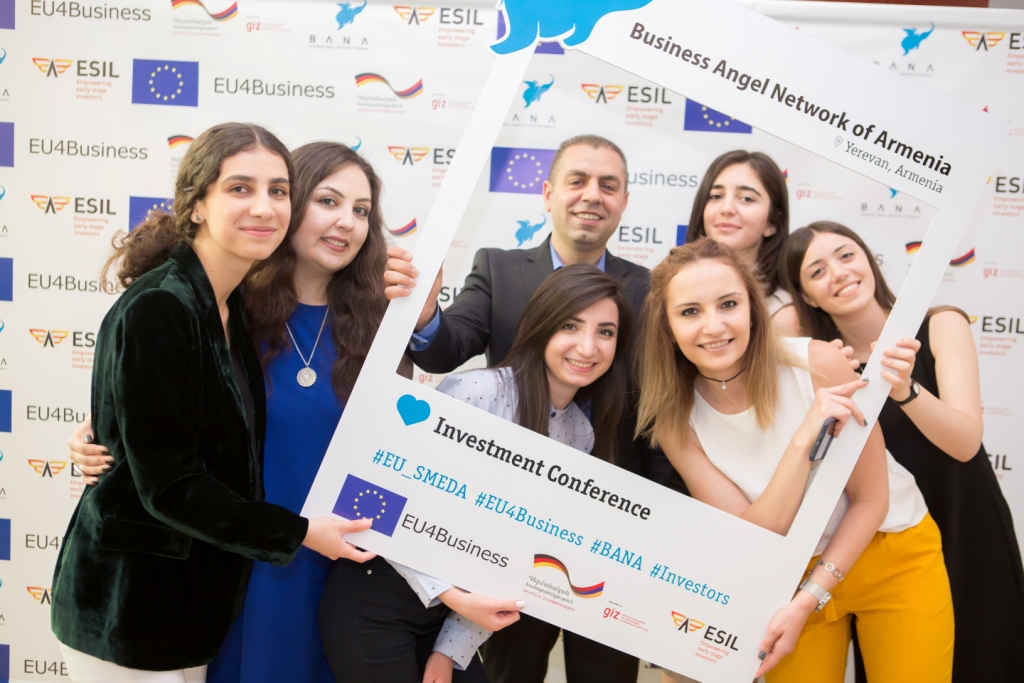 12/06/2019 21:56
"Two Years Winged: What's next?" Conference
Business Angel Network of Armenia, supported by European Union's "Support to SME Development in Armenia" (EU-SMEDA) project on June 11th organised "Two Years winged: What's next?" Early Stage Investment Conference for Business people and investors.
The founder of the international Crosspring VC Maurice Beckand and Spanish Angel Investor Jesús Lozano were the special guests during the 2nd anniversary of BANA at the Early Stage Investment Conference.
The speakers were the head of cooperation section at the European Union Delegation to the RA, Gonzalo Serrano De La Rosa, and the head of "Support to SME Development in Armenia" (EU-SMEDA) program Eva Naeher.
The founder of the international Crosspring venture company Maurice Beckand started angel investing in 2005 after his work at a Dutch based VC. He invests in seed stage ICT startups, including Armenia-based ones. Maurice uses his company Crosspring to invest in startups as a lead investor or as a syndicate partner. He is an Angel at BANA and was an advisor for BANA since its establishment.
The head of Cooperation Section at the European Union Delegation to the RA, Gonzalo Serrano De La Rosa congratulated the Business Angels Network of Armenia (BANA) on the occasion of it's 2nd anniversary, highlighting its importance on the development of business and investment environment in Armenia. The European Union supports the Business Angel Network of Armenia through the EU's Support for SME Development program.
The head of "Support to SME Development in Armenia" (EU-SMEDA) program Eva Nehler highly appreciates the business angels' support to startups not only financially, but also in transferring knowledge, experiences and guidance to them."European investors involved in the Business Angels Network of Armenia (BANA) are doing valuable work in this regard by sharing their experiences and skills with the Armenian startups," she said.
The Early Stage Investment Conference aims at presenting the investment environment of Armenian IT sphere to the Armenian and foreign businessmen as well as presents the activities of Business Angel Network of Armenia initiated by GlobalAM NGO, which enables the entrepreneurs to make important and profitable investments in Armenian startup ecosystem.
Grigor Hovhannisyan, the director of the Business Angels Network of Armenia (BANA), says that such business meetings will bring Armenian-European economic cooperation to a new level. "The establishment of the Startup ecosystem is really important for our country, and due to your readiness to support the development of the investment environment, the process will be more effective.''
BANA gives entrepreneurs an opportunity to effectively invest in the Armenian Startup Ecosystem. The angel investors of BANA have already invested in six startups, and now negotiations are underway to invest in three new startups.
-----------
The European Union's EU4Business initiative is an umbrella initiative that covers all EU activities supporting SMEs in the Eastern Partnership countries.
EU-SMEDA project is co-funded by the European Union and the Federal Ministry for Economic Cooperation and Development (BMZ) and implemented by German Development Cooperation GIZ through the Private Sector Development in South Caucasus Programme.
SMEDA aims at improving the business and investment climate and supporting the creation and development of small and medium enterprises (SMEs) to enable broad-based growth in Armenia. In this realm the project focuses on SME policy processes, strengthening business associations and economic clusters. Furthermore, the project supports various technology-oriented ventures and helps increase the competitiveness of existing SMEs by providing financial and technical assistance to develop new innovative products and services for domestic and global markets. Additionally, the project aims at stimulating the rate of technology absorption, technology transfer, innovation, and commercialisation of research ideas in the private sector, and also fostering the collaboration between research centers and SMEs.
Ucom
- broadband connection starting at AMD 6,000
AMD Rates
09:01 26/05
Buy
Sell
AMD / USD
482.00
486.00
AMD / EUR
525.00
531.00
AMD / RUR
6.74
6.89
dollars
dollars
ETH/BTC
0.02302990
+0.03%
BCH/BTC
0.02577359
+0.12%
XRP/BTC
0.00002207
+0.18%
LTC/BTC
0.00484141
+0.06%
Molybdenum
18850.00
+1.43%
Dow Jones
24465.16
+0.00%
Hang Seng
23384.66
+1.88%
CBA Interest Rates
Refinancing
Refinancing Rate
5.00
+0.00
Lombard Repo
Lombard Repo Rate
6.50
+0.00
Macroeconomy
CEA
Coefficient of Economic Activity
-1.7%
Ind. Prod.
3
Volume of Industrial Production
585.21
+4.20%
Avg. Salary
2
Average salary
191,623
+9.30%
Services
3
Volume of services
585.44
+0.1%
Construction
3
Volume of construction
54.03
-21.9%
1 - mln AMD, 2 - AMD, 3 - bln AMD