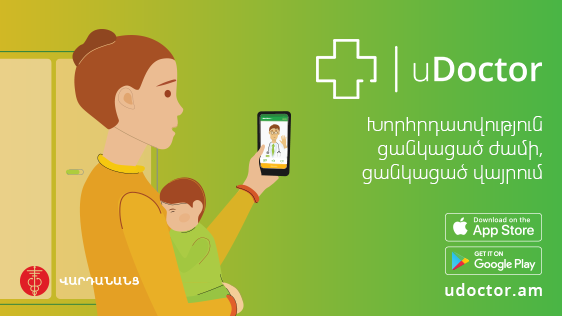 28/08/2019 13:09
Ucom Together with "Vardanats" Center for Innovative Medicine Introduced uDoctor Online Medical Consulting Solution
Ucom has released its next mobile application, the uDoctor innovative solution, which allows users to receive online medical consultation at anytime and anywhere. Consultations are provided by highly qualified doctors of "Vardanants" Center for Innovative Medicine.
Telemedicine (telehealth) is one of the fastest growing areas in the world, in some countries such as the USA, the UK, it is an essential component of insurance packages and an integral part of the healthcare system. Studies have shown that telemedicine allows to organize the work of doctors more effectively and to solve numerous problems during the first online consultation.
As a digital company, with great responsibility Ucom presents uDoctor innovative solution, developed in collaboration with a leading partner in the field of telehealth and online consulting, the Russia-based "Mobile Medical Technologies" LLC and has been adapted to local market requirements. Thus, Ucom and its partners take the first step towards the development of telehealth in Armenia. It should be noted that the technological solution of "MMT" LLC has been successfully applied in CIS countries such as Kazakhstan and Tajikistan.
"Health problems are often urgent but time-consuming. Thanks to uDoctor service, people will not have to waste dozens of minutes on their way to hospital or in queues, they will save their time and money. uDoctor allows to plan the consultations with highly qualified specialists of Vardanants Center, save the history of consultations, manage the results of medical examinations and the balance," said Hayk Yesayan, Co-founder and Director General at Ucom.
By downloading the uDoctor app from the Google Play or App Store, users can receive urgent medical consultation without queues and anywhere. This innovative solution allows to receive specialized information about doctors as well as their ratings and feedback from other users. Receiving a consultation through uDoctor is affordable, consultations are provided by doctors in different specialties and duty doctors are available 24/7.
"At the heart of the telemedicine widely applied in the world is the well-established principle that the diagnosis is 90% based on the information provided by the patient. This means that the patient should provide as true and structured information as possible.
Telemedicine requires no less skill and experience from a doctor. Vardanants Center is a leader in our country in the implementation of clinical guidelines and procedures based on evidence-based medicine. These international guidelines and procedures help remote medical specialist to choose the scope of issues that will lead to the correct diagnosis in the shortest possible flow. The same sources tell the doctor when to refer the patient to another specialist, when to appoint an instrumental or laboratory examination or decide upon hospitalization.
We are confident that our experienced doctors will draw the right conclusions by listening carefully to the patient's complaints and feeling and combining those with his/her life story," said Harutyun Mangoyan, Director General at "Vardanants" Center for Innovative Medicine.
It should be added that in order to use the service, it is required to download the uDoctor app or visit udoctor.am website, sign up, attach a bank card and choose a doctor.
Ucom
- broadband connection starting at AMD 6,000
AMD Rates
09:48 30/05
Buy
Sell
AMD / USD
482.00
486.00
AMD / EUR
527.00
533.00
AMD / RUR
6.78
6.90
dollars
dollars
ETH/BTC
0.02258015
-1.94%
BCH/BTC
0.02530965
-1.33%
XRP/BTC
0.00002140
-3.08%
LTC/BTC
0.00476372
-1.17%
Molybdenum
18805.00
-0.82%
Dow Jones
25383.11
-0.07%
Hang Seng
23301.36
-0.36%
CBA Interest Rates
Refinancing
Refinancing Rate
5.00
+0.00
Lombard Repo
Lombard Repo Rate
6.50
+0.00
Macroeconomy
CEA
Coefficient of Economic Activity
-1.7%
Ind. Prod.
3
Volume of Industrial Production
585.21
+4.20%
Avg. Salary
2
Average salary
191,623
+9.30%
Services
3
Volume of services
585.44
+0.1%
Construction
3
Volume of construction
54.03
-21.9%
1 - mln AMD, 2 - AMD, 3 - bln AMD