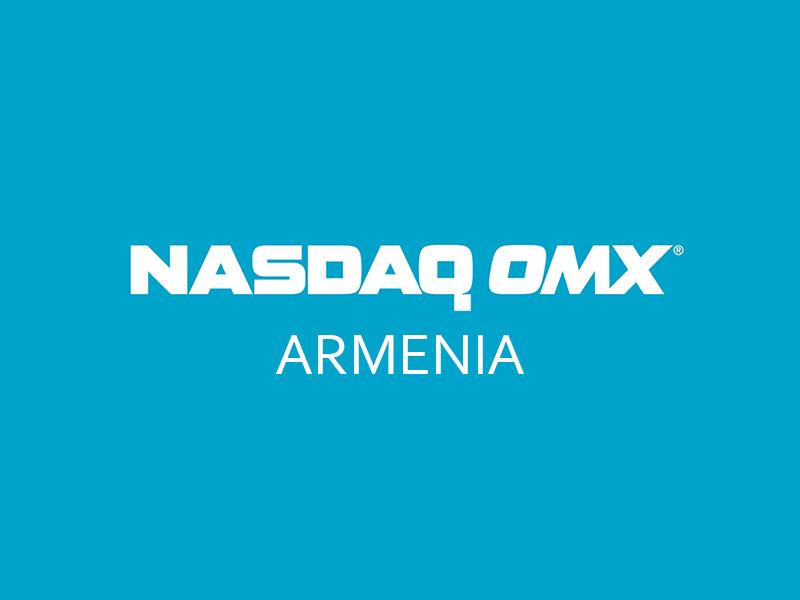 05/12/2017 18:40
Additional issue of common stocks by "ARARATBANK" OJSC admitted to trading on NASDAQ OMX Armenia
Starting from December 05, 2017, additional issue of common nominal stocks by "ARARATBANK" OJSC will be admitted to trading on the stock's free (C) market of NASDAQ OMX Armenia.
Additional issue of the Bank's securities comprises 483,230 stocks (ISIN - AMARBKS10ER4) with nominal value of AMD 5,000, which will be traded under ARBK ticker symbol and will be allowed to manual and REPO trading as well. The total number of the Bank's stocks admitted to trading amounts to 1,760,731.
The list of securities listed and admitted to trading on NASDAQ OMX Armenia, is available on "Instruments" page of NASDAQ OMX Armenia's official website (www.nasdaqomx.am).
"ARARATBANK" Open Joint Stock Company was established as a result of reorganization of Haykap Bank, operating in the Armenian financial market since 1991. Major shareholders of ARARATBANK are Flash LLC with 64.24% share, EBRD with 25.00% share and Rural Impulse Fund with 10.00% share. The Bank became a member of NASDAQ OMX Armenia on January 30, 2009. The Bank is also a Regulated Market Settlement system member, Depository System Account Operator and Pension Account Operator. For more information about the Company please visit www.araratbank.am.

NASDAQ OMX Armenia provides its customers with fully automated trading system, offering single point of access to all types of Armenian securities, FX and credit resources. Integrated business model of NASDAQ OMX Armenia enables it to provide full package of trading services, from conclusion of a trade till its settlement. For more information please visit www.nasdaqomx.am.
Ucom
- broadband connection starting at AMD 6,000
AMD Rates
10:00 15/12
Buy
Sell
AMD / USD
484.00
485.50
AMD / EUR
549.00
553.00
AMD / RUR
7.27
7.37
dollars
dollars
BTC/USD
3411.83467834
-0.91%
ETH/USD
89.0434501794
-0.78%
BCH/USD
97.607306947
-4.38%
XRP/USD
0.3030557249
-0.59%
LTC/USD
23.9556628897
-2.18%
BTC
59,434,627,518
-0.90%
XRP
12,403,150,534
-0.59%
Molybdenum
26000.00
+0.00%
Dow Jones
24100.51
-2.02%
Hang Seng
26094.79
-1.62%
CBA Interest Rates
Refinancing
Refinancing Rate
6.00
+0.00
Lombard Repo
Lombard Repo Rate
7.50
+0.00
Macroeconomy
CEA
Coefficient of Economic Activity
+6.00%
Ind. Prod.
3
Volume of Industrial Production
1,408.751
+4.5%
Avg. Salary
2
Average salary
168,518
+3.70%
Services
3
Volume of services
1,426.759
+18.50%
Construction
3
Volume of construction
288,754
+6.50%
1 - mln AMD, 2 - AMD, 3 - bln AMD