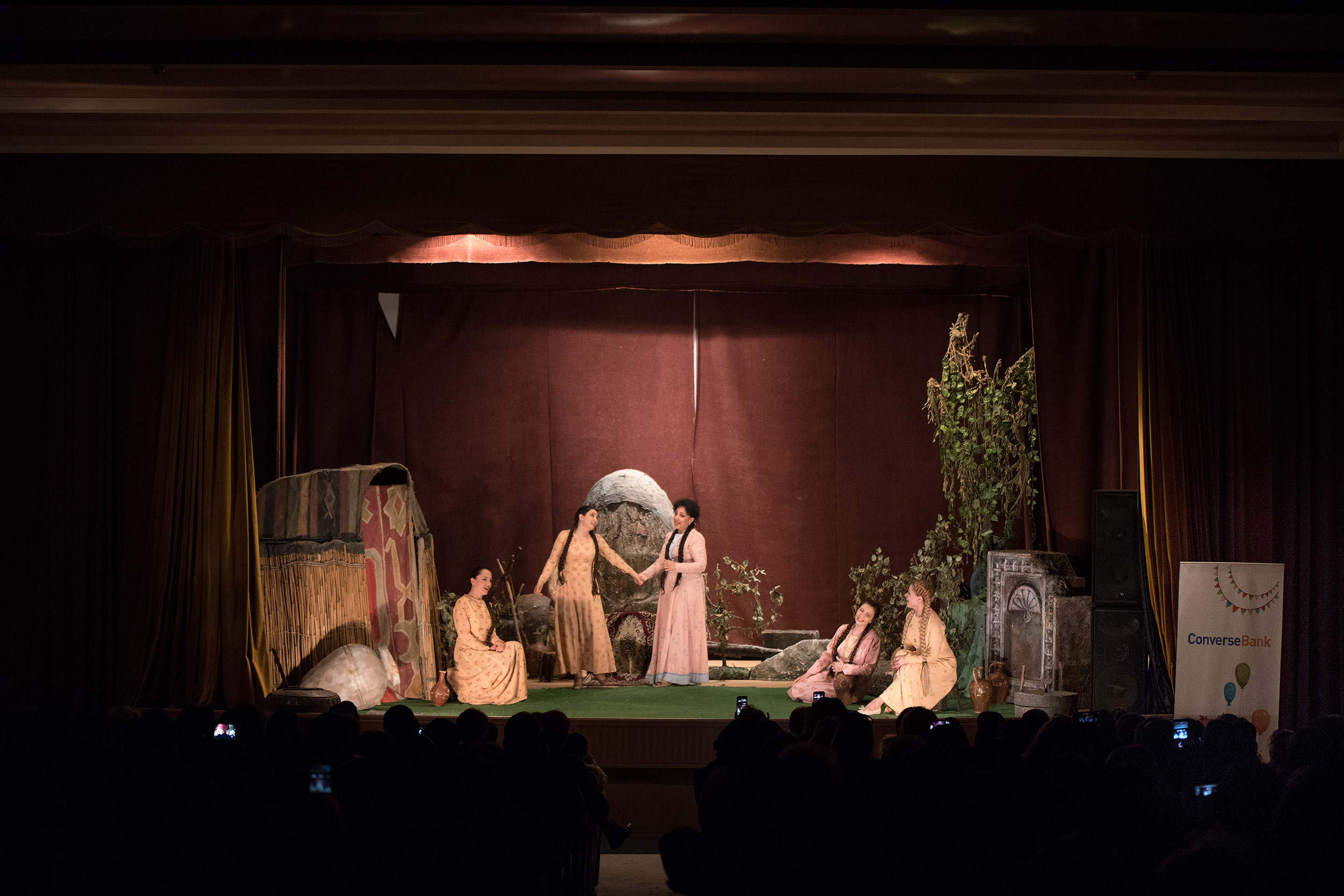 04/06/2018 18:43
Converse Bank sponsored performance of "Anush" in Vanadzor
The Opera and Ballet Theatre after Al. Spendiaryan performed "ANUSH" opera for Vanadzor's children on the occasion of the International Day for Protection of Children, which was staged specially for children of school age. Hundreds of children, including beneficiaries of centers for children with special needs, were present at the event sponsored by Converse Bank.
"Converse Bank traditionally celebrates the International Day for Protection of Children by giving a small holiday to children of different marzes on June 1. This time we gave them an opportunity to listen to classical music. The performance of Toumanyan's "ANUSH" in Vanadzor was not accidental. Who would better understand the great Armenian writer, if not the children, who were born and grown up in his homeland in Lori, who are so closely familiar with the nuances of Tumanyan's language? "Said Aregnaz Hakobyan, Head of Converse Bank's Marketing Unit.
In the previous years, on June 1, Converse Bank delivered glucometer test strips and gifts to children undergoing diabetes treatment in Muratsan Hospital and resting in Arzni-1 Health Resort. In addition, the Bank employees donated blood to children at the Hematology Center and replenished the deposit accounts opened in the name of 10 children of Vanadzor orphanage. The children will have the right to manage and control the money after they become adults.
Ucom
- broadband connection starting at AMD 6,000
AMD Rates
10:37 20/10
Buy
Sell
AMD / USD
483.00
484.50
AMD / EUR
552.00
557.00
AMD / RUR
7.33
7.43
dollars
dollars
BTC/USD
6472.55503581
-0.99%
ETH/USD
204.815541398
-1.05%
BCH/USD
442.342254593
-1.77%
XRP/USD
0.4564683899
-2.72%
LTC/USD
53.0153222869
-0.83%
BTC
112,184,427,461
-0.97%
ETH
21,032,532,645
-1.01%
XRP
18,257,655,774
-2.72%
Platinum
12879.15
-146.92
Molybdenum
26000.00
+0.00%
Dow Jones
25444.34
+0.26%
Hang Seng
25561.40
+0.42%
CBA Interest Rates
Refinancing
Refinancing Rate
6.00
+0.00
Lombard Repo
Lombard Repo Rate
7.50
+0.00
Macroeconomy
CEA
Coefficient of Economic Activity
+9.30%
Ind. Prod.
3
Volume of Industrial Production
954.567
+4.30%
Avg. Salary
2
Average salary
168,990
+4.0%
Services
3
Volume of services
933.650
+18.7%
Construction
3
Volume of construction
162.735
+10.4%
1 - mln AMD, 2 - AMD, 3 - bln AMD