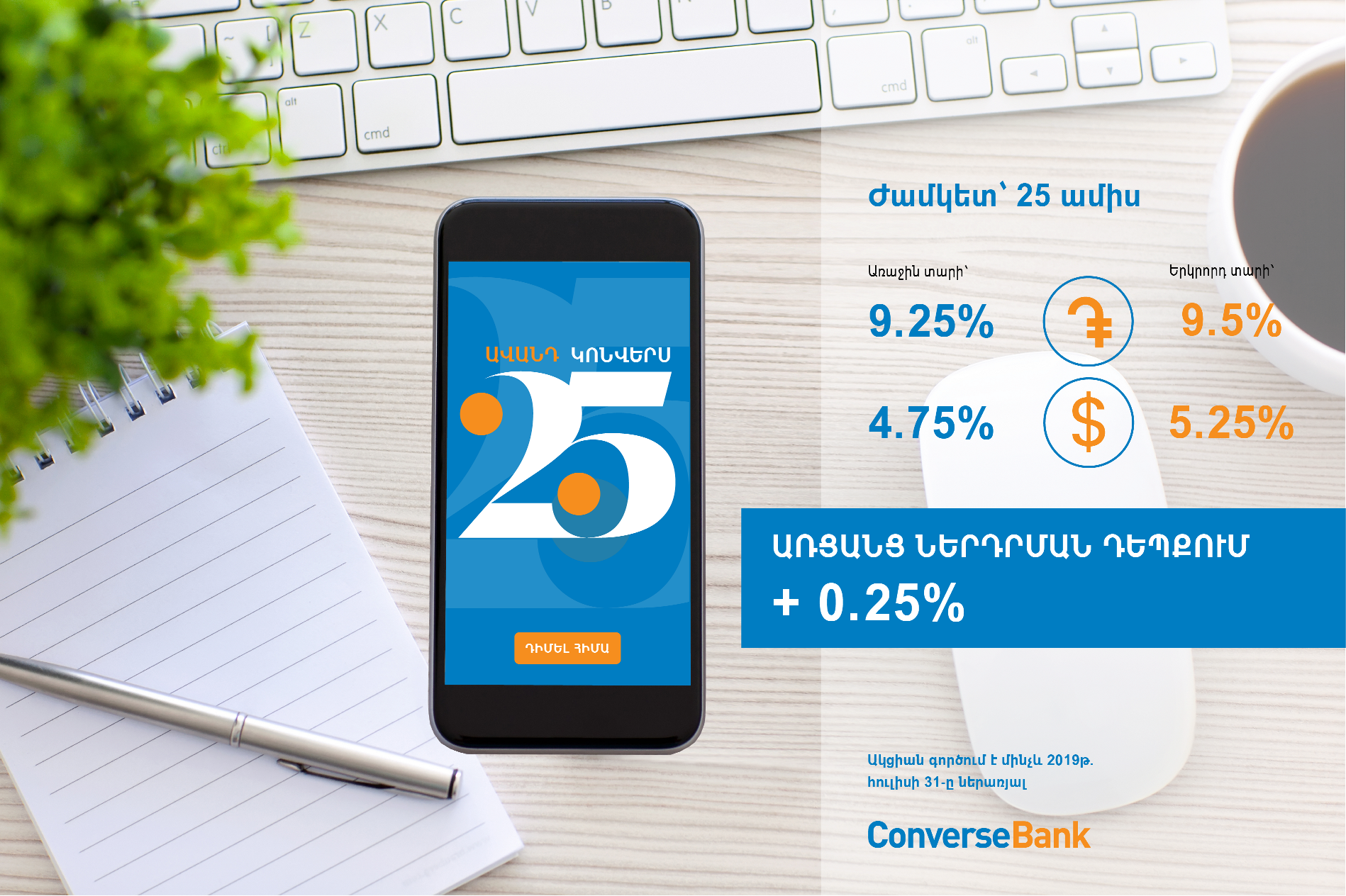 25/03/2019 20:58
Converse Bank. More Attractive Terms for Deposit "Converse 25"
Converse Bank has made the terms of "Converse 25" deposit more attractive, offering up to 9,5% interest rate for the first year of a deposit in AMD and up to 5% in case of a USD deposit. The interest rate will rise for the second year, reaching maximum 9,75% and 5,5%, respectively.
The maximum threshold of interest rates will apply when depositing funds via Converse Bank's Internet Bank or Mobile Banking system. 0.25% lower interest rate will apply for depositing funds in other ways.
"Converse 25" deposit is a product with maturity of 25 months, which was introduced in September 2018 for the occasion of the Bank's 25th anniversary and has become one of the most demanded deposits offered by the Bank. As of the end of the previous year, the portfolio of this deposit amounted to about AMD 1.9 billion/its equivalent in foreign currency.
Within the framework of the deposit, the Bank offers its customers the best conditions for depositing money, namely, high interest rates compared to similar offers at the market. In case of early termination of the deposit during the second year of its term, the customer is paid interest amount at the interest rate calculated for the first year of the deposit. Throughout the deposit term, the customer has the opportunity to make partial withdrawals from the principal amount.
Please follow the link https://www.conversebank.am/hy/converse25/ to read about other advantages of "Converse 25" deposit.
AMD Rates
10:36 18/05
Buy
Sell
AMD / USD
479.00
481.00
AMD / EUR
536.00
539.00
AMD / RUR
7.39
7.48
dollars
dollars
BTC/USD
7243.68883441
-9.50%
ETH/USD
239.552640268
-7.47%
BCH/USD
360.429488052
-12.26%
XRP/USD
0.3803820313
-14.19%
LTC/USD
88.4588689749
-11.19%
BTC
128,250,322,106
-9.49%
ETH
25,416,909,328
-7.46%
BCH
6,410,725,025
-12.25%
XRP
16,026,754,318
-14.19%
LTC
5,467,495,480
-11.17%
Molybdenum
26896.00
+0.00%
Dow Jones
25764.00
-0.38%
Hang Seng
27946.46
-1.16%
CBA Interest Rates
Refinancing
Refinancing Rate
5.75
+0.00
Lombard Repo
Lombard Repo Rate
7.25
+0.00
Macroeconomy
CEA
Coefficient of Economic Activity
+5.80%
Ind. Prod.
3
Volume of Industrial Production
1,737.7
+4.30%
Avg. Salary
2
Average salary
172,357
+3.80%
Services
3
Volume of services
1,764.7
+18.80%
Construction
3
Volume of construction
422.3
+4.50%
1 - mln AMD, 2 - AMD, 3 - bln AMD