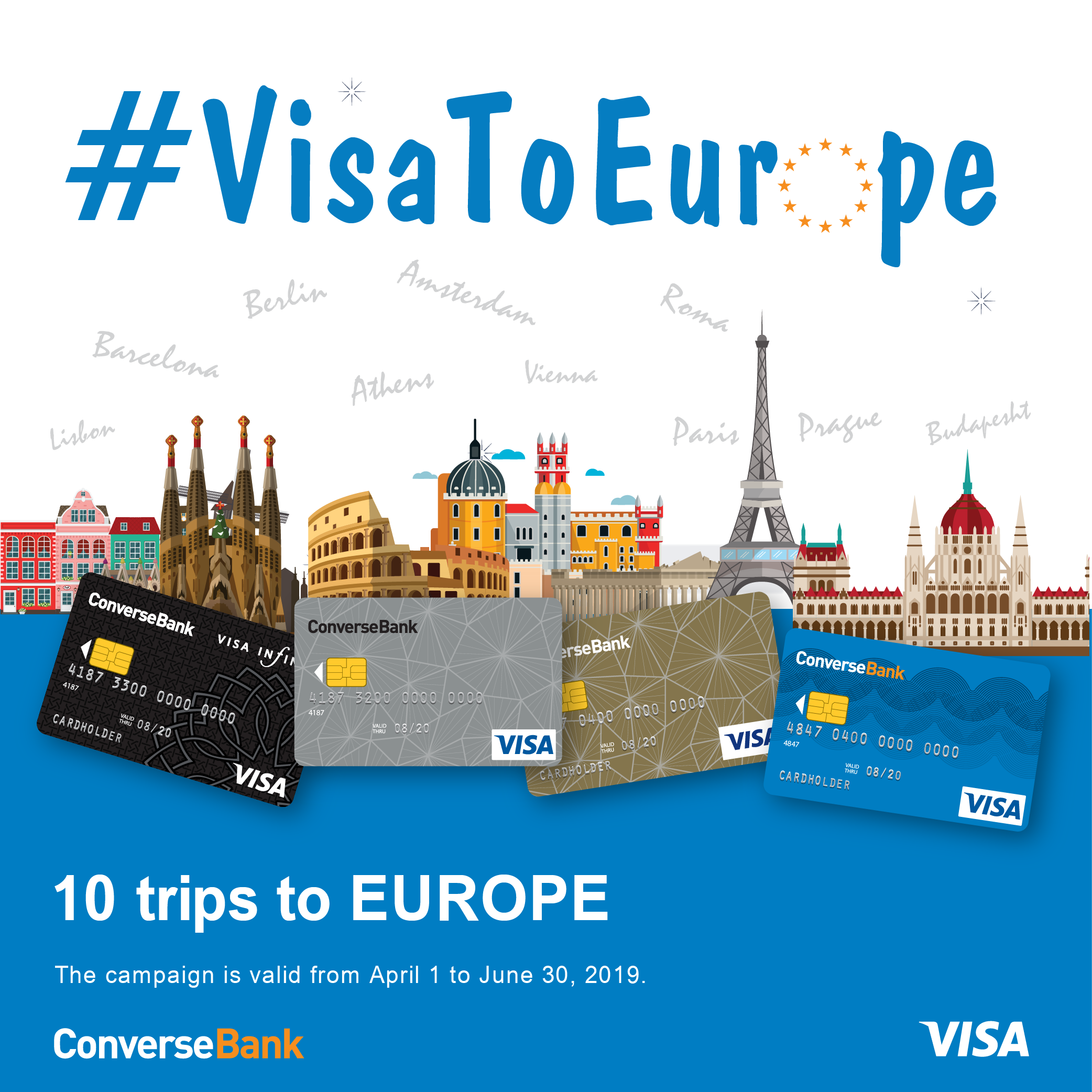 03/04/2019 16:40
10 trips to Europe - in the framework of Converse Bank's #VisaToEurope Promo action
Converse Bank CJSC announces the launch of its next loyalty program - #VisaToEurope promo action in the framework of collaboration with Visa International Payment system.
"Within the scope of this unprecedented promo action Converse Bank offers its customers to make noncash deals with VISA payment cards from April 1 through June 30, accumulate Stars, participate in the lottery and win a trip (for two persons) to one of the 10 European cities – Paris, Barcelona, Lisbon, Budapest, Prague, Rome, Vienna, Athens, Amsterdam and Berlin. The customers need to make noncash deals to the amount of at least AMD 200,000 with their VISA payment cards through POS-terminals, to accumulate the maximum number of Stars and participate in the Lottery," was told in Converse Bank.
The trips to Europe are designed for the top 10 persons having the maximum accumulated Stars, who will draw the lots during the closing event of the promo action to select the direction of their trip at random.
It was added in the Bank that the persons who did not have VISA payment cards but desired to take part in the promo action, could acquire a VISA card from Converse Bank at a 50% discount.
We should note that this is the 5th loyalty program held by Converse Bank this year. Since the beginning of the year the Bank has already conducted two cashback campaigns devoted to the Lovers' Day and Women's Day to promote its customers. Currently, the Bank raffles off 3 tours (each for two persons) to Sri Lanka under the Promo action for the Woman's cardholders of the Bank. The holders of the Bank's MasterCards also have the opportunity to participate in the raffle for a family trip (for four persons) to Disneyland Paris to be organized by MasterCard payment system.
Click the below link for the details of the Promo action, order of calculation of the Stars and the travel coverage https://benefits.conversebank.am/hy/current-promotions/item/2019/03/29/visatoeurope

AMD Rates
10:36 18/05
Buy
Sell
AMD / USD
479.00
481.00
AMD / EUR
536.00
539.00
AMD / RUR
7.39
7.48
dollars
dollars
BTC/USD
7243.68883441
-9.50%
ETH/USD
239.552640268
-7.47%
BCH/USD
360.429488052
-12.26%
XRP/USD
0.3803820313
-14.19%
LTC/USD
88.4588689749
-11.19%
BTC
128,250,322,106
-9.49%
ETH
25,416,909,328
-7.46%
BCH
6,410,725,025
-12.25%
XRP
16,026,754,318
-14.19%
LTC
5,467,495,480
-11.17%
Molybdenum
26896.00
+0.00%
Dow Jones
25764.00
-0.38%
Hang Seng
27946.46
-1.16%
CBA Interest Rates
Refinancing
Refinancing Rate
5.75
+0.00
Lombard Repo
Lombard Repo Rate
7.25
+0.00
Macroeconomy
CEA
Coefficient of Economic Activity
+5.80%
Ind. Prod.
3
Volume of Industrial Production
1,737.7
+4.30%
Avg. Salary
2
Average salary
172,357
+3.80%
Services
3
Volume of services
1,764.7
+18.80%
Construction
3
Volume of construction
422.3
+4.50%
1 - mln AMD, 2 - AMD, 3 - bln AMD