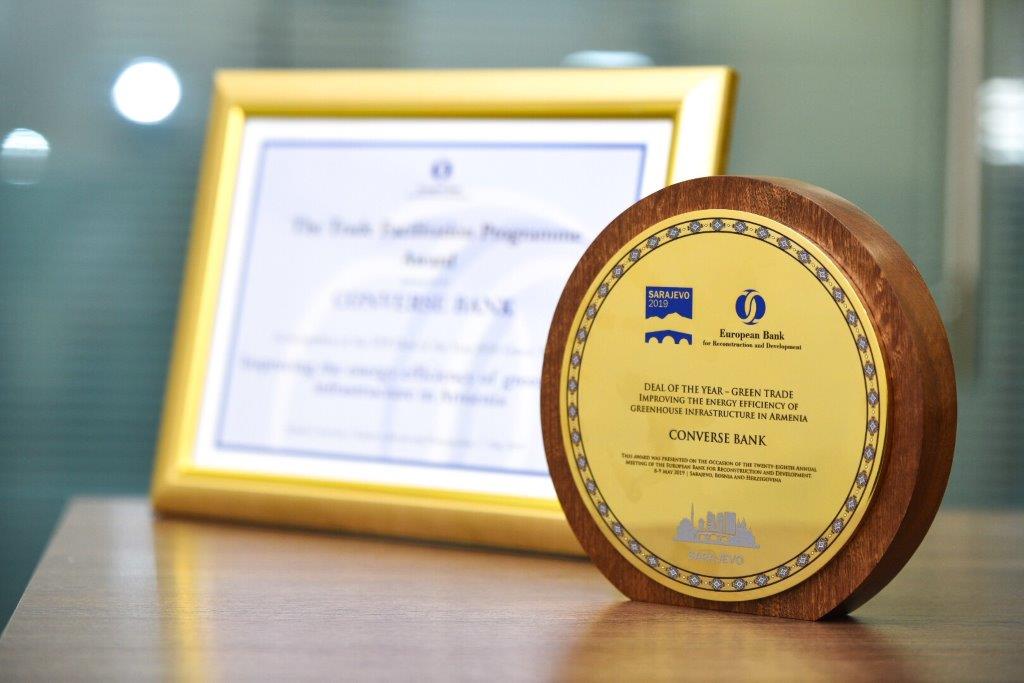 14/05/2019 18:03
Converse Bank receives "Deal of the Year - Green Trade" award from the EBRD
Converse Bank has been awarded with the "Deal of the Year 2018 - Green Trade" award from the Trade Facilitation Programme (TFP) of the European Bank for Reconstruction and Development (the EBRD) for improving the energy efficiency of greenhouse infrastructure in Armenia. The award ceremony took place within the frames of the EBRD Annual Meeting and Business Forum in Sarajevo on May 07, 2019.
A cutting edge greenhouse complex was imported by Rock Berry from the well-known French company RICHEL Group through issuance of a letter of credit confirmed by a first class European partner bank. The political and commercial payment risk was fully covered by the EBRD guarantee.
The environmental impact that was achieved with this project allowed Rock Berry to reduce energy costs by USD 50,000 per year and annual water consumption by 50%, as well as to limit CO2 emissions.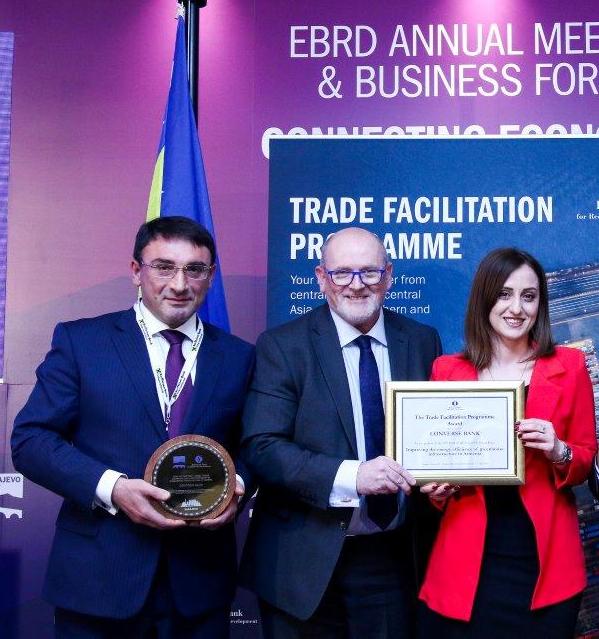 "Converse Bank has adopted the strategy where energy efficiency and green financing are prioritized, and this award is vivid evidence of our efforts taken up in this direction. We thank our long-term valuable partners, especially the European Bank for Reconstruction and Development for the constant support and trust which allowed us to accomplish the financing of this project," said Artur Hakobyan, CEO at Converse Bank.
Today Rock Berry's greenhouse complex employs over 100 people. They cultivate 4 eco-clean strawberry varieties with a year-round production, thus having high competitive advantage both in domestic and foreign markets.
Francis Malige, EBRD Managing Director for Financial Institutions said: "The EBRD's commitment to sustainable economies comes in different shapes and forms, but in only one colour – green. And we could not do this without our partners. We are proud today to honour for the first time issuing and confirming banks that have shown an outstanding commitment to green trade. Trade in energy efficiency, water efficiency, renewable energy and climate resilience technologies is very important for the EBRD regions and contributes to the EBRD's commitment to support sustainable investments."
The EBRD presented their awards for green trade for the first time. Other award winners included Raiffeisen Bank Aval and UniCredit. The EBRD's respective press release is available by the following link: https://www.ebrd.com/news/2019/ebrd-presents-awards-for-green-trade.html
AMD Rates
08:58 26/06
Buy
Sell
AMD / USD
476.00
478.00
AMD / EUR
540.00
544.00
AMD / RUR
7.56
7.62
dollars
dollars
BTC/USD
11347.5374639
+0.47%
ETH/USD
314.026458614
+0.25%
BCH/USD
482.579335462
-0.12%
XRP/USD
0.4690931706
+0.08%
LTC/USD
135.523222606
-0.27%
BTC
201,749,990,560
+0.47%
ETH
33,485,386,702
+0.25%
XRP
19,967,699,561
+0.08%
Molybdenum
27183.00
+0.00%
Dow Jones
26548.22
-0.67%
Hang Seng
28221.98
+0.13%
CBA Interest Rates
Refinancing
Refinancing Rate
5.75
+0.00
Lombard Repo
Lombard Repo Rate
7.25
+0.00
Macroeconomy
CEA
Coefficient of Economic Activity
+7.30%
Ind. Prod.
3
Volume of Industrial Production
733.1
+5.60%
Avg. Salary
2
Average salary
176,215
+5.40%
Services
3
Volume of services
737.3
+16.50%
Construction
3
Volume of construction
97.3
+6.10%
1 - mln AMD, 2 - AMD, 3 - bln AMD