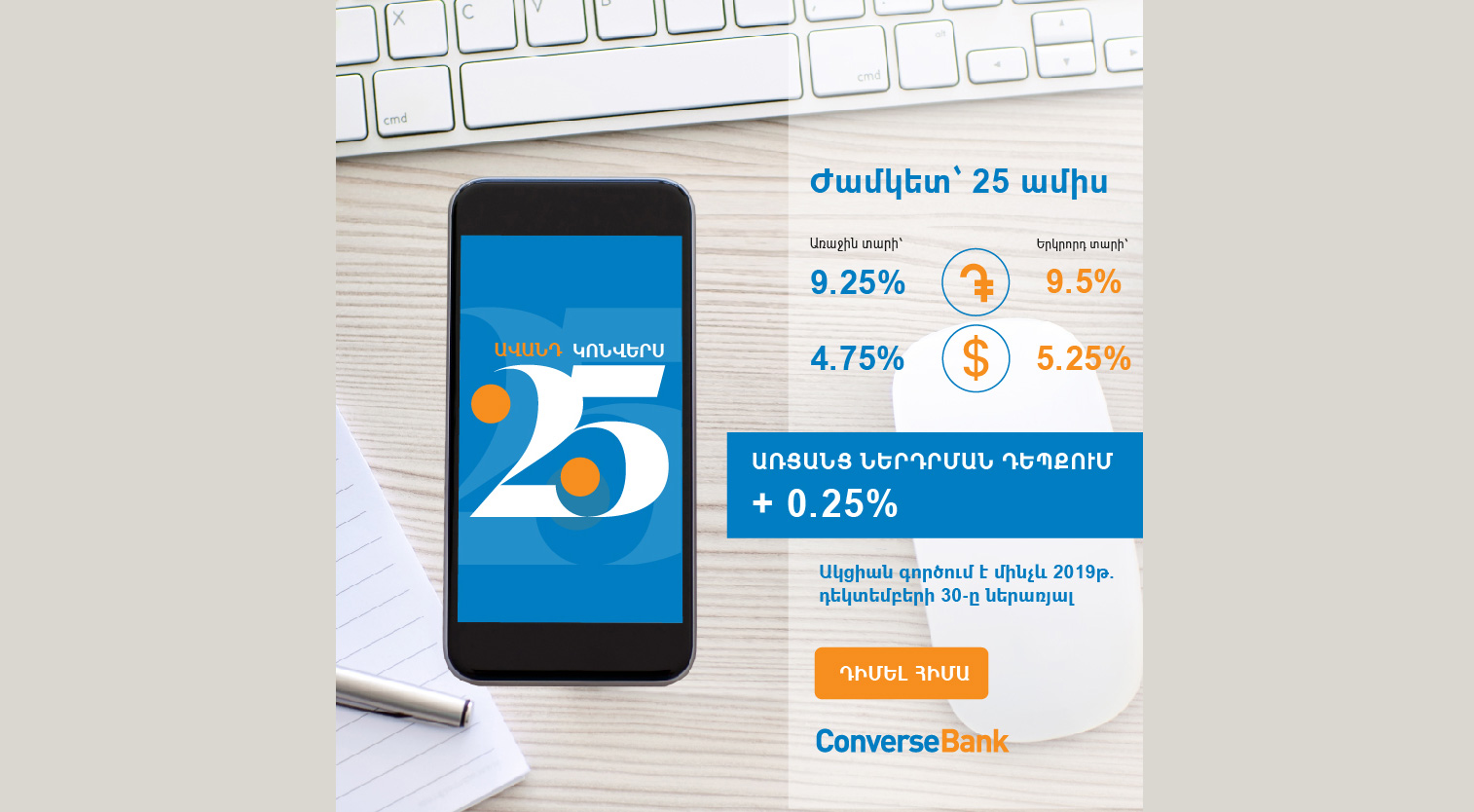 14/08/2019 18:55
The terms of "Converse 25" deposit have become more attractive
Converse Bank has prolonged "Converse 25" campaign. Within the framework of this campaign, the Bank proposes to invest the deposit under identically profitable terms with the Bank until December 30, 2019, at the interest rate during the first year of up to 9.5% for AMD denominated deposits and up to 5% for USD-denominated deposits. In the second year of the investment, the interest rate will increase, making up to 9.75% and 5.5%, respectively.
The maximum interest rate is applied if the deposit has been made through Internet Bank or Mobile Bank systems of the Bank. In case of using alternative deposit methods, interest rate lower than 0.25% will apply.
"Converse 25" deposit was launched by the Bank as part of the Bank's 25th anniversary celebrations and is one of the most demanded products by customers today. Due to the high interest rate under deposits made by digital platforms, lately there has been a significant increase in volume of deposits made using these methods. In 2019, Internet Bank, Mobile Bank systems accounted for about 20% of the total volume of the Bank's deposit portfolio for this type of loan. We expect that due to attractive conditions the significant growth of portfolio will be maintained in the near future as well, "said Converse Bank.
Converse 25 is a 25-month deposit. Within this framework, the Bank offers its clients flexible and profitable conditions for investing. Moreover, in case of early termination of the deposit during the second year of operation, the client retains the interest at the rate of the first year of the deposit. Moreover, throughout the deposit the client has the opportunity to make partial withdrawals from the principal amount.
Other benefits of Converse 25 can be found at https://www.conversebank.am/en/converse25/
Ucom
- broadband connection starting at AMD 6,000
AMD Rates
09:25 20/09
Buy
Sell
AMD / USD
475.50
477.50
AMD / EUR
525.00
529.00
AMD / RUR
7.41
7.51
dollars
dollars
BTC/USD
10201.4686236
+2.98%
ETH/USD
218.059495696
+5.54%
BCH/USD
318.720864908
+2.31%
XRP/USD
0.2927890339
+0.44%
LTC/USD
75.0058413988
+1.29%
BTC
183,080,779,071
+2.99%
ETH
23,510,176,672
+5.56%
XRP
12,606,035,555
+0.44%
Molybdenum
26081.00
+0.00%
Dow Jones
27094.79
-0.19%
Hang Seng
26435.67
-0.13%
CBA Interest Rates
Refinancing
Refinancing Rate
5.50
+0.00
Lombard Repo
Lombard Repo Rate
7.00
+0.00
Macroeconomy
CEA
Coefficient of Economic Activity
+6.80%
Ind. Prod.
3
Volume of Industrial Production
1,079
+8.40%
Avg. Salary
2
Average salary
178,325
+5.90%
Services
3
Volume of services
1,086.4
+15.2%
Construction
3
Volume of construction
166.7
+4.50%
1 - mln AMD, 2 - AMD, 3 - bln AMD