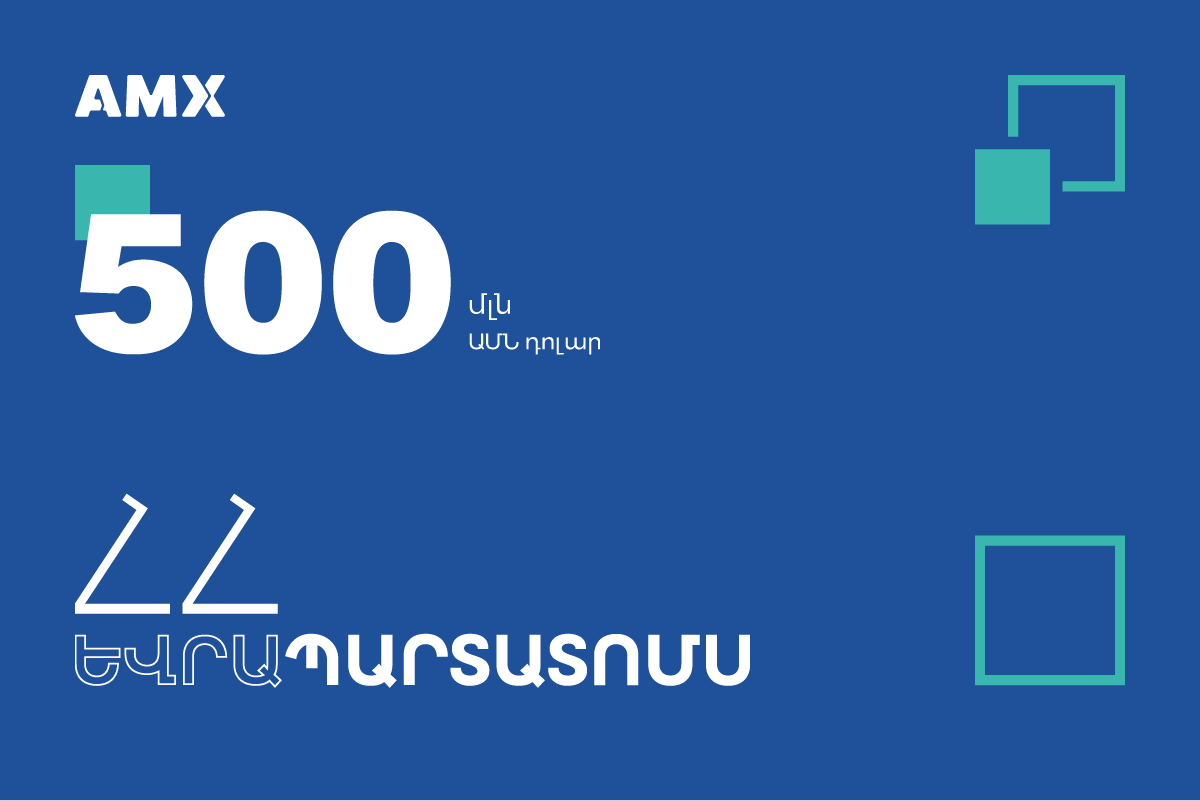 20/11/2019 19:37
Armenia's USD500 million Eurobond is now traded on Armenia Securities Exchange
Armenia Securities Exchange welcomed the Armenian Eurobond (XS2010043904) to start trading on its platform. A total of USD500 million in Eurobonds was placed earlier on September 26.
Armenia's Ministry of Finance issued USD500 million worth Eurobonds with a 10-year maturity period and a coupon rate of 3.95% which is lower than the rates of the previous two issues.
"We make best efforts to give local investors access to most attractive investment instruments. The USD-denominated bonds the Ministry of Finance has lately issued are such instruments. This is why investing in these instruments should be accessible both for foreign and local investors through AMX's exchange platform," said Hayk Yeganyan, CEO at AMX – Armenia Securities Exchange.
"In 2020 we will implement a number of initiatives to increase the accessibility of multiple investment instruments for Armenian investors," added Hayk Yeganyan.
"We highly appreciate the efforts by Armenia Securities Exchange in quoting Eurobonds and conducting transactions. We, first and foremost, prioritize the fact that another government debt security became available for the public," said Arshaluys Margaryan, Head of State Dept Management Department of the RA Ministry of Finance․
The clearing and settlement of the Eurobond is completed by the Central Depository of Armenia. Through the well-established cooperation with Clearstream Banking Luxembourg, investing in the Armenian Eurobond is now possible for Armenian investors as well.
Armenia's Eurobonds were first traded on Armenia Securities Exchange in 2014.
To invest in Eurobonds, please contact one of the market member companies.
About AMX - Armenia Securities Exchange
Armenia Securities Exchange provides a completely automated electronic trading platform and beneficial conditions for trade. Today, instruments traded on the stock exchange include stocks, corporate and Government bonds, currency, credit resources, as well as REPO (repurchase agreements) and SWAP.
Ucom
- broadband connection starting at AMD 6,000
AMD Rates
10:34 25/01
Buy
Sell
AMD / USD
478.50
480.00
AMD / EUR
529.00
532.00
AMD / RUR
7.70
7.73
dollars
dollars
BTC/USD
8340.35873058
+0.15%
ETH/USD
160.221724131
+0.59%
BCH/USD
309.57688545
-0.51%
XRP/USD
0.22036629
-0.27%
LTC/USD
53.4757354773
+1.19%
BTC
151,632,517,428
+0.16%
ETH
17,531,628,176
+0.60%
Molybdenum
22884.00
+2.77%
Dow Jones
28989.73
-0.58%
Hang Seng
27949.64
+0.15%
CBA Interest Rates
Refinancing
Refinancing Rate
5.50
+0.00
Lombard Repo
Lombard Repo Rate
7.00
+0.00
Macroeconomy
CEA
Coefficient of Economic Activity
+7.50%
Ind. Prod.
3
Volume of Industrial Production
1,856.1
+9.30%
Avg. Salary
2
Average salary
178,885
+5.90%
Services
3
Volume of services
1,847.6
+14.80%
Construction
3
Volume of construction
344,776
+4.50%
1 - mln AMD, 2 - AMD, 3 - bln AMD