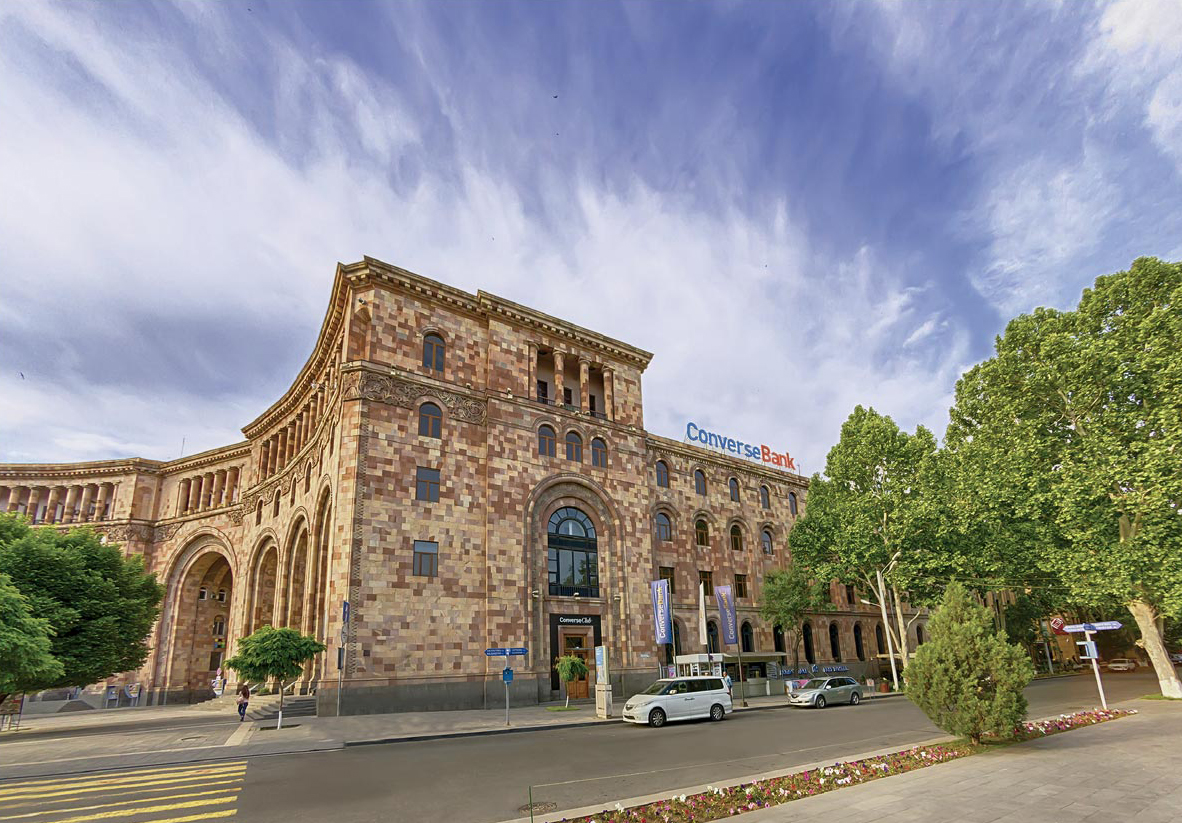 24/09/2019 21:27
Converse Bank has another "Sport" surprise for Gyumri population
The opening ceremony of another professional sports ground constructed with the support of Converse Bank was held in Gyumri, with the participation of Shirak Governor Tigran Petrosyan, Gyumri Deputy Mayor Hayk Sultanyan, Converse Bank representatives and guests.
"This is the first professional sports ground opened in Gyumri, which will enable our citizens to have access to training facility in accordance with international standards. I am also sure that it will shortly become one of the favorite places of leisure for Gyumri kids, "said Gyumri Deputy Mayor Hayk Sultanyan.
"It is remarkable the bank has taken such an initiative in the field of corporate social responsibility, which is designed to promote healthy lifestyle and the mass promotion of sports in general. Implementation of such projects is one of the best manifestations of businessmen's caring attitude towards partner communities, "said Shirak Governor Tigran Petrosyan.
It was noted that last year, within the framework of another project, Converse Bank assisted in the creation and maintenance of computer rooms in two schools in Gyumri, and in one of the schools a computer room was also refurbished.
"With the opening of similar sports ground in Nor Hachn in the near future, we will thereby complete 5 professional sports grounds construction project in Armenia and Artsakh. During the first year after launch they will be serviced by our project partner - StreetWorkout Armenian federation, and thereafter the sports grounds will be transferred to the relevant communities' asset balance: Yerevan, Shoushi, Gyumri, Metsamor and Nor Hachn", said Converse Bank Business Development Director Arthur Nahapetyan.
It should be noted that in Shirak region Converse Bank is represented by three branches: "Gyumri", "Kumayri" and "Shirak". As of September 1 this year, their loan portfolio amounted to AMD 5.8 billion, which is a 28% increase compared to the same period last year. At the same time, the Bank elaborated and introduced "Gyumri" and "Gyumri Agro" loans for the purpose of expanding and developing agriculture, tourism, tourism infrastructures, trade and service network in Shirak region.
AMD Rates
08:48 31/03
Buy
Sell
AMD / USD
499.00
504.00
AMD / EUR
552.00
558.00
AMD / RUR
6.26
6.48
dollars
dollars
ETH/BTC
0.02095022
+1.63%
BCH/BTC
0.03446597
+2.82%
XRP/BTC
0.00002761
+2.15%
LTC/BTC
0.00616348
+1.40%
Molybdenum
17416.00
+0.00%
Dow Jones
22327.48
+3.19%
Hang Seng
23175.11
-1.32%
CBA Interest Rates
Refinancing
Refinancing Rate
5.25
+0.00
Lombard Repo
Lombard Repo Rate
6.75
+0.00
Macroeconomy
CEA
Coefficient of Economic Activity
+8.90%
Ind. Prod.
3
Volume of Industrial Production
299.57
+15.30%
Avg. Salary
2
Average salary
190,468
+10.4%
Services
3
Volume of services
305.24
+11.20%
Construction
3
Volume of construction
26.97
+5.80%
1 - mln AMD, 2 - AMD, 3 - bln AMD