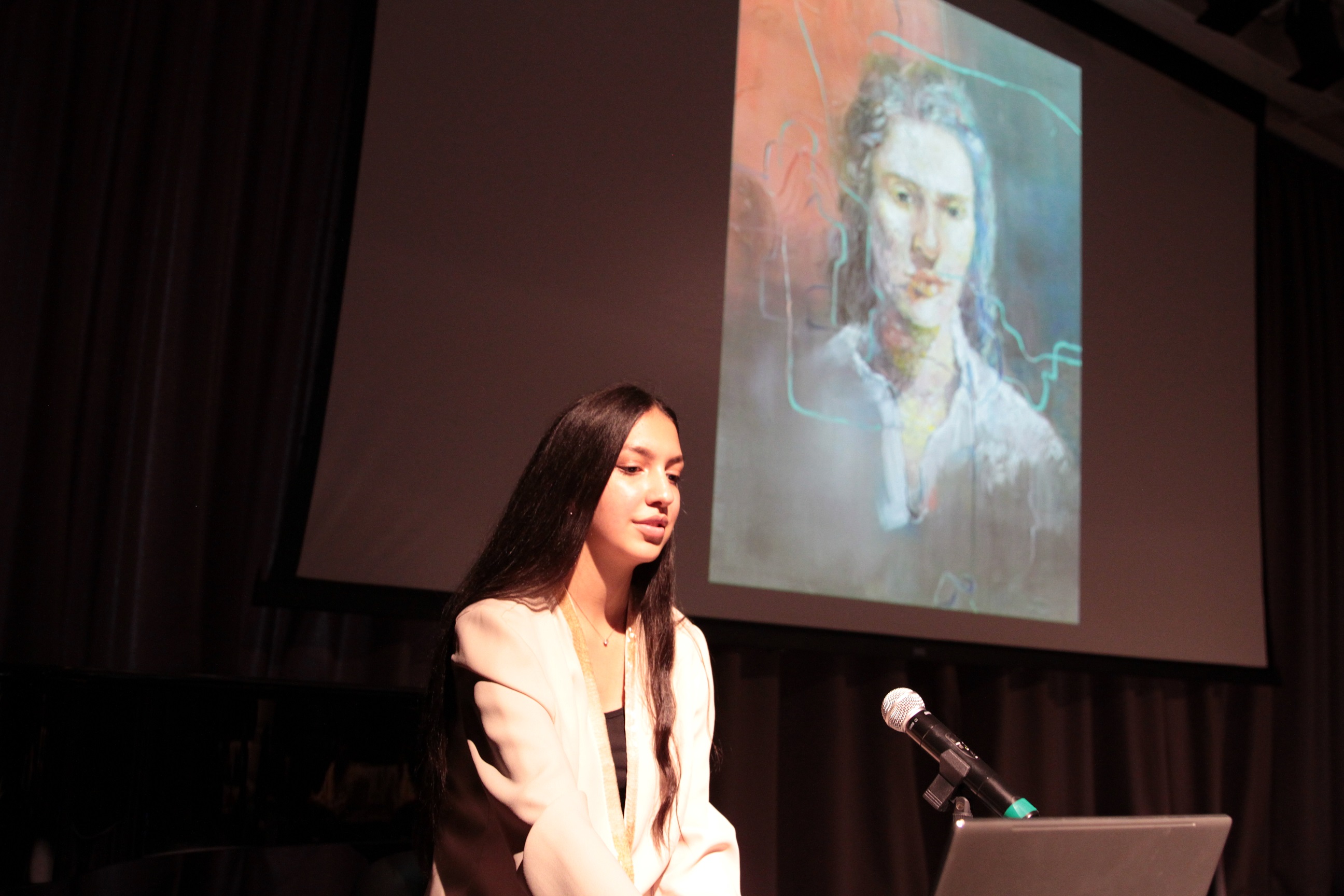 21/10/2019 19:18
The Cafesjian Center for the Arts and Beeline Present "Teen Artists Platform" Project
Within the scope of the events dedicated to the 10th Anniversary of the Cafesjian Center for the Arts (CCA), the Center presented "Teen Artists Platform" project with the support of Beeline.
The necessity of teenage artists to self-express is very important. For this reason, the Cafesjian Teen Council has initiated a new platform, the purpose of which is to create opportunities for teenagers to present their art regardless of its type. The already selected teenage artists presented their portfolios during 20-30-minute presentations. A discussion will follow.
"The Cafesjian Teen Council members always initiate and implement interesting and creative projects. Teen Artists Platform is a great opportunity for teenagers to communicate, uncover new talents, network, create new joint projects, and of course become members of the Cafesjian Teen Council," stated Vahagn Marabyan, Acting Executive Director of the Cafesjian Center for the Arts.
"Talents and geniuses don't just appear. There are people in their lives who support them. It is very pleasant to realize that Beeline and the Cafesjian Center for the Arts will provide that support for these teenagers and give them the opportunity to discover themselves and be greatly successful in the future," stated Beeline Armenia CEO Andrey Pyatakhin։
The CCA and Beeline have been cooperating since 2011. In the frames of this long-term cooperation, teen, family and other educational programs with a focus on children's and teenagers' aesthetic education are regularly implemented at the Center.
-----------
The mission of the Cafesjian Center for the Arts is to bring the best of contemporary art to Armenia and present the best of Armenian culture to the world. Dedicated to its mission, the Cafesjian Center for the Arts has been organizing a wide variety of exhibitions, presenting unique works of contemporary art, offering movie screenings, concert series, lectures and educational programs since its opening in November 2009.
The Cafesjian Teen Council is 13-16-year-old teenagers' leadership group, created in 2017 with the goal to build a long-lasting relationship with teenagers, lay emphasis on their diverse interests and needs, making the Center an attractive venue for all teenagers, to engage them in the cultural environment as active participants, at the same time, to foster their creative thinking and visual literacy, thus enhancing their communication, teamwork and leadership skills.
VEON Armenia CJSC ((trademark Beeline)) is a part of VEON, one of the world's largest integrated operators. It is traded on the NASDAQ and Euronext Amsterdam Stock Markets and includes a number of telecommunication companies providing voice communication and data transfer, as well as broadband Internet access services to more than 240 million users throughout the world.
AMD Rates
09:47 16/11
Buy
Sell
AMD / USD
477.50
479.00
AMD / EUR
525.00
529.00
AMD / RUR
7.44
7.48
dollars
dollars
BTC/USD
8631.41413158
-0.93%
ETH/USD
183.946526144
-1.32%
BCH/USD
275.161016
-2.00%
XRP/USD
0.2662829274
-1.11%
LTC/USD
59.4839163116
-0.16%
BTC
155,782,455,248
-0.92%
ETH
19,968,924,756
-1.31%
XRP
11,529,646,474
-1.11%
Molybdenum
19180.00
+2.35%
Dow Jones
28004.89
+0.80%
Hang Seng
26326.66
+0.01%
CBA Interest Rates
Refinancing
Refinancing Rate
5.50
+0.00
Lombard Repo
Lombard Repo Rate
7.00
+0.00
Macroeconomy
CEA
Coefficient of Economic Activity
+7.10%
Ind. Prod.
3
Volume of Industrial Production
1,444.4
+9.70%
Avg. Salary
2
Average salary
178,633
+5.90%
Services
3
Volume of services
1,476.8
+15.50%
Construction
3
Volume of construction
251,836
+4.40%
1 - mln AMD, 2 - AMD, 3 - bln AMD