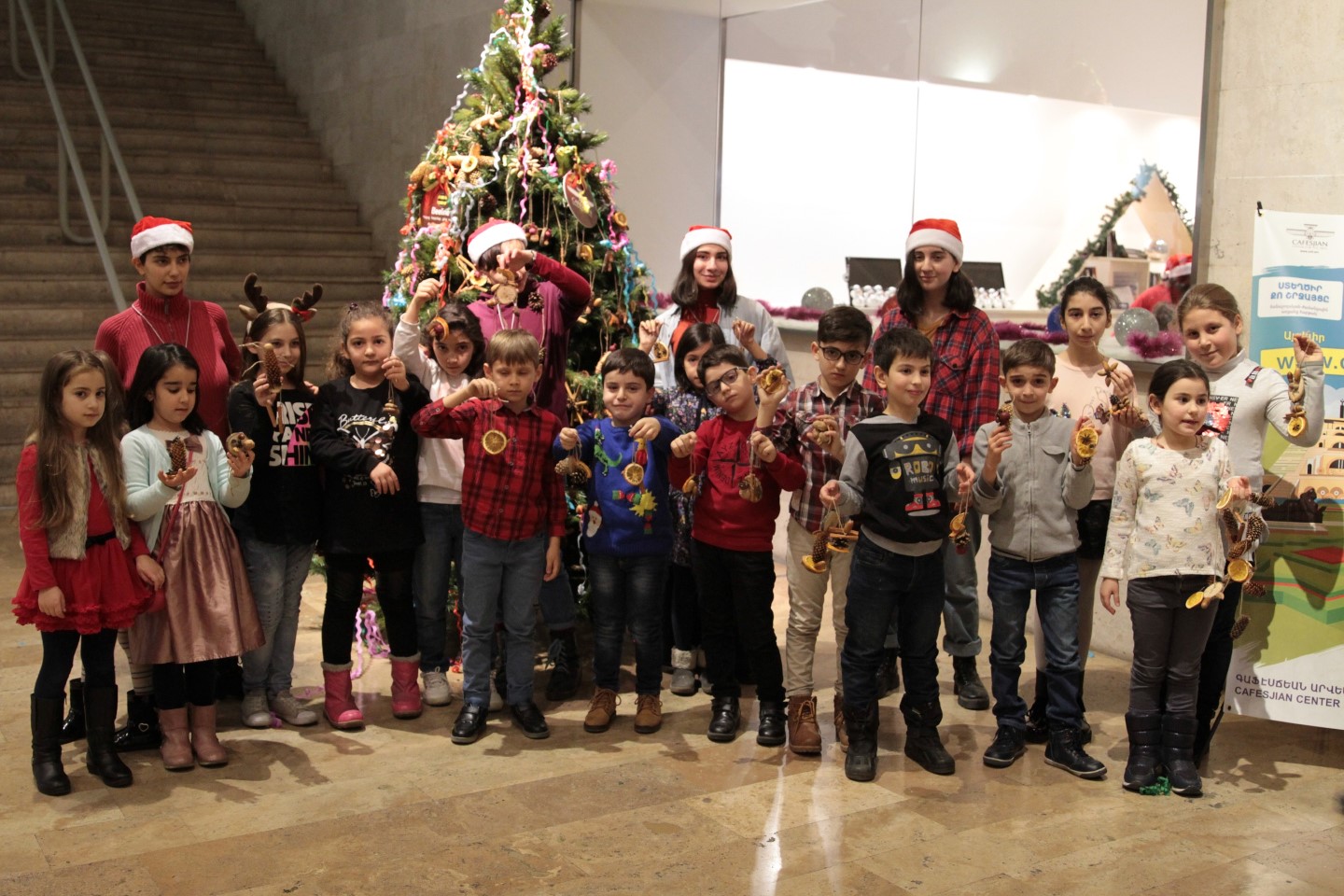 27/12/2019 22:00
"The Miracle of New Year and Christmas" Children's Creative Program took place at the Cafesjian Center for the Arts (CCA) with Beeline's Support
"The Miracle of New Year and Christmas" program took place at the Cafesjian Center for the Arts (CCA) on December 27, with Beeline's support.
The theme of the annual traditional creative program was Eco Christmas Tree, which was decorated with ornaments made with natural materials, prepared by the participants of the program.
The program was held at the Interactive Study Center of CCA.
"The Miracle of New Year and Christmas program for families is one of the most anticipated educational initiatives of CCA. For ten years already the Center has been engaging children and families in the joy of the Holiday Season, presenting uniquely creative approach each time. This year the members of the Cafesjian Teen Council actively took part in the program. They transformed into elves and helped the participant children prepare Christmas decorations, sharing New Year and Christmas stories. We extend our gratitude to our long-term partner Beeline for the support in the implementation of the Center's educational programs,'' stated CCA Acting Executive Director Vahagn Marabyan.
"It is a great pleasure to be here today, as always, because the Cafejian Center for the Arts succesfully combines education and entertainment. I am glad that on this beautiful festive day our children will learn about the importance of the environment and how to use that knowledge in daily life," noted Andrey Pyatakhin, the CEO of Beeline Armenia.
Beeline and CCA have been partners since 2011. Various programs, aimed to develop aesthetic education amongst children, teenagers, and families, are periodically realized at CCA within the framework of this long-term cooperation.
AMD Rates
09:04 26/02
Buy
Sell
AMD / USD
477.50
479.00
AMD / EUR
519.00
522.00
AMD / RUR
7.30
7.35
dollars
dollars
BTC/USD
9197.9519203
-3.99%
ETH/USD
240.430918871
-7.50%
BCH/USD
336.303269133
-8.55%
XRP/USD
0.2439608463
-8.96%
LTC/USD
68.9119087686
-6.41%
BTC
167,752,357,498
-3.98%
ETH
26,412,949,414
-7.48%
XRP
10,673,143,921
-8.96%
Platinum
14825.03
-187.37
Molybdenum
20834.00
-2.07%
Dow Jones
27081.36
-3.15%
Hang Seng
26893.23
+0.27%
CBA Interest Rates
Refinancing
Refinancing Rate
5.50
+0.00
Lombard Repo
Lombard Repo Rate
7.00
+0.00
Macroeconomy
CEA
Coefficient of Economic Activity
+8.90%
Ind. Prod.
3
Volume of Industrial Production
144.15
+9.0%
Avg. Salary
2
Average salary
183,030
+5.90%
Services
3
Volume of services
152.67
+13.20%
Construction
3
Volume of construction
11.85
+7.70%
1 - mln AMD, 2 - AMD, 3 - bln AMD