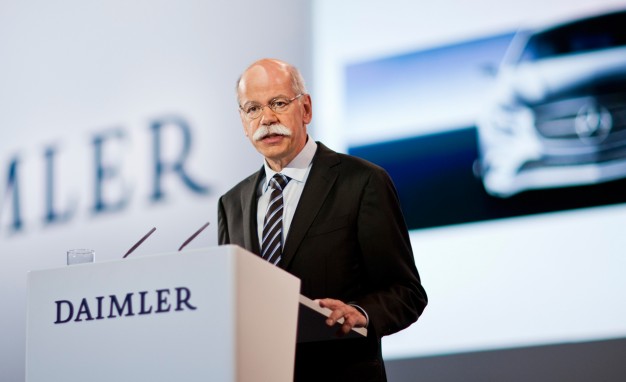 03/06/2017 20:58
Daimler: U.S. Expansion Not Linked to Trump's Trade Campaign
German car and truck manufacturer Daimler said its plans to expand manufacturing at a plant in Alabama predates U.S. President Donald Trump's efforts to protect U.S. jobs. Reuters reports.
"We have been expanding the Tuscaloosa factory for many years and continue to do so," Daimler Chief Executive Officer Dieter Zetsche said on the sidelines of an event in Rastatt, Germany.
"We are deepening our supplier base at the location, just like we have been in other locations," Zetsche said, explaining that a similar process was underway at the Mercedes-Benz factory in Beijing, China.
A spokesman for Daimler clarified that plans to increase sourcing of parts from local suppliers in the United States have been underway for years and were further expanded with a $1.3 billion (£1 billion) investment plan announced in September 2015.
Daimler, which owns the Mercedes-Benz brand, makes off-road vehicles for local and overseas markets at its factory in Tuscaloosa, Alabama.
Trump has criticised Germany's trade surplus with the United States. He used Twitter this week to attack Germany partly for its trade policies, flagging the United States' "massive trade deficit with Germany."
Last year, around 545,000 cars were shipped from Germany to the United States, German auto industry association VDA said.
German carmakers also produced 854,000 cars at factories in the United States, of which 62 percent were exported overseas.
Although the majority of cars made by German brands in the United States are exported overseas, there is a trade gap with Germany.
According to the VDA, cars and engines worth 23.42 billion euros (£20.5 billion) were exported to the United States in 2016, while goods - such as car components - imported from the United States to Germany were worth only 6.24 billion euros.
Including other components and second-hand vehicles, exports from Germany amounted to 31.2 billion euros in 2016, while shipments from the United States to Germany amounted to 7.4 billion euros, VDA said.
AMD Rates
10:00 15/12
Buy
Sell
AMD / USD
484.00
485.50
AMD / EUR
549.00
553.00
AMD / RUR
7.27
7.37
dollars
dollars
BTC/USD
3411.83467834
-0.91%
ETH/USD
89.0434501794
-0.78%
BCH/USD
97.607306947
-4.38%
XRP/USD
0.3030557249
-0.59%
LTC/USD
23.9556628897
-2.18%
BTC
59,434,627,518
-0.90%
XRP
12,403,150,534
-0.59%
Molybdenum
26000.00
+0.00%
Dow Jones
24100.51
-2.02%
Hang Seng
26094.79
-1.62%
CBA Interest Rates
Refinancing
Refinancing Rate
6.00
+0.00
Lombard Repo
Lombard Repo Rate
7.50
+0.00
Macroeconomy
CEA
Coefficient of Economic Activity
+6.00%
Ind. Prod.
3
Volume of Industrial Production
1,408.751
+4.5%
Avg. Salary
2
Average salary
168,518
+3.70%
Services
3
Volume of services
1,426.759
+18.50%
Construction
3
Volume of construction
288,754
+6.50%
1 - mln AMD, 2 - AMD, 3 - bln AMD