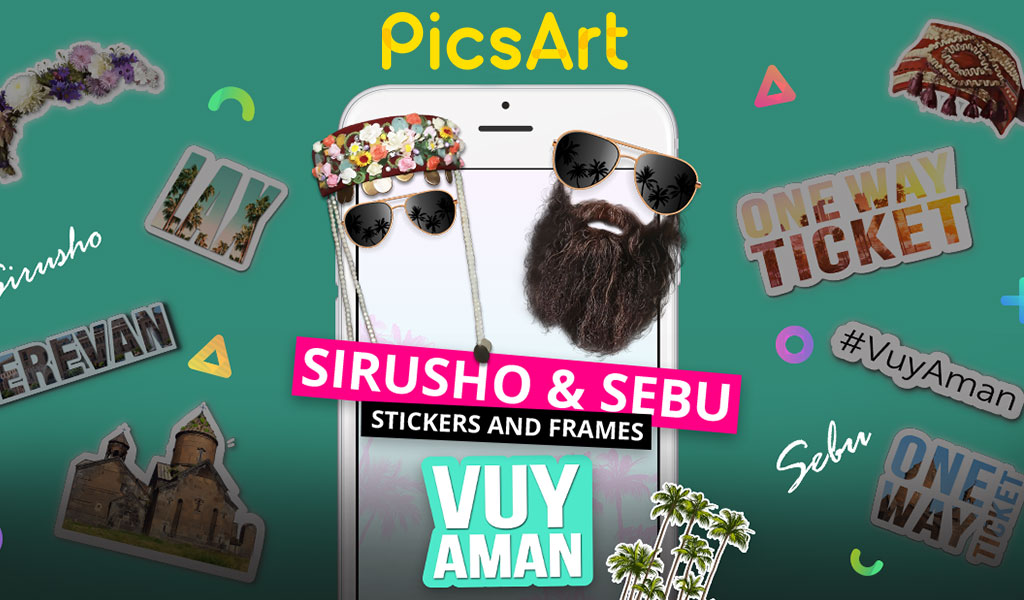 01/09/2017 00:37
Vuy Aman song-inspired creative sticker and frame packages are now free to use for the PicsArt Community
Sebu, a leading voice in the American pop scene, and part of the popular duo Capital Cities that went platinum with their breakout hit "Safe and Sound," plus Sirusho, Armenia's most celebrated musical diva, are excited to announce an exclusive partnership with the world's leading photo editing app and creative social network, PicsArt. The partnership celebrates the launch of exclusive sticker and frame packs made by PicsArt for the viral hit "Vuy Aman" (translation: Oh My).
Starting today, PicsArt's global community of 90 million monthly active users will have free access to exclusive Vuy Aman stickers and Vuy Aman frame packs featuring stylish accessories, hair and head attributes, travel frames and more, all inspired by Sirusho & Sebu viral hit "Vuy Aman". Anyone with the PicsArt app, available to download for free to iOS, Android and Windows devices, can download and use the packages to add a special "Vuy Aman" flair to their images. Moreover, all Capital Cities and Sirusho fans are now invited to follow and co-create with @SirushoOfficial and @CapitalCities on PicsArt.
To start using the Vuy Aman sticker and frame packs on PicsArt:
1) Download PicsArt photo editor and collage maker for iOS, Android, or Windows.
2) Open the app and tap on the Store button.
3) Search for "Vuy Aman" in the search bar at the top of the screen.
4) Tap on "FREE" to download the packs.
5) Tap on "USE," choose a photo and then start editing! Be sure to share your edits on PicsArt with the hashtag #VuyAman!
The best image(s) will get a prize from the artists themselves!
In March 2017, PicsArt and Sirusho came together to introduce Sirusho Style stickers and Armat frame packages, inspired by Armenian ethnic ornaments, which went viral globally. Now, you can download the Vuy Aman sticker and frame packages to continue the fun. The Sebu, Sirusho and PicsArt collaboration announcement video is available at Sirusho's YouTube channel. Watch the video on how to use Vuy Aman stickers at PicsArt's YouTube channel.
PicsArt is the leading image editing app and creative social network. PicsArt makes it easy to edit photos, remix pictures with friends, make stickers and share your creations with the world. It's the one free app that lets you be truly creative with over 3,000 editing features, over 10 million #freetoedit images, and over 2 million #freetoedit stickers. With more than 400 million installs and 90 million monthly active users, PicsArt spans the globe and is available in 20 languages.
AMD Rates
10:00 23/03
Buy
Sell
AMD / USD
485.00
487.00
AMD / EUR
547.00
552.00
AMD / RUR
7.49
7.59
dollars
dollars
BTC/USD
4028.57441514
-0.37%
ETH/USD
137.227388364
-0.93%
BCH/USD
166.504938577
-1.67%
XRP/USD
0.3088078883
-1.42%
LTC/USD
60.4865753042
-1.73%
BTC
70,937,656,161
-0.35%
ETH
14,460,799,809
-0.91%
XRP
12,866,794,896
-1.42%
Molybdenum
26000.00
+0.00%
Dow Jones
25502.32
-1.77%
Hang Seng
28523.35
-2.03%
CBA Interest Rates
Refinancing
Refinancing Rate
5.75
+0.00
Lombard Repo
Lombard Repo Rate
7.25
+0.00
Macroeconomy
CEA
Coefficient of Economic Activity
+5.80%
Ind. Prod.
3
Volume of Industrial Production
1,737.7
+4.30%
Avg. Salary
2
Average salary
172,357
+3.80%
Services
3
Volume of services
1,764.7
+18.80%
Construction
3
Volume of construction
422.3
+4.50%
1 - mln AMD, 2 - AMD, 3 - bln AMD