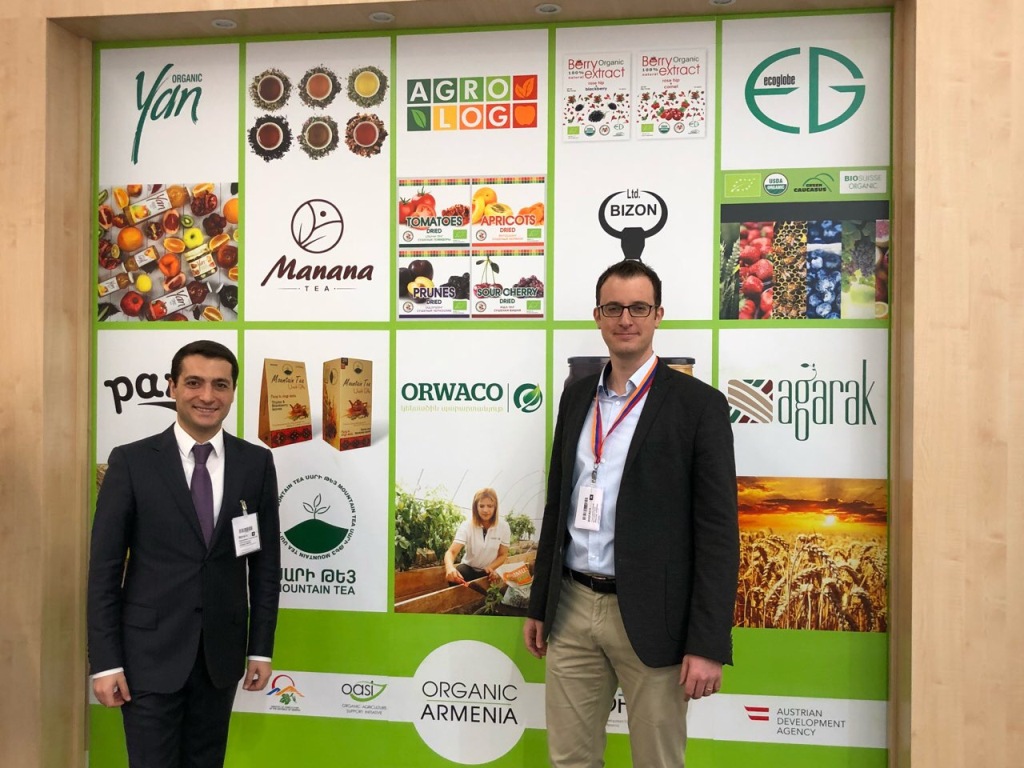 14/02/2018 20:31
Armenia participates in BIOFACH organic food expo in Germany
10 Armenian producing companies are participating in the annual BIOFACH organic food exhibition in Nuremberg, Germany.
The Armenian participation is carried out with the support of the agriculture ministry, the EU and the Austrian development agency-funded Initiative of Organic Agriculture Support project.
Another 10 companies, including the Development Foundation of Armenia, will depart for the expo as visitors.
The Armenian organic-certifies production presents herbal and berry teas, oils from fruit nuts, dried fruits, juices, honey and is presented under a single pavilion called Organic Armenia.
EU Ambassador Piotr Switalski, among other officials, wished success to the Armenian producers.
"The EU believes in the development of agriculture, especially organic agriculture in Armenia", he said.
AMD Rates
10:00 24/03
Buy
Sell
AMD / USD
479.00
481.00
AMD / EUR
591.00
596.00
AMD / RUR
8.39
8.49
dollars
dollars
Molybdenum
24500.00
+2.08%
Dow Jones
23533.20
-1.77%
Hang Seng
30309.29
-2.45%
CBA Interest Rates
Refinancing
Refinancing Rate
6.00
+0.00
Lombard Repo
Lombard Repo Rate
7.50
+0.00
Macroeconomy
CEA
Coefficient of Economic Activity
+10.2%
Ind. Prod.
3
Volume of Industrial Production
128.255
+13.9%
Avg. Salary
2
Average salary
198,816
+10.2%
Services
3
Volume of services
111.445
+15.2%
Construction
3
Volume of construction
9.334
+19.7%
1 - mln AMD, 2 - AMD, 3 - bln AMD