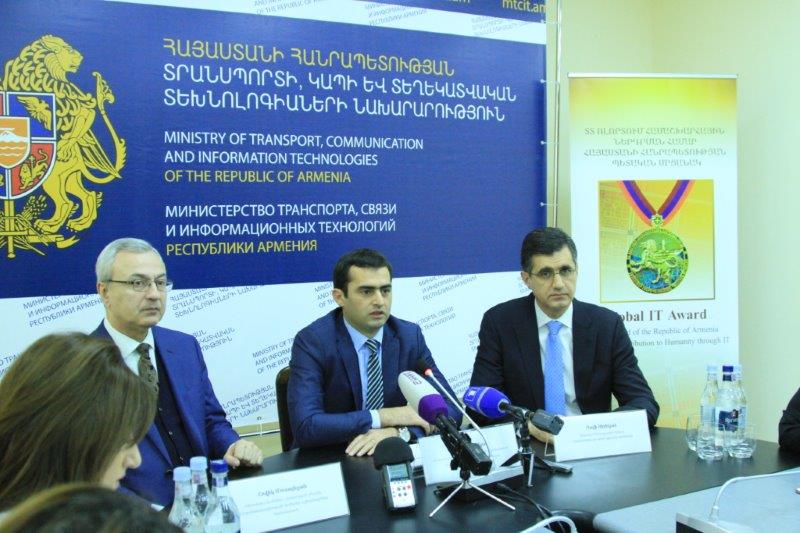 23/11/2018 19:12
James Truchard is the laureate of the State Award of Republic of Armenia for Global Contribution to Humanity through IT in 2018
RA Ministry of transport, communication and information technologies hosted today a press conference to announce the laureate of the 2018 State Award of Republic of Armenia for Global Contribution to Humanity through IT. Acting RA Minister of transport, communication and information technologies Hakob Arshakyan, General Manager of the award's General Partner VivaCell-MTS Ralph Yirikian, and Hovik Musayelyan, coordinating the works of the award committee spoke at the press conference.
As announced on the press conference James Truchard, the founder of the company "National Instruments", became the laureate of the State Award of Republic of Armenia for Global Contribution to Humanity through IT in 2018.
"By inviting such prominent people to Armenia, we not only show our esteem to them and celebrate their achievements but also demonstrate our approach toward the IT sphere. The laureates of GIT Award become the ambassadors of Armenia in the world and thus help raising our country's reputation as a technological country," said RA Acting Minister of Transport, Communication and Information Technologies Hakob Arshakyan.
"Armenia's competitive advantages are closely connected to IT. And there is no coincidence Armenia has an award for global contribution. Those are contributions, which have been breakthroughs for humanity. We are proud that world legends visit Armenia every year reestablishing our country's reputation and renown," said Hovik Musayelyan, Director of Synopsis Armenia, and coordinator of the Award Committee.
As a continuous project, the impact of the Global IT Award extends far beyond the efforts to have Armenia properly placed on the world's ICT map and thus to better enhance the country's image globally. The biggest outcome of the award is that here in Armenia we host true innovators, whose breakthrough inventions have defined the path of global development, and that these people lecture for the Armenia ICT community and younger generation. The laureates of the award, just like the geniuses of all times, have never mimicked anyone, have never chosen roads treaded before, and have never tried to fit into the existing rules of the game. Armenia has the intellectual potential, which will not only foster its ICT development as the country's competitive advantage but will also help to create a new quality in the industry to stand as equal by the side of the ICT giants, in the long run, "VivaCell-MTS General Manager Ralph Yirikian said.
The award was founded on 6 July, 2009 by the Decree of the President of the Republic of Armenia and is granted annually to an individual, whose internationally acclaimed contributions to IT have resulted in near-revolutionary or revolutionary developments that have positively impacted or hold the potential to positively impact the history. These investments may have different forms: technological, educational, business and financial.
This is the 9th year of the award. It consists of golden medal symbolizing Armenia and high technologies and a symbolic souvenir.
The awarding ceremony is held by the award committee and the laureate is chosen by the international commission.
The winners of recent years are prominent figures like:
Former CEO of "Intel Corporation" Craig Barrett, the Co-Founder of "Apple Inc." Steve Wozniak, Chairman Emeritus of "Synaptics, Inc." and President of "Federico and Elvia Faggin" Foundation Federico Faggin, former CEO of "Hitachi" Tsugio Makimoto, Chief Development Officer of "Sysco Systems" Mario Mazzola, Chief Executive Officer and Chairman of "Kaspersky Lab" Eugene Kaspersky, one of the founding fathers of Internet and CEO at "Open-Root" Louis Pouzin and the founder of "Nest labs", the creator of iPod Tony Fadell.
About Dr. James Truchard
Named an Innovation Agent by Fast Company, James Truchard, president and CEO, cofounded National Instruments in 1976 and has pioneered the way scientists and engineers solve the world's grand engineering challenges.
As one of Forbes' America's Favorite Bosses, Dr. James Truchard, commonly known around NI as Dr. T, has led the company from a three-man team to a multinational organization recognized as a Fortune 100 Best Places to Work and one of the top 25 "World's Best Multinational Workplaces" by the Great Places to Work Institute.
Under Truchard's leadership, the company's long-term vision, known as the 100 year plan, and focus on improving the world by providing tools that accelerate productivity, innovation, and discovery, has led to strong, consistent company growth and success of its broad base of customers, employees, suppliers, and shareholders. Learn more about the NI company story at ni.com/company.
Elected to the Royal Swedish Academy of Engineering Sciences and the National Academy of Engineering, Truchard has also been inducted into Electronic Design's Engineering Hall of Fame and has earned the distinction of being elected an IEEE Fellow.
Additionally, Truchard has been recognized with the Woodrow Wilson Award for Corporate Citizenship for his community involvement with organizations including: the Engineering Foundation Advisory Council, The University of Texas at Austin Chancellor's Council, Austin Software Council, and FIRST Robotics.
Truchard's personal passion for gardening and photography has led him to writing a gardening book that he plans on giving to non-profits for their use fundraising.
Truchard holds a doctorate in electrical engineering, as well as a master's degree and bachelor's degree in physics, all from the University of Texas at Austin. Truchard earned his master's and doctorate degrees while working full-time as the managing director of the acoustical measurements division at the UT Applied Research Laboratories.
On January 1, 2017, Truchard retired as president, CEO, and cofounder. He continues to hold his position as chairman of the board.
Ucom
- broadband connection starting at AMD 6,000
AMD Rates
08:52 19/06
Buy
Sell
AMD / USD
476.50
478.50
AMD / EUR
532.00
537.00
AMD / RUR
7.41
7.49
dollars
dollars
BTC/USD
9164.01426318
-0.40%
ETH/USD
268.491954844
-0.50%
BCH/USD
414.625004792
-1.81%
XRP/USD
0.4310905307
-2.73%
LTC/USD
135.589090427
+2.92%
BTC
162,819,790,618
-0.39%
ETH
28,608,063,677
-0.49%
XRP
18,322,188,235
-2.73%
Molybdenum
27293.00
+0.00%
Dow Jones
26465.54
+1.35%
Hang Seng
28202.14
+2.56%
CBA Interest Rates
Refinancing
Refinancing Rate
5.75
+0.00
Lombard Repo
Lombard Repo Rate
7.25
+0.00
Macroeconomy
CEA
Coefficient of Economic Activity
+7.00%
Ind. Prod.
3
Volume of Industrial Production
573.6
+4.50%
Avg. Salary
2
Average salary
177,171
+6.20%
Services
3
Volume of services
575 50
+17.00%
Construction
3
Volume of construction
68.2
+8.00%
1 - mln AMD, 2 - AMD, 3 - bln AMD