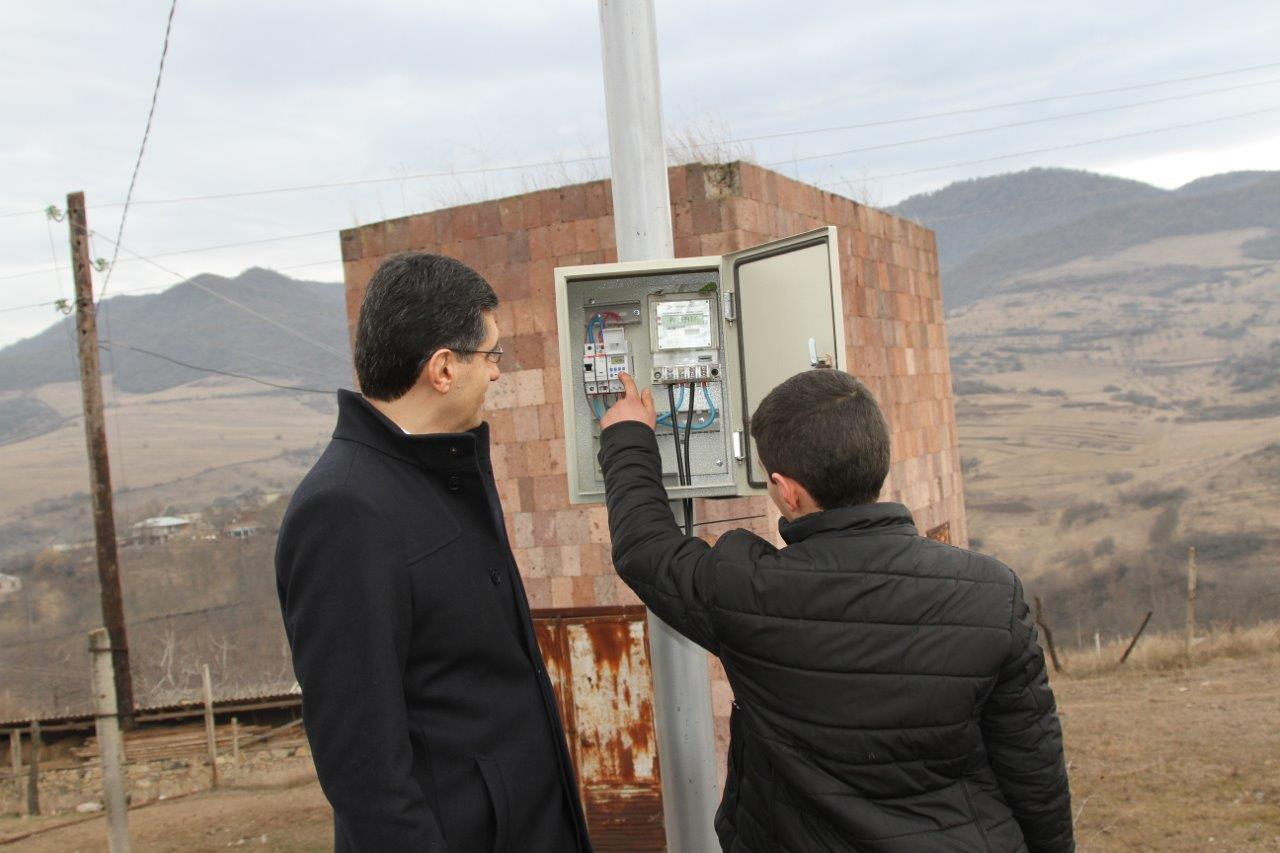 08/02/2019 12:29
Vivacell-MTS: The second stage of street illumination program in borderland Dovegh community completed
The village of Dovegh in Tavush region has a 15 km long international border on the east. Despite the need for a full outdoor illumination system this borderland village has been compelled to get along with only temporary solutions of the problem for years. The problem has been partially solved owing to support that came from varying sources, which in the long-run, however, could not keep the village from the necessity of spending additional funds on replacing the frequently damaged bulbs.
FPWC and VivaCell-MTS undertook the solution of this problem in 2017, and installed a brand new energy saving outdoor lighting infrastructure in two stages.
In the frame of the implemented program, the partner organizations, which prioritize community development, 131 LED lights have been installed encompassing around 4800 m long area, which includes almost all the village area.
The opening ceremony was attended by VivaCell-MTS General Manager Ralph Yirikian, FPWC senior engineer, program coordinator Martin Maralchyan, as well as the head and the residents of Noyemberyan community.
"There are settlements, where outdoor lighting program solves problems more important than the problem of providing minimum living conditions. Borderland Dovegh is one of those villages. As a rule, we emphasize our willingness to ease the financial burden of the village communities and to help keep wild animals away from the populated areas in the nighttime, with this program. In borderland villages, though, we also help in safeguarding against the adversary's activities. People on the borderlands are the back we lean on. They should feel that we are there for them, too. People in this village do not need to feel alone facing their problems; they should always feel that they are in the focus of our attention. This is the approach we are guided by," VivaCell-MTS General Manager Ralph Yirikian said.
Environmentally friendly energy saving LED-lights are economically efficient for rural communities with scarce budgets. Implementation of this system drastically cuts the energy consumption and eases the financial burden of the communities owing to the savings.
As compared to other types of bulbs the LED bulbs are more efficient and have longer life span, consuming up to 80% less energy.
The streets in Dovegh will be illuminated from 21:00 till 01:00 in summer, and from 18:00 till 24:00 in winter. During holidays, illumination will be provided all night long.
-----------
VivaCell-MTS (MTS Armenia CJSC) is Armenia's leading telecommunications operator, having the widest 2G/3.75G/4G network reach and spreading a wide range of Voice and Data services all across Armenia. Having the best of the Armenian people interest at heart since its launch on 1st July 2005 and in a short period of time VivaCell-MTS has managed to build a nationwide network and a considerable customer base. VivaCell-MTS drives innovation and aims at always being at the forefront of any development servingthe Armenian mobile communications market. The company follows the guidance provided by ISO 26000 (International Standard of Social Responsibility) and ISO/IEC 27001:2013 (Information Security Management System). For more information, visit www.mts.am
Mobile TeleSystems PJSC ("MTS") is the leading telecommunications group in Russia and the CIS, offering mobile and fixed voice, broadband, pay TV as well as content and entertainment services in one of the world's fastest growing regions. Including its subsidiaries, the Group services over 100 million mobile subscribers in Russia, Ukraine, Turkmenistan, Armenia and Belarus. Since June 2000, MTS' Level 3 ADRs have been listed on the New York Stock Exchange (ticker symbol MBT). Additional information about the MTS Group can be found at www.mtsgsm.com
Ucom
- broadband connection starting at AMD 6,000
AMD Rates
09:01 26/05
Buy
Sell
AMD / USD
482.00
486.00
AMD / EUR
525.00
531.00
AMD / RUR
6.74
6.89
dollars
dollars
ETH/BTC
0.02302990
+0.03%
BCH/BTC
0.02577359
+0.12%
XRP/BTC
0.00002207
+0.18%
LTC/BTC
0.00484141
+0.06%
Molybdenum
18850.00
+1.43%
Dow Jones
24465.16
+0.00%
Hang Seng
23384.66
+1.88%
CBA Interest Rates
Refinancing
Refinancing Rate
5.00
+0.00
Lombard Repo
Lombard Repo Rate
6.50
+0.00
Macroeconomy
CEA
Coefficient of Economic Activity
-1.7%
Ind. Prod.
3
Volume of Industrial Production
585.21
+4.20%
Avg. Salary
2
Average salary
191,623
+9.30%
Services
3
Volume of services
585.44
+0.1%
Construction
3
Volume of construction
54.03
-21.9%
1 - mln AMD, 2 - AMD, 3 - bln AMD