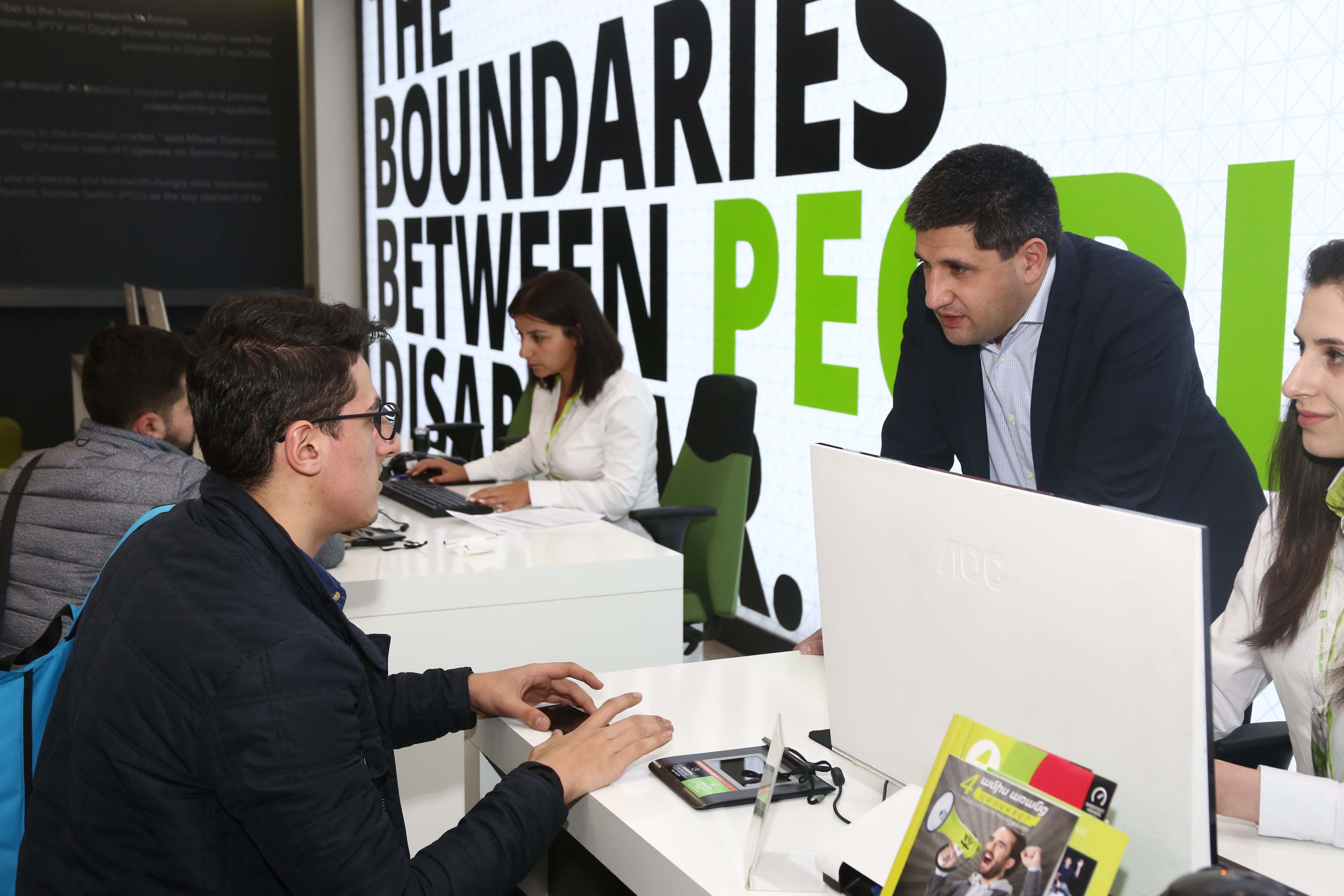 20/03/2019 16:17
Ucom to Celebrate International Client's Day 4 Days in a Row
On the occasion of International Client's Day, on March 19-22 the management team of Ucom will pay visits to the sales and service centers of Ucom operating all over the territory of the Republic of Armenia. During these 4 days the management team comprised of 94 employees will assist their fellow frontline employees, will personally talk to customers, find out their problems and offer solutions or ways of improving service level.
"As a customer-focused business, the management team of Ucom periodically pays visits to all service centers of Ucom in Yerevan and in the regions, and for the first time this year we specifically celebrate the International Client's Day. During this week we once again emphasize the importance of our mobile and fixed services subscribers for the development of our company and value our teammates. As we ourselves are the customers of our company, we also try to look into more efficient ways of problem solving. Such solutions include, for example, Ucom and uPay mobile apps with their immense number of important features," says Hayk Yesayan, the Co-founder and Director General at Ucom.
Within the scope of the Client's Day, only on March 19, a price reduction of 10% was applied to a wide range of smartphones, regardless of whether the desired model was acquired by cash or on credit, and with or without subscription. Throughout the week the customers, who will apply to the technical staff with the problems related to their fixed services, will get Ucom's paid services of 3000, 6000 or 7500 AMD absolutely free of charge. The management team of Ucom will also congratulate the birthday of its mobile subscribers, by providing extra 1 GB of high-speed internet and 100 on-net SMSs in addition to the gifts, traditionally presented on such occasion. As for Ucom TV subscribers, in addition to 5 free movies, they will be able to watch 5 more movies in VoD free of charge.
"Highly appreciating our customers' trust in us, we make every effort possible to improve the quality of our services and service level and do our best to find long-term solutions to maintain a high level of customer satisfaction. Without customer feedback there is no customer care, no service, no product," emphasizes Tigran Safaryan, Director of Marketing and Communications at Ucom.
Ucom
- broadband connection starting at AMD 6,000
AMD Rates
09:12 11/12
Buy
Sell
AMD / USD
478.00
479.00
AMD / EUR
528.00
532.00
AMD / RUR
7.48
7.58
dollars
dollars
BTC/USD
7349.08890485
+0.00%
ETH/USD
147.369578521
+0.00%
BCH/USD
208.246711499
+0.00%
XRP/USD
0.2229740668
+0.00%
LTC/USD
44.5634661422
+0.00%
BTC
132,973,496,008
+0.00%
ETH
16,043,476,510
+0.00%
Molybdenum
20062.00
-0.55%
Dow Jones
27881.72
-0.10%
Hang Seng
26436.62
-0.22%
CBA Interest Rates
Refinancing
Refinancing Rate
5.50
+0.00
Lombard Repo
Lombard Repo Rate
7.00
+0.00
Macroeconomy
CEA
Coefficient of Economic Activity
+7.10%
Ind. Prod.
3
Volume of Industrial Production
1,444.4
+9.70%
Avg. Salary
2
Average salary
178,633
+5.90%
Services
3
Volume of services
1,476.8
+15.50%
Construction
3
Volume of construction
251,836
+4.40%
1 - mln AMD, 2 - AMD, 3 - bln AMD