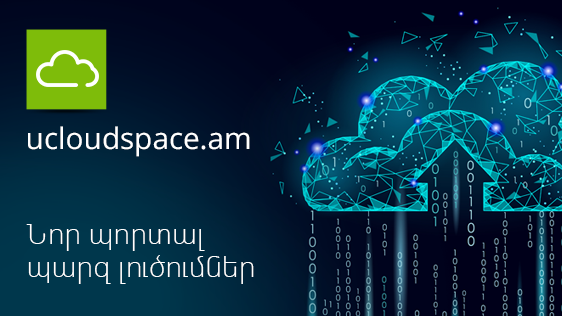 02/04/2019 21:53
New uCloud Portal to Reduce Costs for Implementation, Maintenance and Development of IT Infrastructure
The uCloud system created by Ucom has been turned into a separate portal, which will allow users to reduce costs for the implementation, maintenance and development of an IT infrastructure. uCloud's ucloudspace.am portal enables start-ups and large companies to have different types of separate virtual servers, various cloud applications and other cloud solutions.
On uCloudspace.am portal users can get familiarised with the services provided, register online, perform online payments and manage services through one interface. Via this portal Ucom offers IaaS (Infrastructure as a Service) service, which allows creating virtual servers on uCloud interface, use various operating systems and build own network infrastructure. Unlike a number of Armenian companies, which provide only virtual servers, uCloud enables to create a fully independent environment, where one can use and manage different products at a time.
"In the near future we will develop our ready-made platforms (PaaS) and software services (SaaS). Currently the portal also enables to register domains, use shared hosting service, in particular, create web sites and put them on online servers. We also offer collocation or physical hosting service, which involves installation of client's equipment in our data center," said Hayk Yesayan the Co-founder and Director General at Ucom.
It should be added that 24/7 online support service is available on ucloudspace.am portal.
AMD Rates
10:36 18/05
Buy
Sell
AMD / USD
479.00
481.00
AMD / EUR
536.00
539.00
AMD / RUR
7.39
7.48
dollars
dollars
BTC/USD
7243.68883441
-9.50%
ETH/USD
239.552640268
-7.47%
BCH/USD
360.429488052
-12.26%
XRP/USD
0.3803820313
-14.19%
LTC/USD
88.4588689749
-11.19%
BTC
128,250,322,106
-9.49%
ETH
25,416,909,328
-7.46%
BCH
6,410,725,025
-12.25%
XRP
16,026,754,318
-14.19%
LTC
5,467,495,480
-11.17%
Molybdenum
26896.00
+0.00%
Dow Jones
25764.00
-0.38%
Hang Seng
27946.46
-1.16%
CBA Interest Rates
Refinancing
Refinancing Rate
5.75
+0.00
Lombard Repo
Lombard Repo Rate
7.25
+0.00
Macroeconomy
CEA
Coefficient of Economic Activity
+5.80%
Ind. Prod.
3
Volume of Industrial Production
1,737.7
+4.30%
Avg. Salary
2
Average salary
172,357
+3.80%
Services
3
Volume of services
1,764.7
+18.80%
Construction
3
Volume of construction
422.3
+4.50%
1 - mln AMD, 2 - AMD, 3 - bln AMD