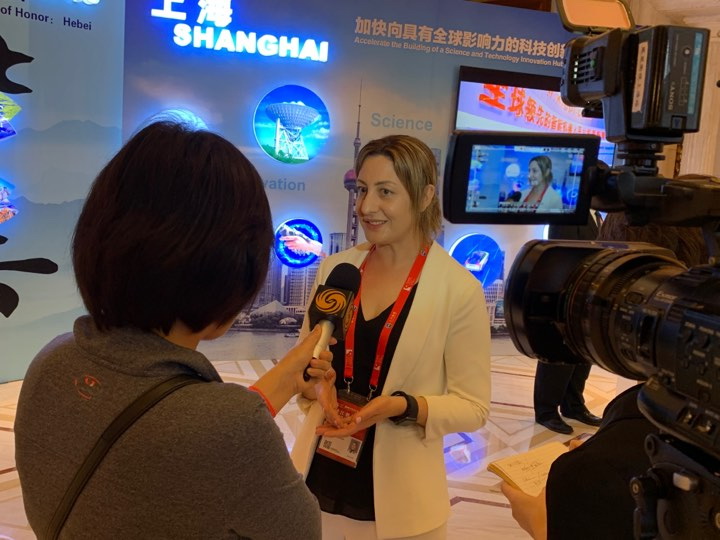 30/05/2019 19:35
Enterprise Incubator Foundation (EIF) participates in Pujiang Innovation Forum in Shanghai
Enterprise Incubator Foundation (EIF) participated as a special guest in Pujiang Innovation Forum, held in Shanghai from May 24 to 26.
The aim of the forum was to represent the technological and innovation sectors of China and discuss possible collaboration with different countries.
Enterprise Incubator Foundation (EIF) was represented by Business Development Manager of EIF Amalya Yeghoyan. The latter delivered a speech where she represented the technological, educational and engineering potential of Armenia and development prospects, as well as the opportunities provided by Engineering City.
Amalya Yeghoyan also met with President of Chinese Academy of Science and Technology for Development Hu Zhijian. During the meeting, it was decided to consolidate joint efforts in order to create an Armenian-Chinese engineering lab inside one of the Armenian universities, as well as start joint educational initiatives.
"Today China is considered one of the most innovative countries in the world. The participation in the forum was very important to discover the opportunities and programs that are offered by China today. I attach great importance to the Chinese side's readiness to cooperate with different countries and especially Armenia. Today is the best time for that cooperation, considering the fact that just a few days ago the mutual removal of visa requirement for Armenian and Chinese citizens was announced," said Amalya Yeghoyan.
In addition, Enterprise Incubator Foundation (EIF) invited the Chinese side to participate in a series of events featured under the title "Armenia Engineering Week", which is to be held in Yerevan and Vanadzor on 24-28 June, 2019.
Ucom
- broadband connection starting at AMD 6,000
AMD Rates
09:10 22/11
Buy
Sell
AMD / USD
475.50
477.50
AMD / EUR
525.00
530.00
AMD / RUR
7.44
7.47
dollars
dollars
BTC/USD
7578.00784742
-4.83%
ETH/USD
159.803453975
-6.16%
BCH/USD
223.384199242
-5.67%
XRP/USD
0.2419287426
-1.92%
LTC/USD
50.5535960242
-4.42%
BTC
136,865,073,581
-4.82%
ETH
17,362,111,461
-6.15%
XRP
10,475,486,856
-1.92%
Molybdenum
21164.00
-1.03%
Dow Jones
27766.29
-0.20%
Hang Seng
26595.08
+0.48%
CBA Interest Rates
Refinancing
Refinancing Rate
5.50
+0.00
Lombard Repo
Lombard Repo Rate
7.00
+0.00
Macroeconomy
CEA
Coefficient of Economic Activity
+7.10%
Ind. Prod.
3
Volume of Industrial Production
1,444.4
+9.70%
Avg. Salary
2
Average salary
178,633
+5.90%
Services
3
Volume of services
1,476.8
+15.50%
Construction
3
Volume of construction
251,836
+4.40%
1 - mln AMD, 2 - AMD, 3 - bln AMD