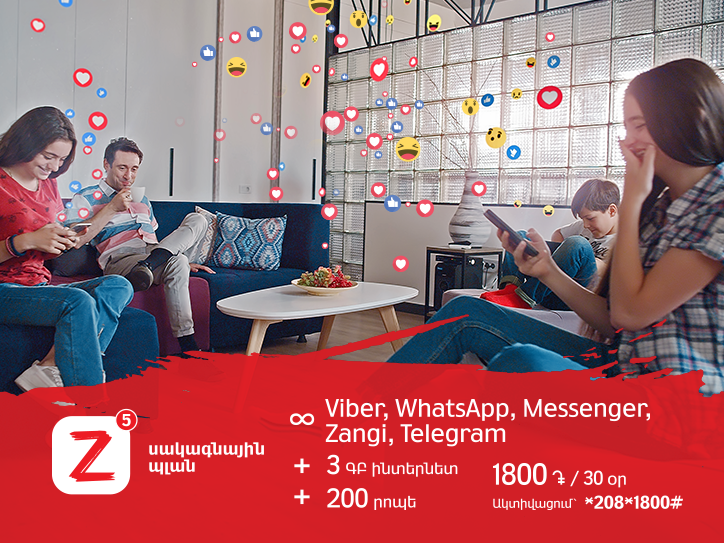 26/06/2019 22:20
VivaCell-MTS launched tariff plan for Z generation: top 5 messengers, Internet, minutes and more
"Z" prepaid tariff plan provides a subscriber with an opportunity to use Viber, WhatsApp, Messenger, Zangi, Telegram apps as much as needed. Also, embedded packages of Internet, airtime, as well as an opportunity to send SMS, are made available.
"The representatives of Generation Z grew up in a technological and digitalized environment. Therefore, the perceptions and expectations of this generation from the field of communication are quite different. Z is the generation of the future - free, ambitious, creative and self-confident. This age group is in the center of 'VivaCell-MTS' attention. In addition to internet access and calling minutes, tariff plan Z also provides opportunity to make use of top 5 messengers - Viber, WhatsApp, Messenger, Zangi, Telegram apps, without limitation. In this regard, tariff plan Z, along with X and Y tariff plans, provides unprecedented opportunities", VivaCell-MTS General Manager Ralph Yirikian said. Facebook users were the first to learn about tariff plan Z, from the presentation by Ralph Yirikian in the social network.
The embedded packages of Internet, airtime, as well as an opportunity to send SMS, are the following:
Viber, WhatsApp, Messenger, Zangi, Telegram apps - ∞*
INTERNET - 3 GB
CALLS
оn-net, to RA networks, to +374 97 and +374 47 networks; US and Canada; to MTS Russia - 200 minutes**
SMS to RA mobile networks - 200 SMS
*When using the mentioned applications the main Internet-package is not consumed. When downloading and watching content obtained through hyperlinks exchanged via messengers (for example YouTube), the main Internet-package is being consumed.
**10 000 on-net minutes after consuming 200-minute package.
Activation: *208*1800#
Activation fee: AMD 1800/30 days
-----------
VivaCell-MTS (MTS Armenia CJSC) is Armenia's leading telecommunications operator, having the widest network reach and spreading a wide range of Voice and Data services all across Armenia. Having the best of the Armenian people interest at heart since its launch on 1st July 2005 and in a short period of time VivaCell-MTS has managed to build a nationwide network and a considerable customer base. VivaCell-MTS drives innovation and aims at always being at the forefront of any development serving the Armenian mobile communications market. The company follows the guidance provided by ISO 26000 (International Standard of Social Responsibility) and ISO/IEC 27001:2013 (Information Security Management System). For more information, visit www.mts.am
Mobile TeleSystems PJSC ("MTS") is the leading telecommunications group in Russia and the CIS, offering mobile and fixed voice, broadband, pay TV as well as content and entertainment services in one of the world's fastest growing regions. Including its subsidiaries, the Group services over 100 million mobile subscribers in Russia, Ukraine, Armenia and Belarus. Since July 2000, MTS' Level 3 ADRs have been listed on the New York Stock Exchange (ticker symbol MBT). Additional information about the MTS Group can be found at www.mtsgsm.com
AMD Rates
09:06 23/08
Buy
Sell
AMD / USD
475.00
477.00
AMD / EUR
525.00
529.00
AMD / RUR
7.23
7.32
dollars
dollars
BTC/USD
10223.1700031
+2.01%
ETH/USD
192.648047521
+3.63%
BCH/USD
310.868747134
+3.81%
XRP/USD
0.272317944
+2.84%
LTC/USD
73.9964850343
+1.71%
BTC
182,910,401,903
+2.02%
ETH
20,697,323,966
+3.64%
XRP
11,679,909,513
+2.84%
Molybdenum
26411.00
+0.00%
Dow Jones
26252.24
+0.19%
Hang Seng
26270.04
+0.00%
CBA Interest Rates
Refinancing
Refinancing Rate
5.75
+0.00
Lombard Repo
Lombard Repo Rate
7.25
+0.00
Macroeconomy
CEA
Coefficient of Economic Activity
+6.50%
Ind. Prod.
3
Volume of Industrial Production
900.5
+6.90%
Avg. Salary
2
Average salary
176,783
+5.60%
Services
3
Volume of services
905.4
+15.3%
Construction
3
Volume of construction
131.0
+4.70%
1 - mln AMD, 2 - AMD, 3 - bln AMD