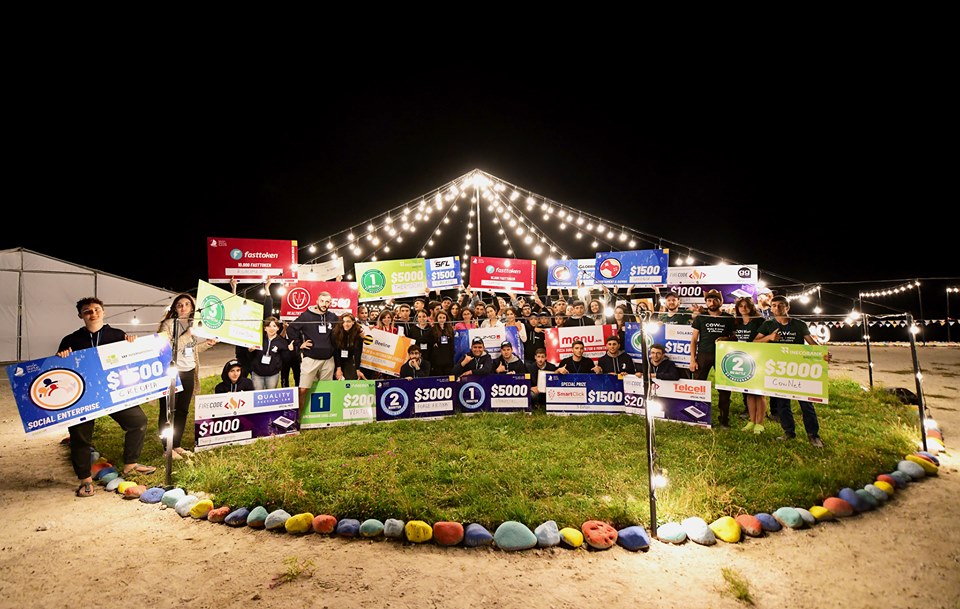 05/08/2019 23:08
Sevan Startup Summit 2019: winners announced
Sevan Startup Summit 2019 is successfully finished. Over 1000 entrepreneurs lived in the tents for one week and shared common lifestyle.
On August 3rd the Summit was concluded during the closing ceremony. The participants got their monetary and in-kind prizes. The prize fund reached $100,000 and information about the investments commitment will be announced soon.
The startups were divided into sub-groups based on their stage of development and field of operations. The startups that had an idea ready and were looking for their first grants, were competing in the Starter battle. The startups that have MVP ready or are already operating were competing in the Booster battle.
The prizes were given to over 30 teams and individuals.
Here are the winners of the Starter Battle:
1st place - Thermoscan - $5,000 - The approach consists of developing a mobile app that together with external thermal infrared camera and integrated AI algorithm to detect breast cancer associated risks with higher accuracy than thermal imaging has been doing before.
2nd Place - $3,000 – CowNet- A farm-monitoring device to facilitate the dairy producers' life, improve the animal welfare and influence overall environment. COW-net is a real-time monitoring device that constantly collects information about the animals' health, reproductive status and productivity features. Data collected is analyzed and delivered to a farmer through the mobile application.
3rd place - $2,000 - Xpressbook - XpressoBooks is not just a CashBook system with an App tacked on. It is an integrated MTD solution, designed from the beginning to be simple and easy to use for the Cash Based business, while not forgetting to make it easy for the busy Accounting practice to manage all their small business clients.
Winners of the Booster Battle:
1st place -Soraytec - $ 5,000 - Soraytec LLC was founded in 2014 as a R&D and OEM developer for Soraytec AG in order to build, test and certify the invention of a medium voltage smart meter. The developed product is disruptive in the field of power metering on medium and high voltage levels.
2nd place - $3,000 - ForgeFiction delivers original content to media & entertainment industry by enabling fiction enthusiasts to collaborate and create new stories and fictional worlds.
3rd place - $2,000 - RetentionForce - Conversational Marketing and Customer Care Automation Solution based on Chatbot.
The winners of each of track battles won $1,500 grant and the monetary amount of special and in-kind prizes reached $30,000. And the prize fund for the Firecode Marathon for the developers reached $20.000.
To recall, Sevan Startup Summit 2019 took place from 28th of July to 3rd of August, at the shores of lake Sevan. The aim of the initiative is to create a new platform for cooperation between the startups and investors and bring humanization in innovation.
Ucom
- broadband connection starting at AMD 6,000
AMD Rates
08:55 21/01
Buy
Sell
AMD / USD
478.50
480.00
AMD / EUR
530.00
534.00
AMD / RUR
7.74
7.80
dollars
dollars
BTC/USD
8664.76104096
-0.10%
ETH/USD
167.248946601
+0.91%
BCH/USD
343.292630697
+3.49%
XRP/USD
0.2361881071
+1.53%
LTC/USD
57.4551686025
+0.50%
BTC
157,461,340,470
-0.09%
ETH
18,291,210,993
+0.92%
XRP
10,310,502,729
+1.53%
Molybdenum
21782.00
+2.92%
Dow Jones
29348.10
+0.00%
Hang Seng
27985.33
-2.81%
CBA Interest Rates
Refinancing
Refinancing Rate
5.50
+0.00
Lombard Repo
Lombard Repo Rate
7.00
+0.00
Macroeconomy
CEA
Coefficient of Economic Activity
+7.50%
Ind. Prod.
3
Volume of Industrial Production
1,856.1
+9.30%
Avg. Salary
2
Average salary
178,885
+5.90%
Services
3
Volume of services
1,847.6
+14.80%
Construction
3
Volume of construction
344,776
+4.50%
1 - mln AMD, 2 - AMD, 3 - bln AMD