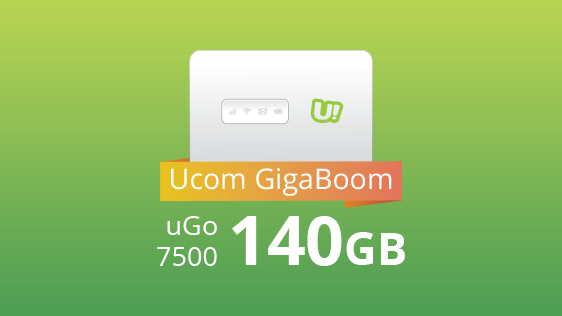 16/08/2019 03:43
Thanks to "UCOM Gigaboom" offer, all new subscribers of mobile internet to receive up to 140 gb
By subscribing to uGo 3500, uGo 5500 and uGo 7500 postpaid tariff plans of Ucom mobile internet from August 15 till September 30 for 18 months, subscribers will receive a double volume of high-speed internet during the specified period. In particular, the subscribers of uGo 3500 tariff plan will receive 30 GB of high-speed internet instead of the 15 GB, uGo 5500 tariff plan subscribers will receive 80 GB of high-speed internet instead of 40 GB of high-speed internet, and the subscribers of uGo 7500 tariff plan will receive 140 GB of high-speed internet instead of the usual 70 GB.
"All new subscribers who have joined "Ucom Gigaboom" offer will also have the opportunity to acquire Alcatel MW40V uFi device at 1 AMD to enjoy the doubled volume of internet both at home and outdoors. And those who have jointed uGo 7500 tariff plan for 18 months will also be able to use "Internet Together" service without extra fee and share their internet volume of 140 GB with their loved ones," noted Hayk Yesayan, Co-founder and Director General at Ucom.
It should also be added that the subscribers of uGo postpaid tariff plans of Ucom mobile internet can send SMSs from their device interface. Price per 1 SMS to all local networks is 15 AMD and to international directions it's 20 AMD.
AMD Rates
10:08 21/09
Buy
Sell
AMD / USD
475.50
477.50
AMD / EUR
523.00
528.00
AMD / RUR
7.41
7.51
dollars
dollars
BTC/USD
9938.56386669
-2.60%
ETH/USD
209.501552539
-3.94%
BCH/USD
307.351730034
-3.80%
XRP/USD
0.2729017019
-7.73%
LTC/USD
73.4982148707
-2.94%
BTC
178,421,441,687
-2.57%
ETH
22,596,244,004
-3.91%
XRP
11,749,786,224
-7.73%
Molybdenum
26081.00
+0.00%
Dow Jones
26935.07
-0.59%
Hang Seng
26435.67
-0.13%
CBA Interest Rates
Refinancing
Refinancing Rate
5.50
+0.00
Lombard Repo
Lombard Repo Rate
7.00
+0.00
Macroeconomy
CEA
Coefficient of Economic Activity
+6.80%
Ind. Prod.
3
Volume of Industrial Production
1,079
+8.40%
Avg. Salary
2
Average salary
178,325
+5.90%
Services
3
Volume of services
1,086.4
+15.2%
Construction
3
Volume of construction
166.7
+4.50%
1 - mln AMD, 2 - AMD, 3 - bln AMD