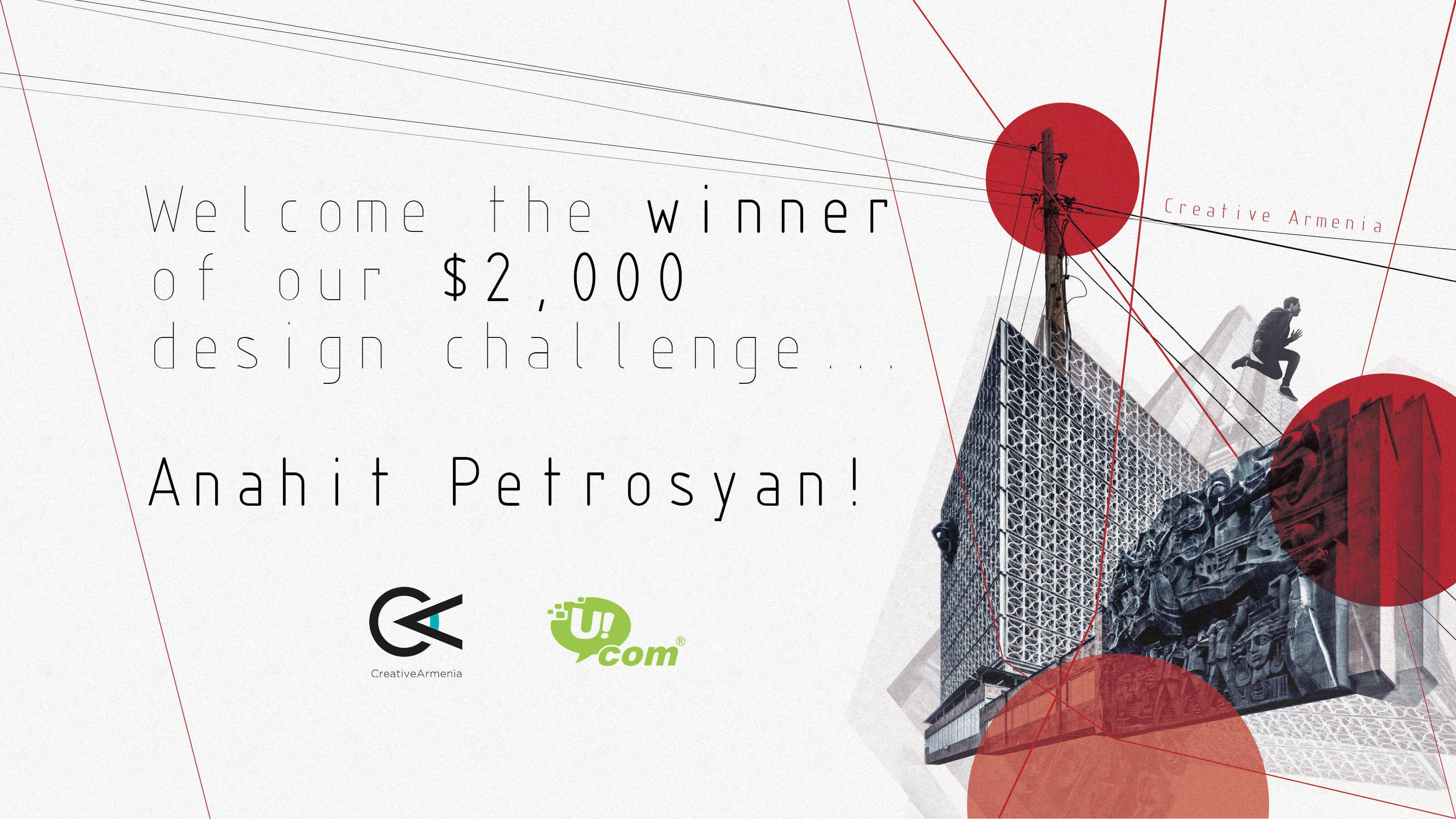 30/08/2019 13:12
Creative Armenia and Ucom announce winner of $2,000 movie poster challenge
Anahit Petrosyan is awarded the $2,000 top prize for her unique vision
Creative Armenia is delighted to present the 10 finalists and winner of its Movie Poster design challenge, hosted by Ucom. The $2,000 prize has been awarded to Anahit Petrosyan, for her enchanting poster of an imaginary movie called Creative Armenia. The other finalists include: Anastasia Karapetyan, Artush Koshtoyan, Hripsime Minasyan, Thénie Khatchatourov, Maria Gevorgyan, Natalie Mkrtumian, Nvard Asatryan, Silva Harutyunyan, and Siranush Mkrtchyan.
"We were delighted and surprised by the inventive range of poster designs that were created for this challenge," said Alec Mouhibian, VP of Creative Armenia. "They show that Creative Armenia contains multitudes."
The Movie Poster design challenge is the second collaboration of Creative Armenia and Ucom, following the Art of Shadows photography challenge. The next creative challenge will be announced soon.
"Ucom encourages creativity and innovative spirit. Armenia truly needs more creators rather than mere consumers, more doers and makers rather than a leisure society," said Hayk Yesayan, Co-Founder and Director General at Ucom. "I'm glad new generation justifies hopes."
Creative Armenia, a global arts foundation for the Armenian people, pursues a mandate to discover, develop, and promote innovative talent.
Ucom, the fastest fixed and mobile services provider in Armenia and a member of Galaxy Group of Companies, along with the other members, implements social impact projects to support the creative culture in Armenia.
To learn more about the creative challenges, please visit https://www.creativearmenia.org/challenges
AMD Rates
09:00 18/10
Buy
Sell
AMD / USD
475.50
477.25
AMD / EUR
528.00
532.50
AMD / RUR
7.42
7.45
dollars
dollars
BTC/USD
7971.1789573
-0.59%
ETH/USD
174.761940549
-0.43%
BCH/USD
216.388165458
-0.15%
XRP/USD
0.2901373081
+2.15%
LTC/USD
53.7847844593
+1.77%
BTC
143,470,157,235
-0.58%
ETH
18,908,021,921
-0.42%
XRP
12,524,295,466
+2.15%
Molybdenum
23810.00
-0.92%
Dow Jones
27025.88
+0.09%
Hang Seng
26719.58
-0.48%
CBA Interest Rates
Refinancing
Refinancing Rate
5.50
+0.00
Lombard Repo
Lombard Repo Rate
7.00
+0.00
Macroeconomy
CEA
Coefficient of Economic Activity
+6.80%
Ind. Prod.
3
Volume of Industrial Production
1,079
+8.40%
Avg. Salary
2
Average salary
178,325
+5.90%
Services
3
Volume of services
1,086.4
+15.2%
Construction
3
Volume of construction
166.7
+4.50%
1 - mln AMD, 2 - AMD, 3 - bln AMD