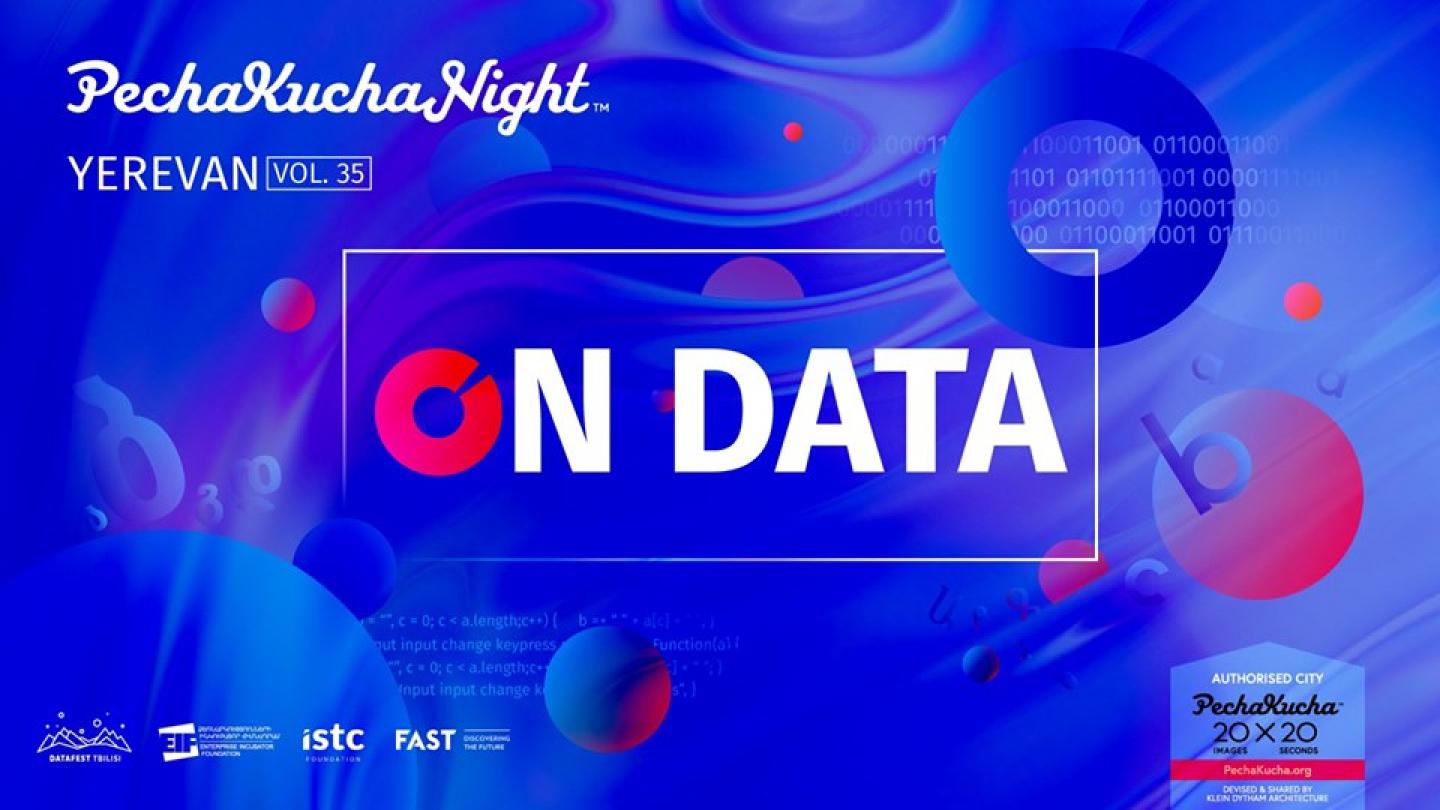 03/09/2019 20:39
PechaKucha Yerevan and DataFest Tbilisi to organize joint meetup on data
On September 4, at the Innovative Solutions and Technologies Center (ISTC), PechaKucha Night Yerevan vol. 35 will be held, focusing on data. The meetup participants will explore emerging opportunities in the field of data and discuss regional and international best practices in this area.
The event is organized by the PechaKucha Yerevan team and DataFest Tbilisi in collaboration with Kiraki Development Foundation, ISTC and Foundation for Armenian Science and Technology (FAST).
PechaKucha Yerevan on Data aims to deepen ties between the Georgian and Armenian tech communities and encourage cross-country collaboration on various data projects.
The event will see 11 local and international speakers covering topics such as artificial intelligence, machine learning, data journalism, data visualization, etc. The organizations to be represented include DataFest Tbilisi, Maxin AI, Windros.ai, CNN, ModelFront, ISTC, Polixis, DISQO Armenia, FAST, ArmSec Foundation and PicsArt.
The meetup comes a couple of months before DataFest Tbilisi 2019, the largest data conference in the region. In its 3rd year now, DataFest Tbilisi is a three-day event about data, science, communications and technology. The goal of the event is to connect professionals working with data from different industries in order to encourage cross-sector collaboration.
DataFest Tbilisi will be held on 14-16 November this year. The last two editions of the event hosted more than 800 participants and this year the organizers expect over 1,000 attendees representing the media, civil society, business, startups and public agencies from around the world.
Some of the speakers at PechaKucha Yerevan on Data are either the organizers or former and current speakers of DataFest Tbilisi. By attending the meetup, participants will have a chance to learn about some of the newest tendences in the world of data and to network with the region's leading data professionals.
-----------
Deriving from Japan, PechaKucha is a simple presentation format where the speakers show 20 images, each for 20 seconds. The images advance automatically and the presenters talk along to the images. www.pechakucha.com
Ucom
- broadband connection starting at AMD 6,000
AMD Rates
10:57 14/12
Buy
Sell
AMD / USD
477.50
478.50
AMD / EUR
531.00
536.00
AMD / RUR
7.58
7.65
dollars
dollars
BTC/USD
7219.74787397
+0.15%
ETH/USD
143.487800396
+0.14%
BCH/USD
210.469559592
+1.99%
XRP/USD
0.2191066987
-0.67%
LTC/USD
44.0521392279
+0.14%
BTC
130,684,475,773
+0.17%
ETH
15,627,374,333
+0.17%
Molybdenum
20128.00
+0.88%
Dow Jones
28135.38
+0.01%
Hang Seng
27687.76
+2.57%
CBA Interest Rates
Refinancing
Refinancing Rate
5.50
+0.00
Lombard Repo
Lombard Repo Rate
7.00
+0.00
Macroeconomy
CEA
Coefficient of Economic Activity
+7.10%
Ind. Prod.
3
Volume of Industrial Production
1,444.4
+9.70%
Avg. Salary
2
Average salary
178,633
+5.90%
Services
3
Volume of services
1,476.8
+15.50%
Construction
3
Volume of construction
251,836
+4.40%
1 - mln AMD, 2 - AMD, 3 - bln AMD