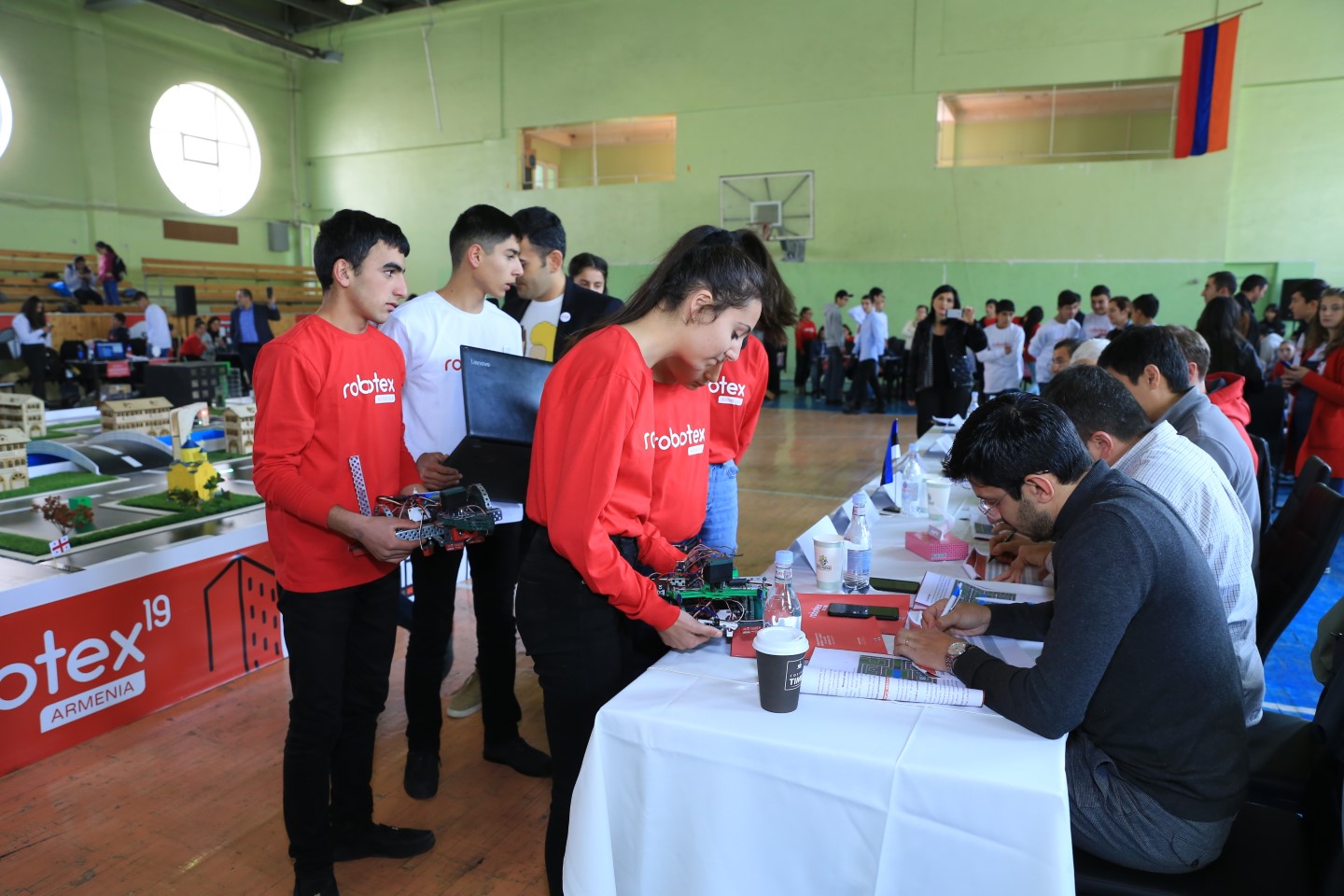 11/11/2019 19:22
The Winner Of Robotex Armenia Contest Held With The Support Of Ucom Already Known
Today, the Republican Palace of Culture and Sports of the Deaf hosted Robotex Armenia, an International Robotics Contest, with participation of over 40 teams from around the world, including Bosnia and Herzegovina, Georgia and Ethiopia.
In Armenia, the contest was held for the first time under the slogan "Smart City". The event aims at encouraging interest in and publicization of robotics, programming and design, and developing engineering way of thinking.
"I am here to represent Ethiopia. Due to some technical reasons, our team couldn't arrive to participate I this event, but the purpose of my being here is to establish business ties and exchange experience, as we also have a great desire to organize Robotex contest in Ethiopia in the near future and invite international teams. The event is interesting and attractive, and I am happy to be part of it," said Elias Yirdaw, Executive Director and Founder of Finfinee Auroscope and Robotics International Institute.
The Jury was composed of the leading experts of the field, among them Arman Poghosyan ("Instigate Design" CJSC), Hrant Khachatryan ("Symotec" LLC), Aram Keryan (AUA), Hrachya Makaryan ("PUL" company), Patvakan Hakhinyan (Vanadzor Technology Center), Karl-Tanel Paes (Robotex Armenia International Association) and Hayk Zargaryan (Ucom).
"From now on, Armenia will act as a center of robotics contests, and by inviting Robotex to Armenia, the Union is taking an important step towards making our country recognizable in this field. The teams representing Armenia mainly consist of the students of "Armath" engineering laboratories, which speaks about the effectiveness of the technology used and inspires not only us, but also our foreign partners," said Karen Vardanyan, Executive Director of UATE.
It should be reminded that the Union of Advanced Technology Enterprises (UATE) became a member to Robotex International Association in July 2019. The Association consolidates over 50 countries worldwide that are engaged in the development of the robotics industry, including the United States, China, India, Greece, Estonia, Colombia and several other countries.
The first prize went to the "Digital Cloud" team of the high school of the National Polytechnic University of Armenia in Gyumri, "Adana" team of the school N 7 in Stepanakert won the second prize, and the "Hantchar" ("Genious") team of the school N 5 in Ijevan won the third prize.
Ucom, the general sponsor of the contest, presented the latest HTC Smartphones to all members of the teams having won the first and second prizes, JBL wireless headphones to the representatives of the third prize winning team, as well as Samsung and Huawei tablets to the team leaders of all the three winning teams.
"For many years, Ucom has helped as much as possible to open "Armath" engineering laboratories in the regions of Armenia, sponsored numerous competitions that helped to develop engineering way of thinking, followed the growth of young professionals in the country, rejoiced at every victory and achievement of our smart generation, encouraged future engineers and urged young people to be creators, not consumers. Today's contest was another opportunity to share experience, acquire knowledge and new skills," said Hayk Yesayan, Co-Founder and Director General at Ucom.
Ucom is the sponsor, and Symotec is the partner of Robotex Armenia.
Ucom
- broadband connection starting at AMD 6,000
AMD Rates
09:09 17/01
Buy
Sell
AMD / USD
479.50
480.50
AMD / EUR
534.00
537.00
AMD / RUR
7.75
7.80
dollars
dollars
BTC/USD
8875.88958275
+2.04%
ETH/USD
168.210843405
+3.97%
BCH/USD
338.531620035
+6.03%
XRP/USD
0.2331253598
+2.84%
LTC/USD
58.9206980515
+5.28%
BTC
161,234,750,318
+2.05%
ETH
18,387,315,583
+3.98%
XRP
10,176,802,246
+2.84%
Molybdenum
21164.00
-0.52%
Dow Jones
29297.64
+0.92%
Hang Seng
29056.42
+0.60%
CBA Interest Rates
Refinancing
Refinancing Rate
5.50
+0.00
Lombard Repo
Lombard Repo Rate
7.00
+0.00
Macroeconomy
CEA
Coefficient of Economic Activity
+7.10%
Ind. Prod.
3
Volume of Industrial Production
1,444.4
+9.70%
Avg. Salary
2
Average salary
178,633
+5.90%
Services
3
Volume of services
1,476.8
+15.50%
Construction
3
Volume of construction
251,836
+4.40%
1 - mln AMD, 2 - AMD, 3 - bln AMD