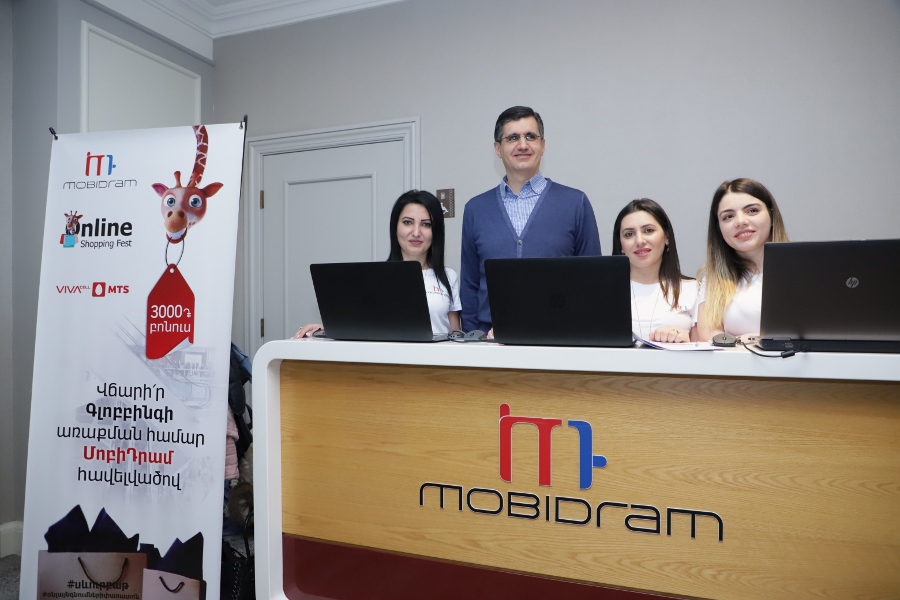 25/11/2019 21:36
VivaCell-MTS and MobiDram in the center of online shopping and Black Friday
On the eve of Black Friday, which is most anticipated day of November, an online shopping fest was held at Armenia Marriott Hotel. VivaCell-MTS was the General Partner of the event. MobiDram, the financial subsidiary of VivaCell-MTS, was also represented at the festival. Globbing organizes the online shopping fest for already third year.
VivaCell-MTS is experiencing a digital transformation by turning into a digital services operator from a telecommunications operator. Today, traditional companies around the world are turning to digital ecosystems. In these systems, there are no boundaries of activities. Given the development of the online commerce sector in Armenia and the growing interest in acquiring products at affordable prices around the world, VivaCell-MTS and MobiDram also offer solutions in this regard.
VivaCell-MTS presented its new offer to all shopping lovers during the festival. "Ahead of the holidays VivaCell-MTS expands the borders of your shopping options by January 13, 2019 inclusive, all subscribers to "X", "Y" and "Z" tariff plans have an opportunity to make online shopping using shopping apps "Amazon", "AliExpress", "Alibaba", "Taobao" and "eBay" without limitation of used traffic for 30 days", said VivaCell-MTS General Manager Ralph Yirikian.
During the festival, MobiDram also presented a surprise to its customers: from November 23 to December 31, 2019, by becoming a MobiDram Premium Client and paying for the Globbing delivery via the MobiDram Mobile App at a lump sum or by parts to ensure that the user has minimum AMD 3000 on his/her Globbing account, one can get a AMD 3000 bonus on a Globbing account which can be used without any term limitation for purchasing the Globbing delivery. More details can be found here: https://bit.ly/33Ym0Bi. The Globbing delivery can also be obtained at several VivaCell-MTS service centers.
For the second year in a row, VivaCell-MTS and MobiDram participate in the online shopping fest. Both companies highlight the importance of properly organizing online shopping. During this year's festival, people had the opportunity to learn how to order goods from overseas, to pay correctly, as well as to be assured that they purchase a product from a diligent seller, to learn how to follow the delivery process of goods to Armenia, how to ship goods to Armenia, how to use credit cards, and most importantly, how to use them safely, as while buying online very important personal information is provided to the online platform. Eventually, they got the opportunity to become an international buyer.
During the online shopping fest were organized trainings by leading and popular professionals in their fields as well as thematic tables, separated by pre-selected topics.
Black Friday is celebrated worldwide on the last Friday of November in and is known to be the most anticipated day among shopping lovers. On that day a number of stores announce big discounts. Black Friday is getting more and more popular each year, as the digital transformation is turning regular stores into online stores, encouraging online shopping. This year Black Friday will be celebrated on November 29th.
-----------
VivaCell-MTS (MTS Armenia CJSC) is Armenia's leading telecommunications operator, having the widest network reach and spreading a wide range of Voice and Data services all across Armenia. Having the best of the Armenian people interest at heart since its launch on 1st July 2005 and in a short period of time VivaCell-MTS has managed to build a nationwide network and a considerable customer base. VivaCell-MTS drives innovation and aims at always being at the forefront of any development serving the Armenian mobile communications market. The company follows the guidance provided by ISO 26000 (International Standard of Social Responsibility) and ISO/IEC 27001:2013 (Information Security Management System). For more information, visit www.mts.am
Mobile TeleSystems PJSC ("MTS") is the leading telecommunications group in Russia and the CIS, offering mobile and fixed voice, broadband, pay TV as well as content and entertainment services in one of the world's fastest growing regions. Including its subsidiaries, the Group services over 100 million mobile subscribers in Russia, Ukraine, Armenia and Belarus. Since July Y2000, MTS' Level 3 ADRs have been listed on the New York Stock Exchange (ticker symbol MBT). Additional information about the MTS Group can be found at www.mtsgsm.com
AMD Rates
10:00 04/04
Buy
Sell
AMD / USD
500.00
504.00
AMD / EUR
540.00
547.00
AMD / RUR
6.44
6.65
dollars
dollars
ETH/BTC
0.02093129
+0.00%
BCH/BTC
0.03478406
+0.00%
XRP/BTC
0.00002633
+0.00%
LTC/BTC
0.00592757
+0.00%
Platinum
11756.21
+175.09
Molybdenum
17924.00
-0.61%
Dow Jones
21052.53
-1.69%
Hang Seng
23236.11
-0.19%
CBA Interest Rates
Refinancing
Refinancing Rate
5.25
+0.00
Lombard Repo
Lombard Repo Rate
6.75
+0.00
Macroeconomy
CEA
Coefficient of Economic Activity
+8.90%
Ind. Prod.
3
Volume of Industrial Production
299.57
+15.30%
Avg. Salary
2
Average salary
190,468
+10.4%
Services
3
Volume of services
305.24
+11.20%
Construction
3
Volume of construction
26.97
+5.80%
1 - mln AMD, 2 - AMD, 3 - bln AMD