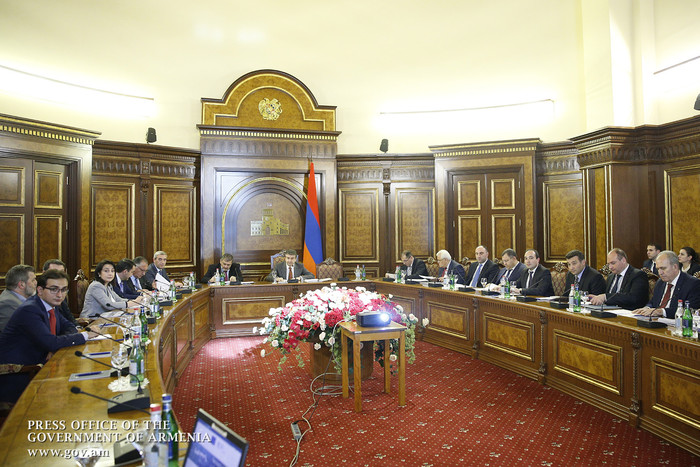 21/05/2017 21:15
Government. North-South Road Corridor Investment Program Governing Council Holds Meeting
Karen Karapetyan Prime Minister chaired a regular meeting of the North-South Road Corridor and Sustainable Urban Development Investment Programs Governing Council.
The Council was presented the findings of a feasibility study carried out into the construction of the Gyumri bypass road and Gyumri-Bavra highway sections. 3 options regarding the aforementioned road sections were discussed based on various considerations, including attractiveness and efficiency, from which the final programs must be selected.
The speakers noted that the objective is to have fast and safe roads, move traffic away from the center of Gyumri and connect the town with the North-South Highway by means of a roundabout road. Reference was also made to the 60km-long Sisian-Kajaran road project based on three options.
The Council discussed and approved the proposed changes to the composition of the evaluating commission. The meeting also discussed a number of other issues related to the North-South Road Corridor project.
Ardshinbank
09:49 21/10
Buy
Sell
AMD / USD
480.00
483.50
AMD / EUR
566.00
574.00
AMD / RUR
8.23
8.50
dollars
dollars
Molybdenum
16000.00
+0.00%
Dow Jones
23328.63
+0.71%
Hang Seng
28487.24
+1.17%
CBA Interest Rates
Refinancing
Refinancing Rate
6.00
+0.00
Lombard Repo
Lombard Repo Rate
7.50
+0.00
Macroeconomy
CEA
Coefficient of Economic Activity
+5.5%
Ind. Prod.
3
Volume of Industrial Production
1,038.734
+12.4%
Avg. Salary
2
Average salary
190,005
+2.5%
Services
3
Volume of services
904,143
+12.4%
Construction
3
Volume of construction
179,927
-8.0%
1 - mln AMD, 2 - AMD, 3 - bln AMD