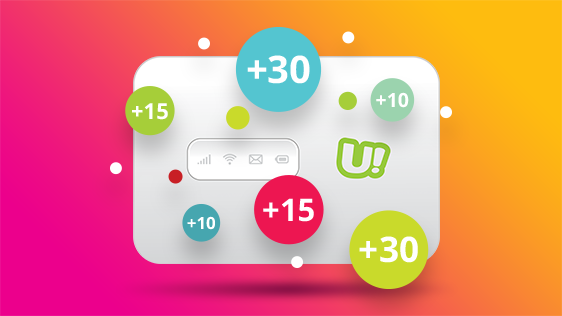 04/11/2019 19:28
uGo Mobile Internet Subscribers to Get Additional Gigabytes on the 20th day of Each Month
From now on the existing and new subscribers of Ucom's mobile internet uGo tariff plans will receive extra GBs on the 20th day of each month, regardless of an agreement. In particular, the subscribers of the uGo 5500, uGo 7500 and uGo 12500 in addition to their 40 GB, 70 GB and 100 GB will receive extra 30 GB of high-speed internet on the 20th day of each month. Subscribers of the uGo 3500 tariff plan will receive extra 15 GB of high-speed internet in addition to the standard 15 GB. The existing and new subscribers of the regional uGo 2500 will enjoy extra 10 GBs, by benefiting from 20 GB each month in total.
"We are constantly reshuffling our current offers for Ucom's existing and new subscribers to find an optimal solution that fits their needs. From now on, subscribers of uGo mobile internet tariff plans do not have to worry about the internet volume consumed by the end of the month, as they will receive additional GBs on the 20th day of each month to consume up to the beginning of the upcoming month" said Hayk Yesayan, Co-Founder and Director General at Ucom.
Let us add, that the fees of uGo mobile internet bundles have also been revised, and from now on to activate a 5GB high-speed internet bundle the subscribers will pay 1500 AMD instead of the previous 2000 AMD, while the activation of a 10GB high-speed internet bundle will cost 2000 AMD instead of the previous 3000 AMD.
AMD Rates
10:00 22/02
Buy
Sell
AMD / USD
477.50
479.00
AMD / EUR
516.00
519.00
AMD / RUR
7.45
7.52
dollars
dollars
BTC/USD
9620.65986006
-0.10%
ETH/USD
259.891415031
-0.89%
BCH/USD
371.780969462
-2.90%
XRP/USD
0.2734248905
-1.49%
LTC/USD
74.0270199482
+3.94%
BTC
175,392,566,293
-0.08%
ETH
28,536,616,466
-0.87%
XRP
11,962,178,575
-1.45%
Molybdenum
22112.00
-0.70%
Dow Jones
28992.41
-0.78%
Hang Seng
27308.81
-1.09%
CBA Interest Rates
Refinancing
Refinancing Rate
5.50
+0.00
Lombard Repo
Lombard Repo Rate
7.00
+0.00
Macroeconomy
CEA
Coefficient of Economic Activity
+7.90%
Ind. Prod.
3
Volume of Industrial Production
2,103.9
+9.0%
Avg. Salary
2
Average salary
182,750
+5.80%
Services
3
Volume of services
2,062.4
+15.0%
Construction
3
Volume of construction
434,602
+4.60%
1 - mln AMD, 2 - AMD, 3 - bln AMD