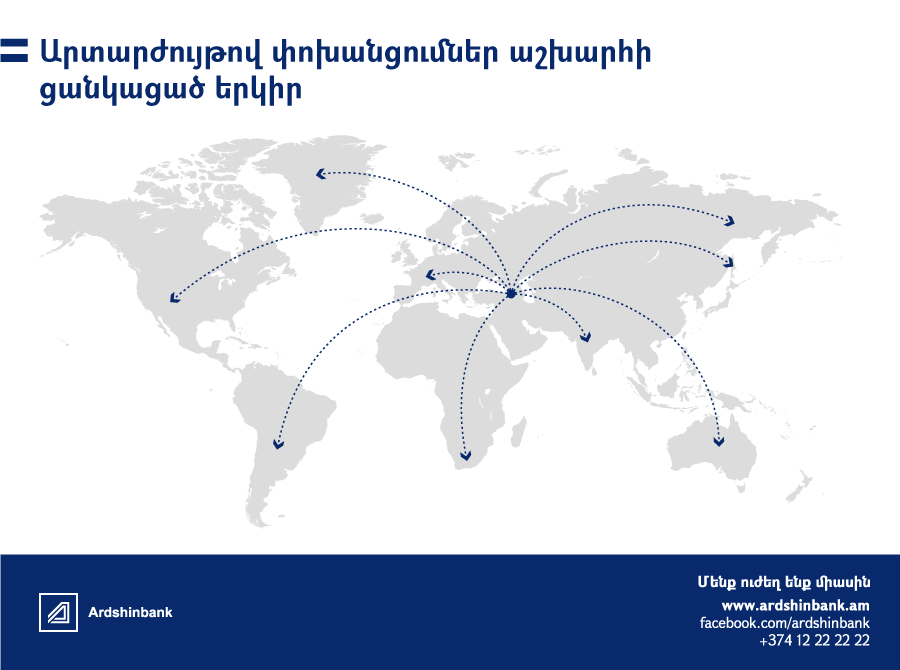 11/07/2017 14:39
Ardshinbank: international money transfers to any country of the world within a day
Ardshinbank informs that international money transfers to almost all countries of the world are mainly effected within a day.
Thanks to a broad network of partners and collaboration with the leading and reputable correspondent banks, the Bank offers affordable tariffs and flexible conditions for international money transfer service, ensuring speed, safety and high quality.
Since May 2nd, 2017 the Bank has reduced tariffs for international transfers, setting 0.14%, minimum AMD 4,500. If transfers are effected via Internet Banking, a reduced charge of 0.1% minimum AMD 3,000 will be applied.
Non-account holders may make International transfers as well. For detail information on reduced tariffs, terms and conditions of international money transfer service you may visit Bank's official website using the following link goo.gl/xPkvPP, call Bank's 24/7 communication center (012) 22 22 22 or use the "Call Back" service.
--------------
Ardshinbank is the second largest bank in Armenia with one of the broad sales network (64 branches). Ardshinbank is the only private entity in Armenia with assigned ratings from two international reputable rating agencies (Moody's and Fitch) equal to the rating of the Republic of Armenia.
Ucom
- broadband connection starting at AMD 6,000
AMD Rates
10:57 14/12
Buy
Sell
AMD / USD
477.50
478.50
AMD / EUR
531.00
536.00
AMD / RUR
7.58
7.65
dollars
dollars
BTC/USD
7219.74787397
+0.15%
ETH/USD
143.487800396
+0.14%
BCH/USD
210.469559592
+1.99%
XRP/USD
0.2191066987
-0.67%
LTC/USD
44.0521392279
+0.14%
BTC
130,684,475,773
+0.17%
ETH
15,627,374,333
+0.17%
Molybdenum
20128.00
+0.88%
Dow Jones
28135.38
+0.01%
Hang Seng
27687.76
+2.57%
CBA Interest Rates
Refinancing
Refinancing Rate
5.50
+0.00
Lombard Repo
Lombard Repo Rate
7.00
+0.00
Macroeconomy
CEA
Coefficient of Economic Activity
+7.10%
Ind. Prod.
3
Volume of Industrial Production
1,444.4
+9.70%
Avg. Salary
2
Average salary
178,633
+5.90%
Services
3
Volume of services
1,476.8
+15.50%
Construction
3
Volume of construction
251,836
+4.40%
1 - mln AMD, 2 - AMD, 3 - bln AMD