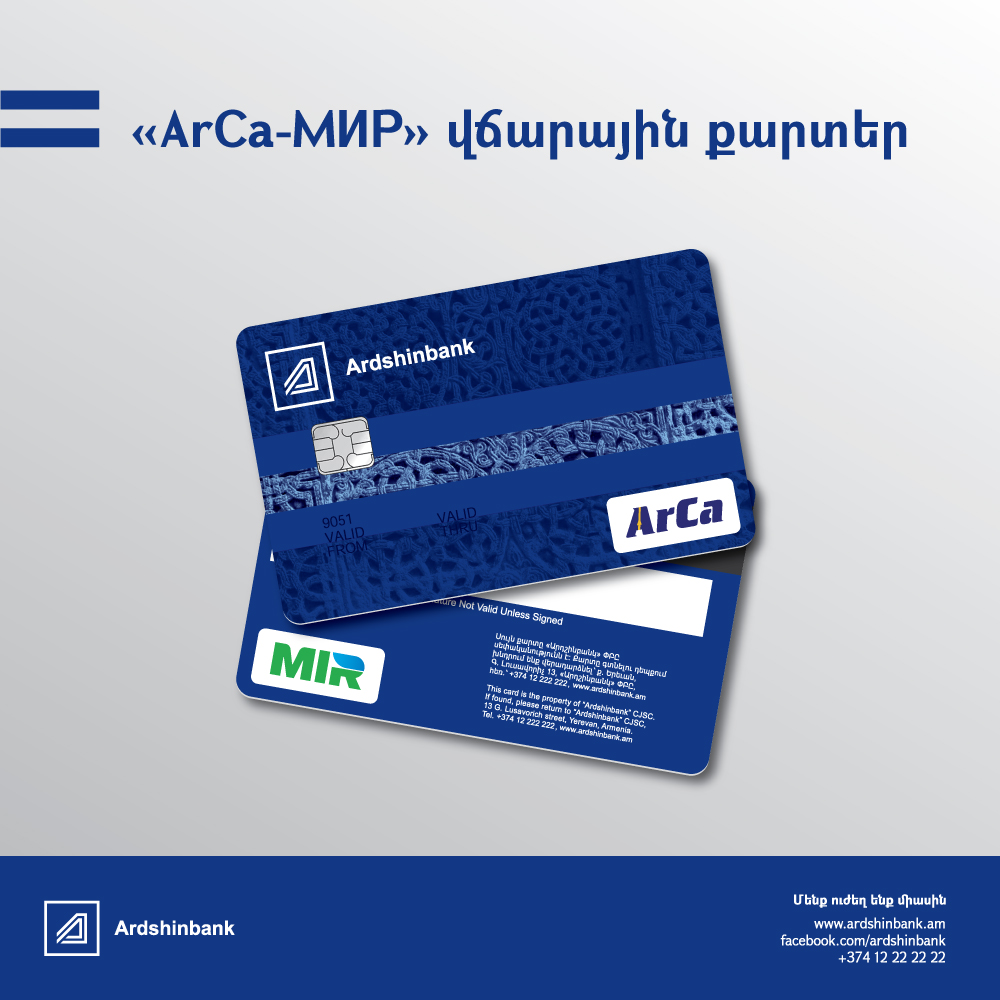 04/09/2017 19:09
Ardshinbank is the first Bank to issue "ArCa - Mir" payment cards
Ardshinbank is the first bank to issue "ArCa – Mir" payment cards, which are served both in Armenia and throughout the Russian Federation.
As the implementers of the project noted, the main purpose of issuing and servicing these joint cards is to provide high quality services for citizens of both countries, boost non-cash payments and expand the card transactions of national payment systems geographically.
"Today Ardshinbank officially launches the process of providing and servicing "ArCa - Mir" payment cards. Being one of the leading banks in Armenia, we are the first to issue these cards. It should be noted that since July of this year all ATMs of Ardshinbank have been fully serving the "Mir" payment cards," said Armen Gasparyan, Strategic Development Director at Ardshinbank.
For more detailed information on "ArCa - Mir" tariffs and issuance terms, please, visit https://goo.gl/hRGdwe, call (012) 222222 or use the "Call Back" service at the website.
----------
Ardshinbank is the second largest bank in Armenia with one of the broad sales networks comprising of 64 branches. Ardshinbank is the only private entity in Armenia with assigned ratings from two international major rating agencies (Moody's and Fitch) equal to the rating of the Republic of Armenia.
Ucom
- broadband connection starting at AMD 6,000
AMD Rates
09:55 21/07
Buy
Sell
AMD / USD
479.50
481.50
AMD / EUR
557.00
562.00
AMD / RUR
7.59
7.69
dollars
dollars
BTC
127,214,533,653
+0.88%
ETH
46,118,847,266
-4.42%
BCH
13,529,450,737
-4.26%
XRP
17,819,007,906
-6.02%
Platinum
12330.93
-184.90
Molybdenum
26000.00
+0.00%
Dow Jones
25058.12
-0.03%
Hang Seng
28224.48
+0.76%
CBA Interest Rates
Refinancing
Refinancing Rate
6.00
+0.00
Lombard Repo
Lombard Repo Rate
7.50
+0.00
Macroeconomy
CEA
Coefficient of Economic Activity
+8.90%
Ind. Prod.
3
Volume of Industrial Production
805.026
+3.70%
Avg. Salary
2
Average salary
168,367
+4.40%
Services
3
Volume of services
777.771
+18.10%
Construction
3
Volume of construction
127.791
+13.50%
1 - mln AMD, 2 - AMD, 3 - bln AMD