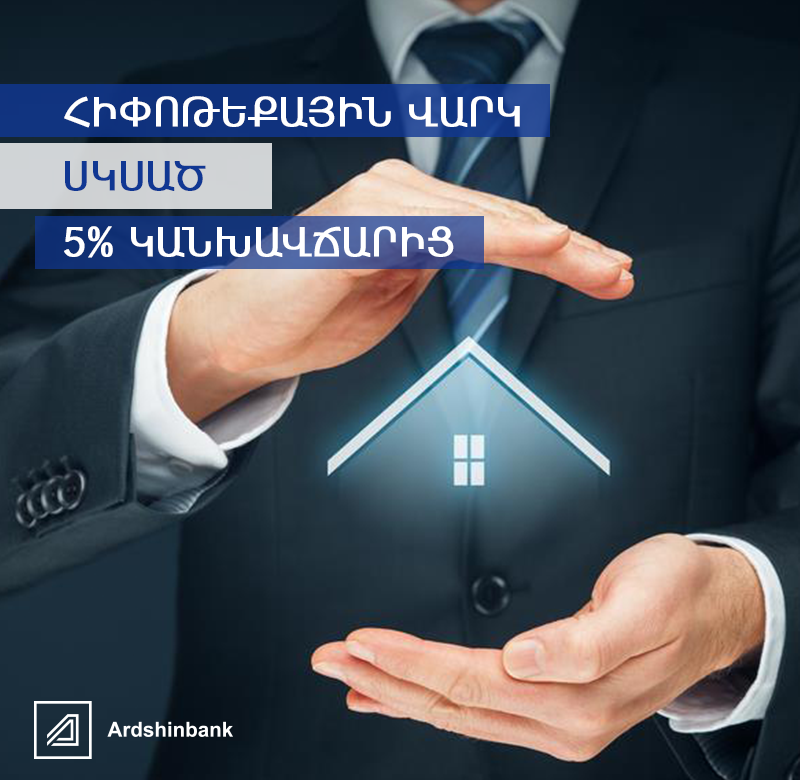 19/09/2017 18:49
Ardshinbank Offers Mortgages Starting With Just 5% Prepayment
Ardshinbank announces new terms on mortgages, according to which the interest rate for purchasing residential real estate has been reduced to 9.5%. Lending terms and conditions have also been improved, therefore it is now possible to get a real property starting with just 5% prepayment.
"Today many people dream of their own apartment or house. Unfortunately, not everybody are able to realize their goals due to lack of finances. Being committed to its policy, Ardshinbank continues to improve the terms of lending, creating opportunities for all. Our customers can get a loan for up to 35 years and at a lower interest rate when buying a dwelling in a multi-apartment building directly from a constructor. Moreover, in case of a large sum of loan, the income of the borrower will also include the amount of income tax paid to the borrower," stated Armen Gasparyan, Strategic Development Director.
For further information on mortgage loans, please, visit www.ardshinbank.am, call (012) 22 22 22 or use the "Call Back" service.
------------
Ardshinbank is the second largest bank in Armenia with one of the broad sales networks comprising of 64 branches. Ardshinbank is the only private entity in Armenia with assigned ratings from two international major rating agencies (Moody's and Fitch) equal to the rating of the Republic of Armenia.
Ardshinbank
08:35 20/10
Buy
Sell
AMD / USD
480.00
483.50
AMD / EUR
566.00
574.00
AMD / RUR
8.23
8.50
dollars
dollars
Molybdenum
16000.00
+0.00%
Dow Jones
23163.04
+0.02%
Hang Seng
28159.09
-1.92%
CBA Interest Rates
Refinancing
Refinancing Rate
6.00
+0.00
Lombard Repo
Lombard Repo Rate
7.50
+0.00
Macroeconomy
CEA
Coefficient of Economic Activity
+5.5%
Ind. Prod.
3
Volume of Industrial Production
1,038.734
+12.4%
Avg. Salary
2
Average salary
190,005
+2.5%
Services
3
Volume of services
904,143
+12.4%
Construction
3
Volume of construction
179,927
-8.0%
1 - mln AMD, 2 - AMD, 3 - bln AMD