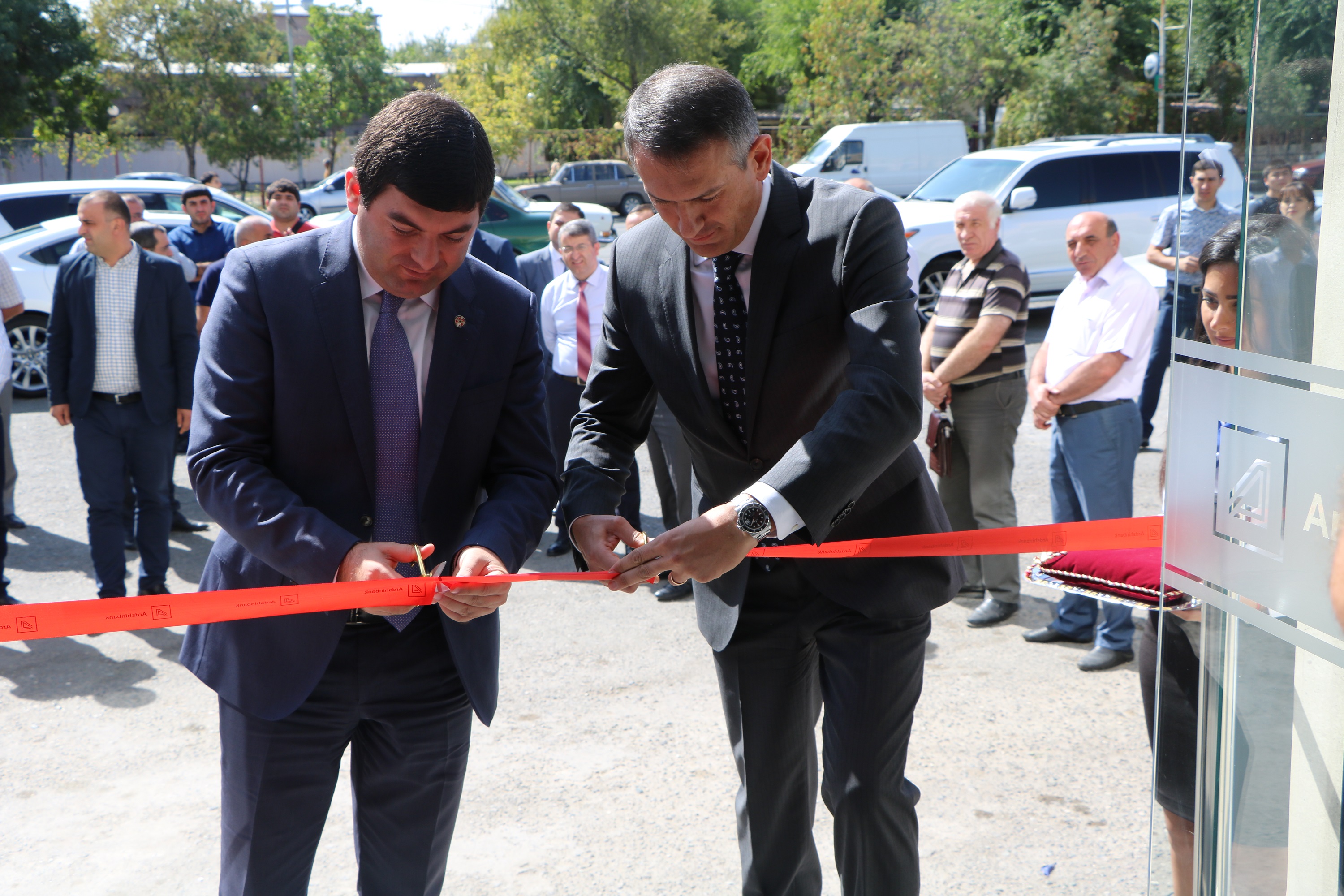 26/09/2017 17:04
Ardshinbank to reopen another modernized branch in Masis
Today, Ardshinbank has officially opened the doors of "Masis" branch to its customers. The branch office is upgraded, renovated and meets all the modern requirements. This year, it has been the 6th renovated regional branch, where the customers can benefit from the full range of available products with high-quality financial advice and service.
Mayor of Masis David Hambarzumyan, who attended the official opening ceremony of the branch, stated: "This branch is equipped with a number of technical possibilities to make the banking service more enjoyable and easier. It is extremely important that the Bank's goal on continuous development and improvement of its branch network is always targeted at the regions and their equal development."
"Ardshinbank's branch network is one of the largest ones in the Armenian banking system. Moreover, it is continuously developing and expanding in order to provide maximum convenience and usefulness for each customer. Today we provide services throughout the Republic, focusing not only on the branches in the capital, but also to the regional ones, to their modernization and further development. Faithfully committed to its strategy, the Bank constantly tries to be on the same wavelength with its clients and partners. The reopened office is a vivid proof of it, as we have turned it into a more convenient place in terms of territoriality. I am confident that at the upgraded branch, combining comfort and modern solutions, we will be able to be more flexible in decision-making and customer support. What's more, the Bank has reduced interest rates for a number of major products, such as mortgages, as well as loans secured by pledge of real estate and gold. Besides, the reduced interest rates and improved conditions are available in all the branches," said Armen Gasparyan, Strategic Development Director at Ardshinank.
The branch is equipped with a wide range of technical possibilities to make the customer service satisfying and uncomplicated. There will be a cash-in terminal, which will allow citizens to perform 24/7 transactions, utility payments, as well as loan repayments on the due date or in advance, access current and card accounts, make a deposit replenishment, etc.
---------------
Ardshinbank is the second largest bank in Armenia with a broad sales network (64 branches). It is the only private entity in Armenia with assigned ratings from two international major rating agencies (Moody's and Fitch) equal to the rating of Sovereign.
Ucom
- broadband connection starting at AMD 6,000
AMD Rates
09:48 30/05
Buy
Sell
AMD / USD
482.00
486.00
AMD / EUR
527.00
533.00
AMD / RUR
6.78
6.90
dollars
dollars
ETH/BTC
0.02258015
-1.94%
BCH/BTC
0.02530965
-1.33%
XRP/BTC
0.00002140
-3.08%
LTC/BTC
0.00476372
-1.17%
Molybdenum
18805.00
-0.82%
Dow Jones
25383.11
-0.07%
Hang Seng
23301.36
-0.36%
CBA Interest Rates
Refinancing
Refinancing Rate
5.00
+0.00
Lombard Repo
Lombard Repo Rate
6.50
+0.00
Macroeconomy
CEA
Coefficient of Economic Activity
-1.7%
Ind. Prod.
3
Volume of Industrial Production
585.21
+4.20%
Avg. Salary
2
Average salary
191,623
+9.30%
Services
3
Volume of services
585.44
+0.1%
Construction
3
Volume of construction
54.03
-21.9%
1 - mln AMD, 2 - AMD, 3 - bln AMD