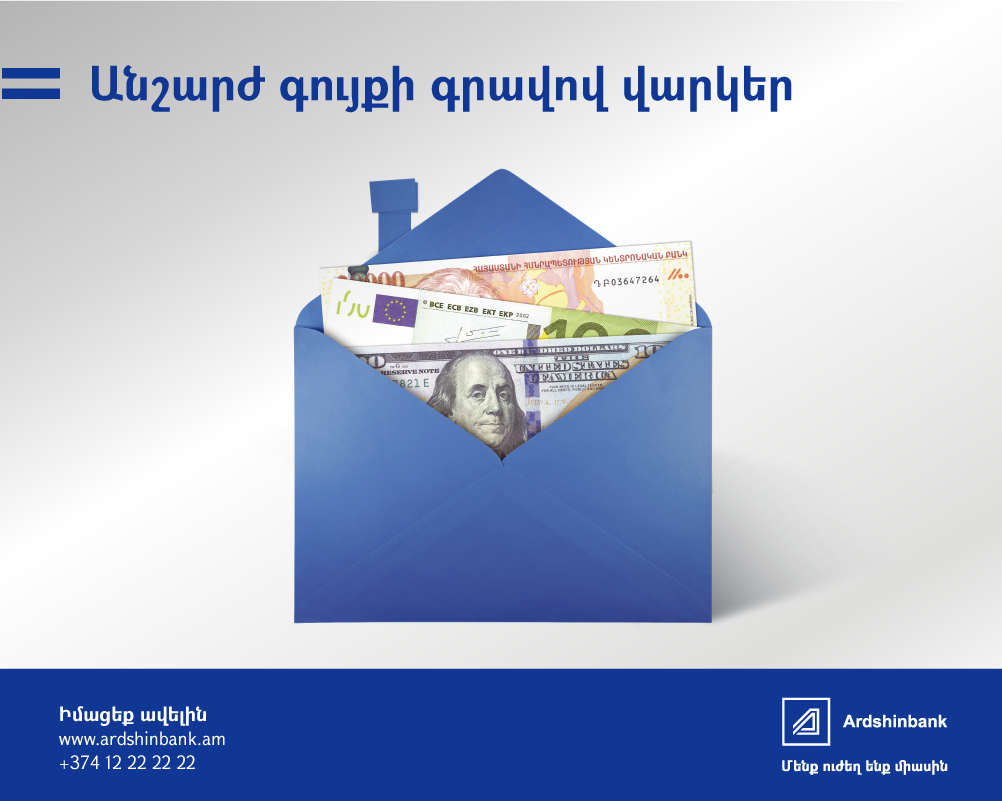 05/10/2017 17:45
Ardshinbank Improves Terms for Property Secured Loans
Ardshinbank announces reduced interest rates and better lending terms for loans secured by property. Thus, the current annual interest rate on consumer loans in AMD is 14.25-19.95% without the need to submit a statement of income and 14.25-17.75% with income certificate. The interest rates on express renovation loans in USD are 12.75-17.95% without income certificate and 12.75-15.25% with income certificate, as well as 12-14.95%, 12-13.45% in Euro accordingly. Following the new terms, it is now possible to get up to AMD 40 million, USD 80,000 and EUR 70,000 loan amount.
"A big advantage of the loan is the fact that the borrower does not need to submit a statement of income to the bank, which is very convenient. Under the new conditions, we retained this opportunity, but gave the customers a chance to get the loan at a lower rate if they provided a certificate of income. We also developed favorable conditions for refinancing. If the client transfers his loan to Ardshinbank, the interest rate can be reduced by 0.5-1% of the initial loan rate, and the maximum loan amount is increased to 120%. Furthermore, in case of loss of work capacity or property damage, it is the borrower who receives the compensation, not the Bank," stated Armen Gasparyan, Strategic Development Director at Ardshinbank.
In addition, loans by pledge of real estate give an opportunity to earn 5% cashback bonus from the interests already paid on the schedule.
More information on property secured loans can be found at www.ardshinbank.am by calling (012) 22 22 22 or by using the "Call Back" service.
-----------
Ardshinbank is the second largest bank in Armenia with a broad sales network (64 branches). It is the only private entity in Armenia with assigned ratings from two international major rating agencies (Moody's and Fitch) equal to the rating of Sovereign.
AMD Rates
10:00 23/06
Buy
Sell
AMD / USD
481.50
483.25
AMD / EUR
559.00
563.00
AMD / RUR
7.56
7.65
dollars
dollars
BTC/AMD
2,929,902
-10.12%
BTC
103,963,858,776
-10.13%
ETH
46,563,981,965
-14.27%
BCH
12,858,644,722
-16.29%
XRP
18,981,855,004
-10.86%
LTC
4,736,546,467
-15.36%
Molybdenum
26000.00
+0.00%
Dow Jones
24580.89
+0.49%
Hang Seng
29338.70
+0.15%
CBA Interest Rates
Refinancing
Refinancing Rate
6.00
+0.00
Lombard Repo
Lombard Repo Rate
7.50
+0.00
Macroeconomy
CEA
Coefficient of Economic Activity
+10.60%
Ind. Prod.
3
Volume of Industrial Production
400.515
+8.20%
Avg. Salary
2
Average salary
171,015
+5.70%
Services
3
Volume of services
356.417
+16.5%
Construction
3
Volume of construction
44.522
+23.00%
1 - mln AMD, 2 - AMD, 3 - bln AMD