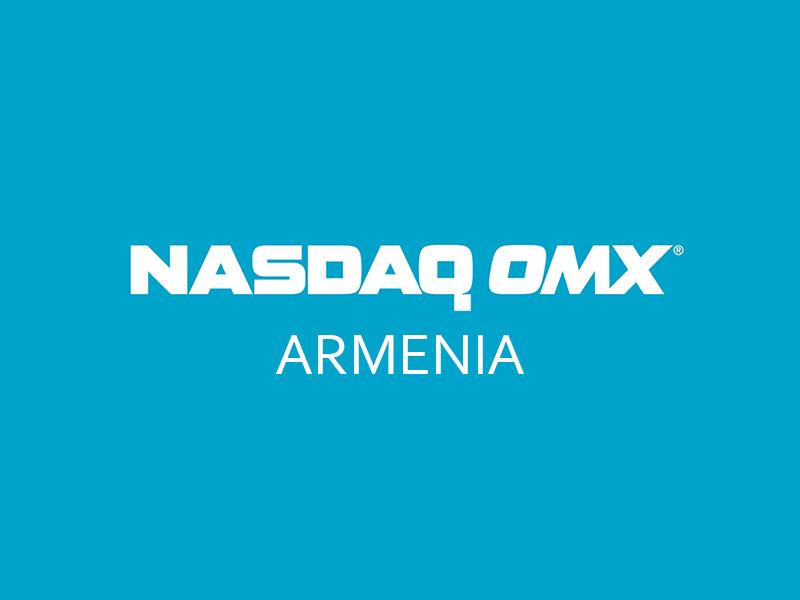 07/03/2018 17:05
Coupon Bonds by National Mortgage Company Listed on NASDAQ OMX Armenia
Starting from March 07, 2018, bonds with total nominal value of AMD 300,000,000 issued by "National Mortgage Company" Refinancing Credit Organization CJSC listed on NASDAQ OMX Armenia and included in the bonds' main Abond list.
Current issue of the Company's bonds comprises 300,000 nominal coupon bonds with nominal value of AMD 10,000, coupon rate of 8.3% and maturity period of 36 months. The bonds (ISIN - AMNMCCB2IER0) will be traded under NMCCB2I ticker symbol and will be allowed to manual and REPO trading as well.
To recall, on February 23, 2018 placement of current bonds took place at NASDAQ OMX Armenia. Cut-off price of the bonds was AMD 10,007.82, weighted average yield was 8.1309% and the cut-off yield stood at 8.27 %.
Details of other financial instruments traded on NASDAQ OMX Armenia are available on "Instruments" page of the Company's website: www.nasdaqomx.am.
-----------
National Mortgage Company RCO CJSC was registered in the Central Bank of Armenia by the decision N 1/1167A of the board of the Central Bank of Armenia dated October 19, 2011 Registration certificate N 26, Activity License N 26). The only shareholder is the Central Bank of Armenia. Currently three issues of corporate bonds by NMC (NMCCB2B և NMCCB2G, NMCCB2H) are listed on the main Abond list of NASDAQ OMX Armenia. For more information please visit the official web-page of the company: www.nmc.am/en.
NASDAQ OMX Armenia provides its customers with fully automated trading system, offering single point of access to all types of Armenian securities, FX and credit resources. Integrated business model of NASDAQ OMX Armenia enables it to provide full package of trading services, from conclusion of a trade till its settlement. For more information please visit www.nasdaqomx.am.
AMD Rates
10:37 16/02
Buy
Sell
AMD / USD
486.00
488.00
AMD / EUR
547.00
552.00
AMD / RUR
7.28
7.37
dollars
dollars
BTC/USD
3640.38611682
+0.15%
ETH/USD
123.453102928
+0.23%
BCH/USD
122.995003922
-0.39%
XRP/USD
0.3023859501
-0.68%
LTC/USD
43.8404000732
+4.67%
BTC
63,855,692,521
+0.17%
ETH
12,948,046,176
+0.25%
XRP
12,460,748,369
-0.68%
Molybdenum
26000.00
+0.00%
Dow Jones
25883.25
+1.74%
Hang Seng
27900.84
-1.87%
CBA Interest Rates
Refinancing
Refinancing Rate
5.75
+0.00
Lombard Repo
Lombard Repo Rate
7.25
+0.00
Macroeconomy
CEA
Coefficient of Economic Activity
+5.80%
Ind. Prod.
3
Volume of Industrial Production
1,737.7
+4.30%
Avg. Salary
2
Average salary
172,357
+3.80%
Services
3
Volume of services
1,764.7
+18.80%
Construction
3
Volume of construction
422.3
+4.50%
1 - mln AMD, 2 - AMD, 3 - bln AMD