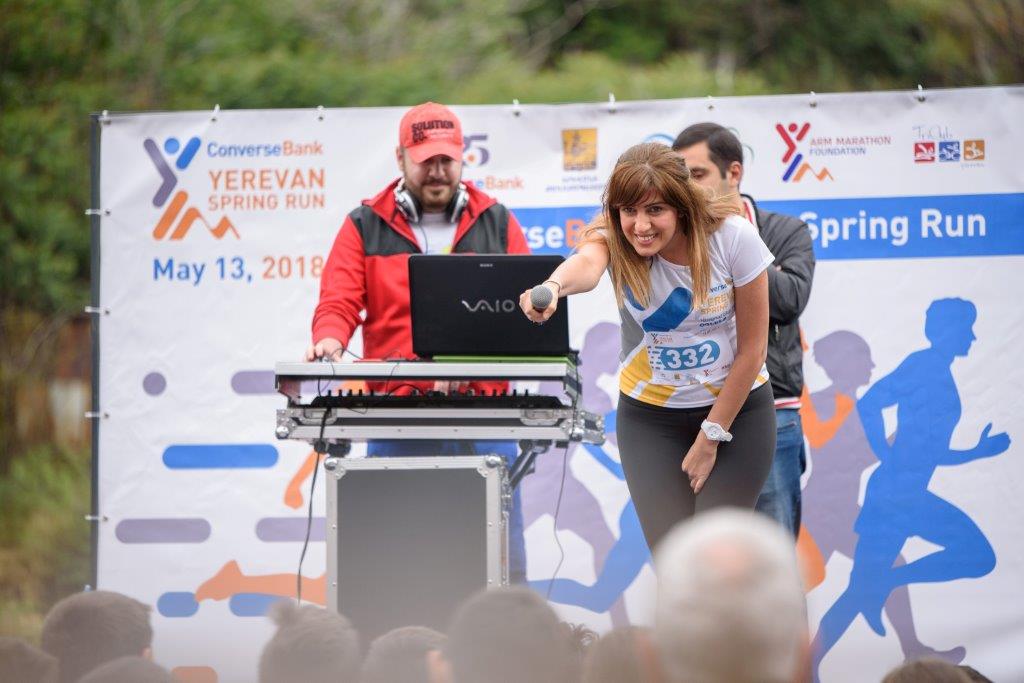 14/05/2018 18:50
Converse Bank Yerevan Spring Run 2018 marathon sponsored by Converse Bank
Converse Bank Yerevan Spring Run 2018 marathon sponsored by Converse Bank was held on May 13. Hundreds of runners took part in the marathon. Children aged 2-12 covered the 1 km long running distance. The adults contested on 5 and 10 km long running distances, as well as in the relay race.
"This is the first initiative aimed at encouragement of healthy lifestyle and popularization of sports organized this year within the framework of the events dedicated to the 25th anniversary of the Bank. Another extensive project was launched with the Bank's support a few days ago. Within the framework of it sports grounds will be built both in Yerevan and in regions", - said Aregnaz Hakobyan, Head of Marketing Unit at Converse Bank, adding that the Bank was also a participant in the marathon of amateur race.
"This is already the second year of our cooperation with Converse Bank in terms of implementation of such projects, not only promoting healthy lifestyle, but also getting the opportunity to help children with health problems. The whole profit of Converse Bank Yerevan Spring Run 2018 sponsored by the Bank will be provided to "Armenian Mothers" NGO for the purpose of helping its little beneficiaries with health problems", - concluded Anahit Adamyan, the organizer of the marathon.
Ucom
- broadband connection starting at AMD 6,000
AMD Rates
09:01 16/01
Buy
Sell
AMD / USD
486.50
487.50
AMD / EUR
557.00
561.50
AMD / RUR
7.23
7.33
dollars
dollars
BTC/USD
3696.93582041
+0.00%
ETH/USD
128.810035381
+0.00%
BCH/USD
131.868405026
+0.00%
XRP/USD
0.3325616988
+0.00%
LTC/USD
32.3535821659
+0.00%
BTC
64,632,050,174
+0.00%
ETH
13,445,403,639
+0.00%
XRP
13,648,466,839
+0.00%
Molybdenum
26000.00
+0.00%
Dow Jones
24065.59
+0.65%
Hang Seng
26830.29
+2.02%
CBA Interest Rates
Refinancing
Refinancing Rate
6.00
+0.00
Lombard Repo
Lombard Repo Rate
7.50
+0.00
Macroeconomy
CEA
Coefficient of Economic Activity
+5.70%
Ind. Prod.
3
Volume of Industrial Production
1,563.398
+4.10%
Avg. Salary
2
Average salary
168,799
+3.90%
Services
3
Volume of services
1,583.272
+18.40%
Construction
3
Volume of construction
335,746
+5.50%
1 - mln AMD, 2 - AMD, 3 - bln AMD