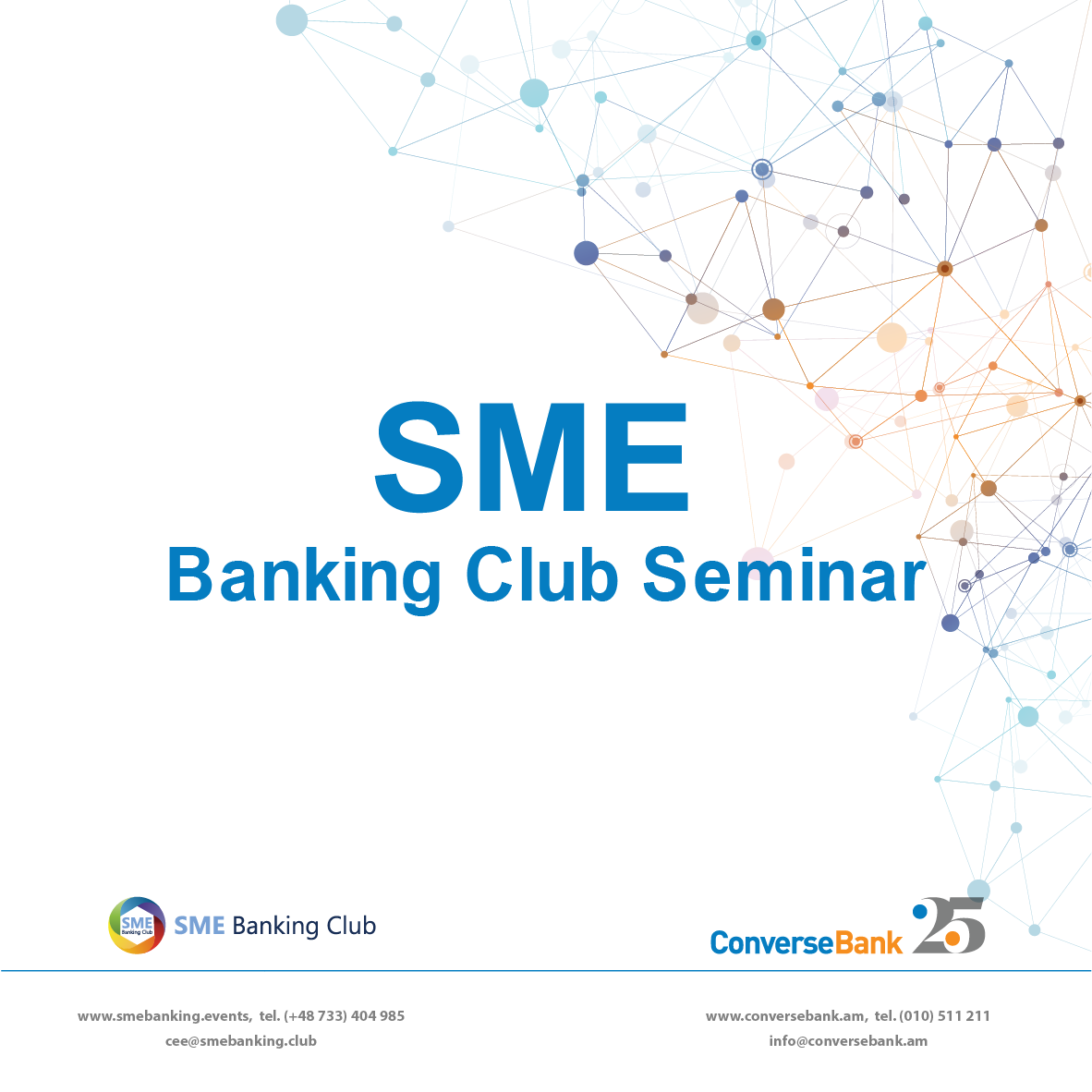 05/11/2018 12:47
Converse Bank: Another seminar by SME Banking Club will be held in Yerevan
Another seminar by SME Banking Club will be held in Yerevan on November 9, dedicated to global trends in SME sector development and SME lending opportunities in some sectors of economy. The seminar is initiated and supported by Converse Bank.
"SME Banking Club is a professional international platform for business bankers, aimed at exchange of information and experience on the services that global, regional, local banks and financial companies offer to micro, small and medium businesses. SME Banking Club cooperates with international financial organizations, financial structures- including commercial banks, which seek to increase the value of their financial services by providing a variety of financial and non-financial services for SMEs, and are ready to respond to the most critical challenges of the present and thus achieve a new level in development of their banking business", - said Andrey Gidulyan, CEO of SME Banking Club.
Since 2010, SME Banking Club has been regularly organizing regional and international banking events in Poland, Georgia, Ukraine, Kazakhstan, and Egypt.
"This is the first seminar organized by SME Banking Club in cooperation with Converse Bank in Armenia, which not just aims to communicate comprehensive information on SME development trends to the seminar participants. We emphasize SME sector development and expect that it will result in establishment of a platform in Armenia, within the framework of which efficient cooperation will become a wonderful precondition for further development of SME financing sector", - said Rostom Badalyan, Corporate Business Director of Converse Bank.
The seminar in Yerevan will be attended by international speakers and representatives of the Armenian banking system. Speeches will be delivered by the founder of SME Banking Club Andrey Gidulyan, as well as industry experts Alexey Sayapin, Ivan Yerko and Mikhail Medko, who will report on the most recent development trends in SME banking, SME agro-lending, energy efficiency and alternative energy financing.
For preliminary registration, you need to send an application to e-mail address c[email protected] or to the Facebook page of SME Banking Club. Participation in the seminar is free of charge.
AMD Rates
08:51 22/03
Buy
Sell
AMD / USD
485.00
487.00
AMD / EUR
551.00
555.50
AMD / RUR
7.57
7.67
dollars
dollars
BTC/USD
4028.61087101
-1.14%
ETH/USD
136.755329996
-2.45%
BCH/USD
154.459086265
-3.39%
XRP/USD
0.3122767865
-1.72%
LTC/USD
59.2626664541
-1.90%
BTC
70,915,484,075
-1.13%
ETH
14,405,434,299
-2.43%
XRP
13,011,330,070
-1.72%
Molybdenum
26000.00
+0.00%
Dow Jones
25962.51
+0.84%
Hang Seng
29113.36
+0.14%
CBA Interest Rates
Refinancing
Refinancing Rate
5.75
+0.00
Lombard Repo
Lombard Repo Rate
7.25
+0.00
Macroeconomy
CEA
Coefficient of Economic Activity
+5.80%
Ind. Prod.
3
Volume of Industrial Production
1,737.7
+4.30%
Avg. Salary
2
Average salary
172,357
+3.80%
Services
3
Volume of services
1,764.7
+18.80%
Construction
3
Volume of construction
422.3
+4.50%
1 - mln AMD, 2 - AMD, 3 - bln AMD