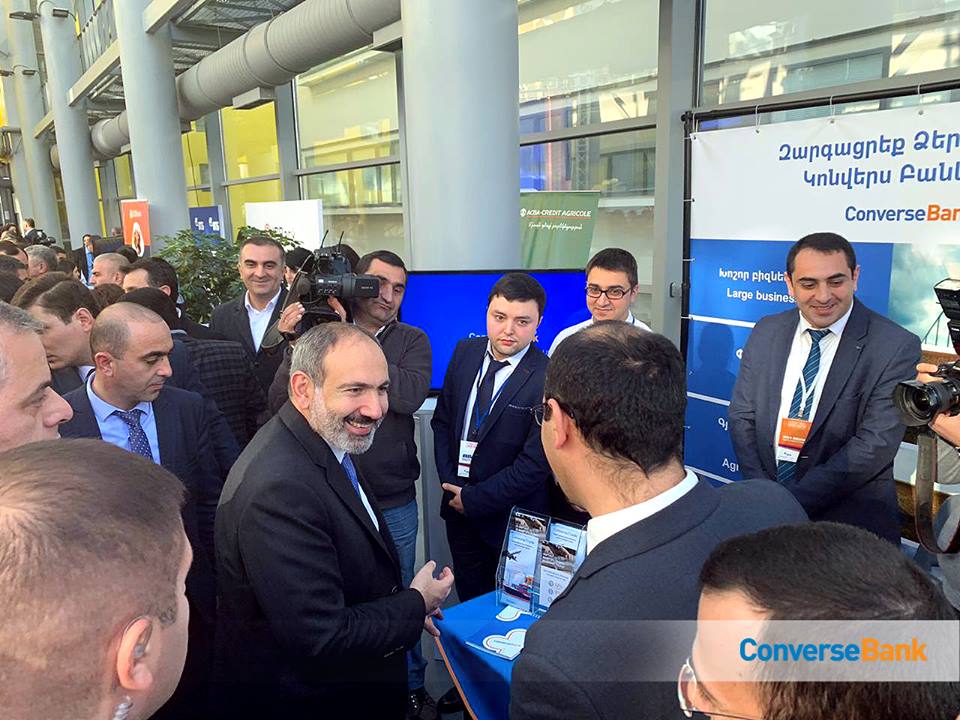 25/02/2019 19:52
Converse Bank Presented Interesting Offers at the Exhibition Held in Lori
Converse Bank participated in the forum and expo "My Step for Lori Region", presenting loan "Bridge", export and pre-export loans, Converse trade, as well as state subsidized agricultural lending products.
"Bridge" loan provides financing in AMD, USD, and EUR, with maturity up to 12 months, the annual interest rate for AMD loans starting from 10%, and interest rates for loans in USD and EUR - from 6,5% and 5 percent, accordingly.
Export and pre-export loans are offered with maturity up to 12 months, at the annual interest rate for EUR loans starting from 4%, and for USD loans – from 6 percent.
"Currently, Converse Bank provides agricultural loans not only with its own resources, but also within the framework of 5 state subsidized lending programs, offering the customers the opportunity to obtain loans for replenishment of fixed and working capital, for an amount up to AMD 10 million, with maturity up to 7 years, at an annual interest rate starting from 2 percent", - they said at Converse Bank.
It was mentioned that the funds could be used for planting intensive fruit gardens cultivated with the help of modern technologies, implementing agrarian development projects in communities, financial leasing of agricultural equipment, and purchase of agricultural raw materials.
Ucom
- broadband connection starting at AMD 6,000
AMD Rates
10:00 15/06
Buy
Sell
AMD / USD
477.50
479.50
AMD / EUR
537.00
541.50
AMD / RUR
7.38
7.46
dollars
dollars
BTC/USD
8256.32171067
+1.70%
ETH/USD
256.446790822
-0.87%
BCH/USD
411.106737754
+3.40%
XRP/USD
0.4001441797
-1.08%
LTC/USD
130.60808613
-3.47%
BTC
146,614,728,898
+1.71%
ETH
27,306,992,697
-0.86%
XRP
17,006,907,967
-1.08%
Molybdenum
27293.00
+0.00%
Dow Jones
26089.61
-0.07%
Hang Seng
27118.35
-2.41%
CBA Interest Rates
Refinancing
Refinancing Rate
5.75
+0.00
Lombard Repo
Lombard Repo Rate
7.25
+0.00
Macroeconomy
CEA
Coefficient of Economic Activity
+7.00%
Ind. Prod.
3
Volume of Industrial Production
573.6
+4.50%
Avg. Salary
2
Average salary
177,171
+6.20%
Services
3
Volume of services
575 50
+17.00%
Construction
3
Volume of construction
68.2
+8.00%
1 - mln AMD, 2 - AMD, 3 - bln AMD