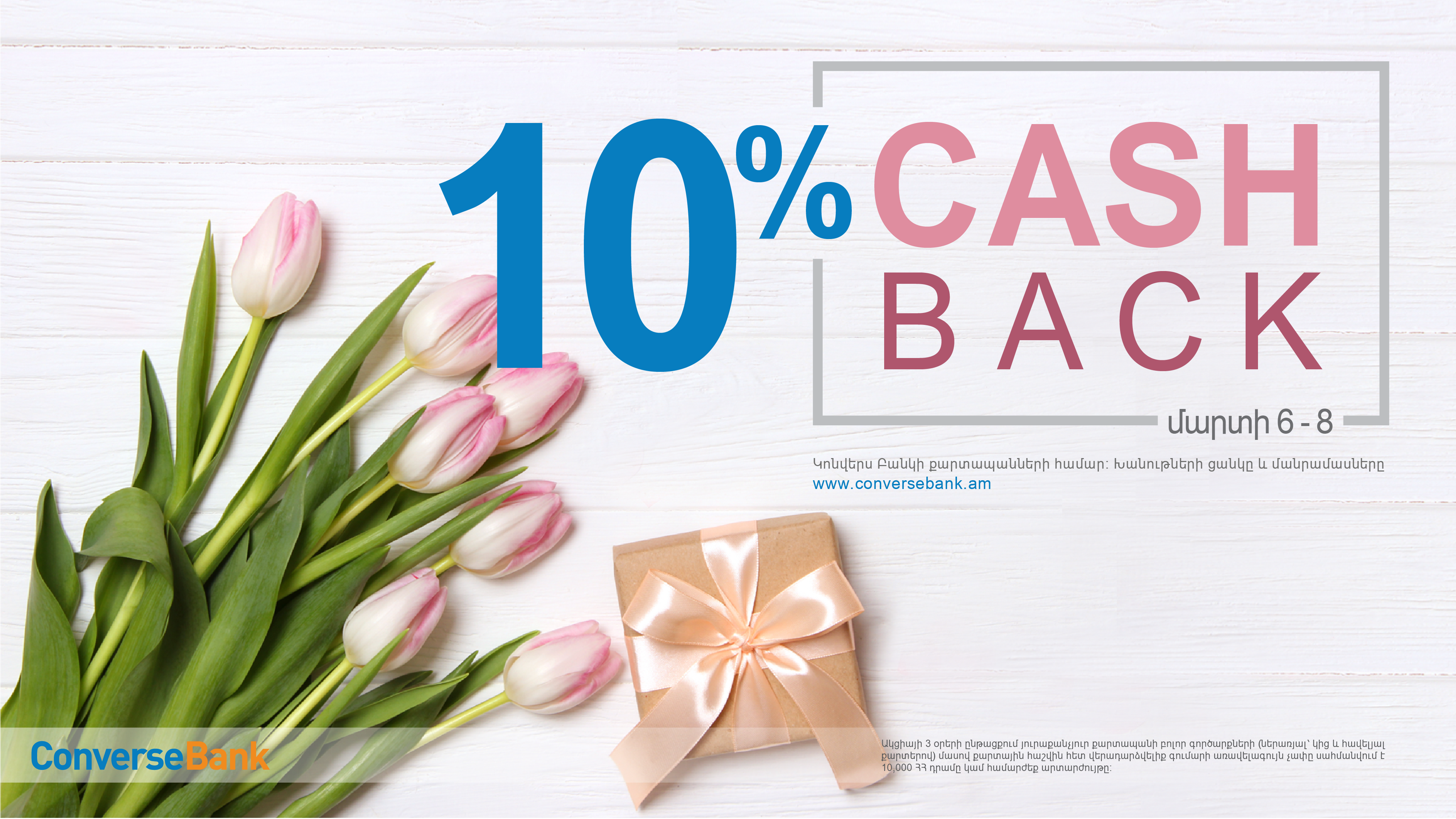 07/03/2019 18:55
Converse Bank Makes a Number of Beneficial Offers for the Women's Holidays
Converse Bank congratulates women on the occasion of the spring holidays and makes a number of surprises.
"In addition to traditional promotions, this year Converse Bank presents another attractive offer - the cardholder making non-cash purchases in the Bank's partner network and accumulating the biggest number of Spring Points will receive a travel package to Sri Lanka for two persons. And the customers holding the second and third places by the number of accumulated points will get the same packages at a discount of 50% and 30%, respectively", - said Karina Volkova, Head of Converse Bank Marketing Department.
Besides, within the framework of other campaigns, on the occasion of the women's holidays, the Bank offers its cardholders to make non-cash purchase/purchases by March 9, pay with the Bank's POS terminals, and receive 10% CashBack, and from March 8 to April 7 Woman's cards will be issued on preferential terms. Namely, 50% discount of the service fee throughout the validity period, and an opportunity for the cardholders to obtain a credit limit in AMD, for an amount up to AMD 1 million, with maturity up to 36 months, at the annual interest rate of 16-17%.
"Woman's cards launched in 2011 are among Converse Bank's most demanded card products. Woman's cards are designed special for women, taking into account their preferences and giving women the opportunity to make use of various regular discount and cashback campaigns at the Bank's partner clothes' and perfume brand stores, restaurants, beauty salons, gyms, etc.", - concluded Karina Volkova.
For details, please follow the links below:
https://benefits.conversebank.am/hy/current-promotions/item/2019/03/06/srilankawomans/
https://benefits.conversebank.am/hy/current-promotions/item/2019/03/05/cashbackwomans/
https://benefits.conversebank.am/hy/current-promotions/item/2019/03/05/womanscardcredit/
AMD Rates
09:13 18/04
Buy
Sell
AMD / USD
482.00
483.50
AMD / EUR
543.00
548.00
AMD / RUR
7.52
7.62
dollars
dollars
BTC/USD
5237.63078112
+0.00%
ETH/USD
166.732561912
+0.00%
BCH/USD
310.225941586
+0.00%
XRP/USD
0.3244819191
+0.00%
LTC/USD
80.175899975
+0.00%
BTC
92,443,460,494
+0.00%
ETH
17,622,371,744
+0.00%
XRP
13,618,748,877
+0.00%
Molybdenum
26000.00
+0.00%
Dow Jones
26449.54
-0.01%
Hang Seng
30124.68
-0.02%
CBA Interest Rates
Refinancing
Refinancing Rate
5.75
+0.00
Lombard Repo
Lombard Repo Rate
7.25
+0.00
Macroeconomy
CEA
Coefficient of Economic Activity
+5.80%
Ind. Prod.
3
Volume of Industrial Production
1,737.7
+4.30%
Avg. Salary
2
Average salary
172,357
+3.80%
Services
3
Volume of services
1,764.7
+18.80%
Construction
3
Volume of construction
422.3
+4.50%
1 - mln AMD, 2 - AMD, 3 - bln AMD