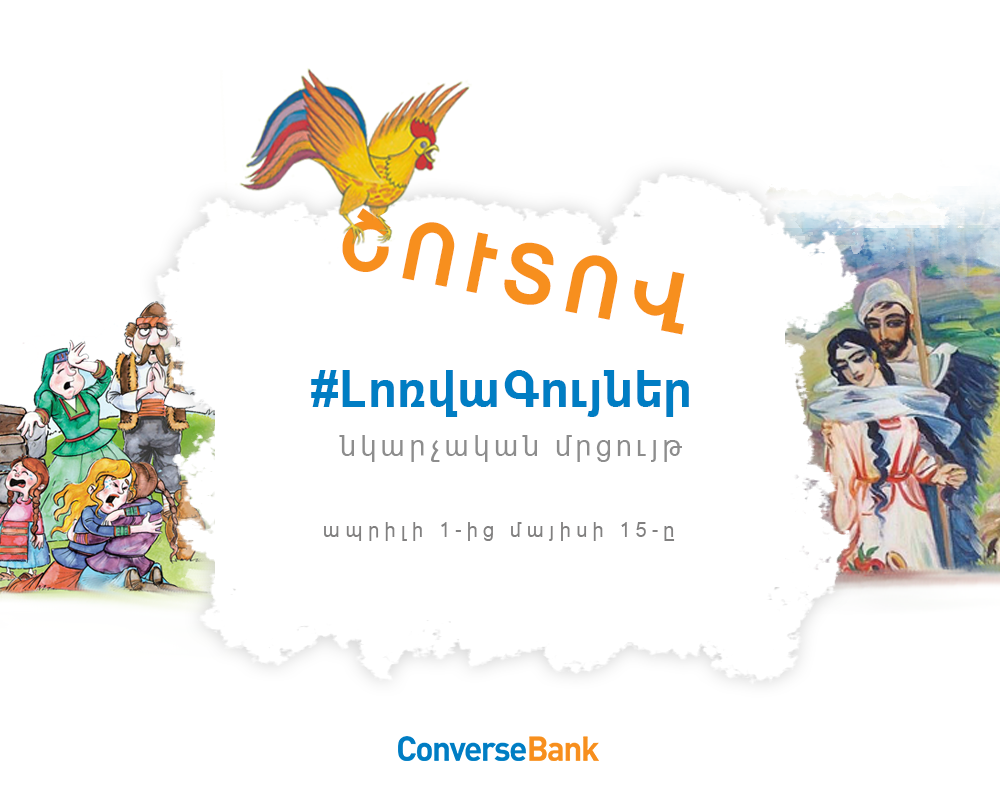 29/03/2019 09:56
Converse Bank announces a contest dedicated to 150th anniversary of Hovhannes Tumanyan
Converse Bank is starting a number of contests devoted to the great Armenians, whose jubilees are celebrated this year. This is another cultural initiative by Converse Bank aimed at increasing awareness of the cultural heritage left over by the great Armenian writers and raising interest towards their works.
The first contest will be held from April 1 to May 15 and will be dedicated to the 150th anniversary of the great Armenian writer Hovhannes Tumanyan.
The painting contest based on Tumanyan's works and titled #The Colors of Lori is open for participants aged under 12. Within its framework, Converse Bank offers to:
- Paint your favorite heroes from Tumanyan's works, create paintings based on the works by the great Armenian writer, or write down your ideas on Tumanyan's art;
- Send the photo to Converse Bank's page on Facebook and hand over its original, if possible, to the nearest branch of the Bank or post it to 26/1Vazgen Sargsyan Str., Yerevan;
- Collect the biggest number of likes;
- Get gifts from Converse Bank.
The contest is held in two stages: paintings will be accepted from April 1 to April 30. On May 1, the paintings will be posted on Converse Bank's Facebook page, thus announcing the start of the selection stage.
Some of the works will be displayed at the exhibition of paintings to be held in the Bank on the occasion of June 1. We expect the contest participants to attend the exhibition opening ceremony.
Ucom
- broadband connection starting at AMD 6,000
AMD Rates
10:36 18/05
Buy
Sell
AMD / USD
479.00
481.00
AMD / EUR
536.00
539.00
AMD / RUR
7.39
7.48
dollars
dollars
BTC/USD
7243.68883441
-9.50%
ETH/USD
239.552640268
-7.47%
BCH/USD
360.429488052
-12.26%
XRP/USD
0.3803820313
-14.19%
LTC/USD
88.4588689749
-11.19%
BTC
128,250,322,106
-9.49%
ETH
25,416,909,328
-7.46%
BCH
6,410,725,025
-12.25%
XRP
16,026,754,318
-14.19%
LTC
5,467,495,480
-11.17%
Molybdenum
26896.00
+0.00%
Dow Jones
25764.00
-0.38%
Hang Seng
27946.46
-1.16%
CBA Interest Rates
Refinancing
Refinancing Rate
5.75
+0.00
Lombard Repo
Lombard Repo Rate
7.25
+0.00
Macroeconomy
CEA
Coefficient of Economic Activity
+5.80%
Ind. Prod.
3
Volume of Industrial Production
1,737.7
+4.30%
Avg. Salary
2
Average salary
172,357
+3.80%
Services
3
Volume of services
1,764.7
+18.80%
Construction
3
Volume of construction
422.3
+4.50%
1 - mln AMD, 2 - AMD, 3 - bln AMD