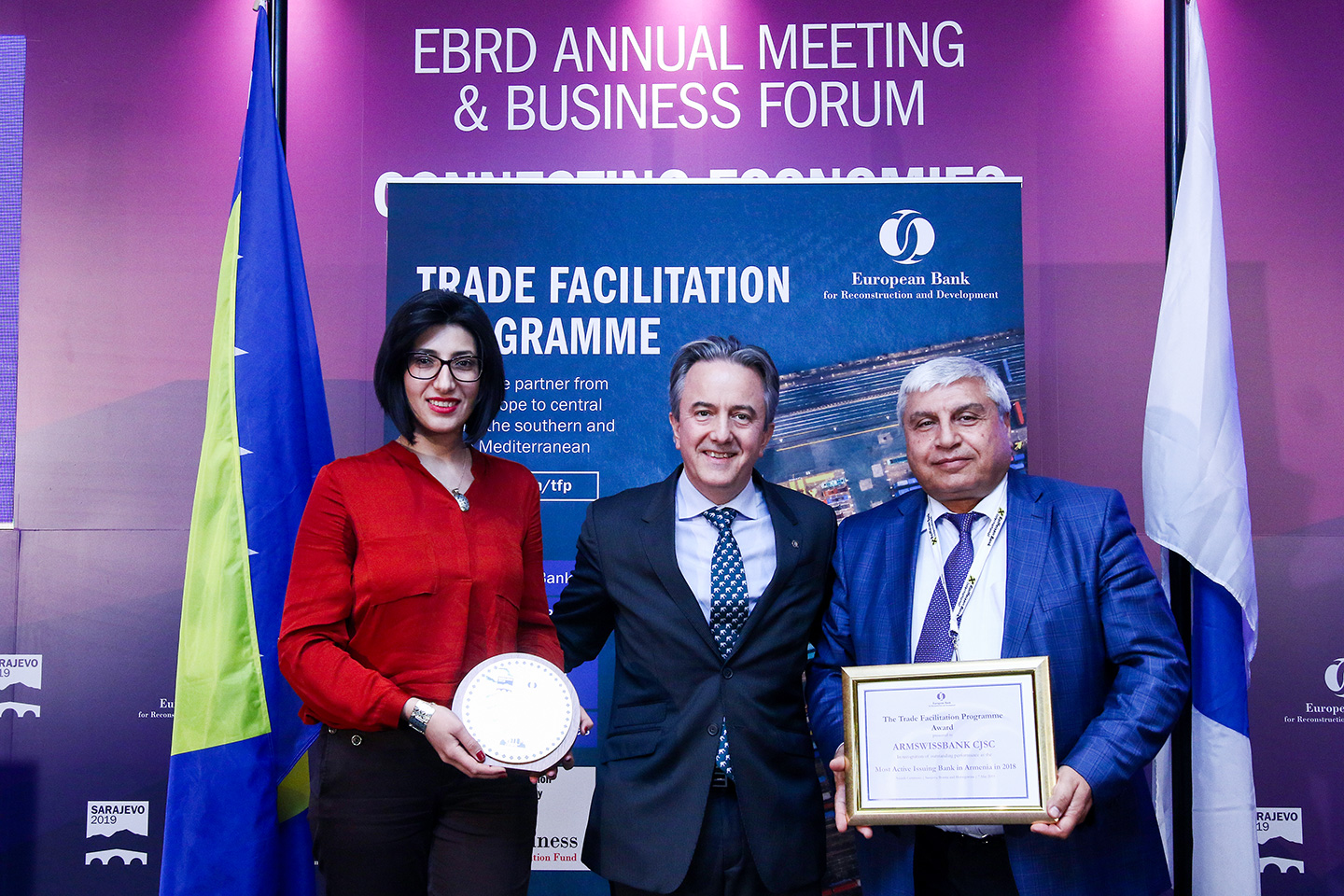 13/05/2019 15:13
ARMSWISSBANK was awarded "most active issuing bank in armenia" by EBRD
ARMSWISSBANK CJSC was awarded the "Most Active Issuing Bank in 2018 in Armenia" by the European Bank for Reconstruction and Development (EBRD), at their annual meeting held in Sarajevo on May 7, 2019.
This award comes to attest the Bank's successful and year by year growing activity within the scope of Trade Finance with EBRD. Currently, ARMSWISSBANK has USD 15 mln limit approved by EBRD. Moreover, the Bank was awarded a status of "Confirming Bank" in July 2014, within the framework of Trade Facilitation Program (TFP).
It is noteworthy to highlight that long before receiving this award, the Bank, as result of its multilateral and effective cooperation with the EBRD, has been granted with two other awards as well, namely;
- "Agent For Change 2018" for its role in supporting green investments in the food industry, as result of its efficient activity in the field of renewable energy and energy efficient equipment introduction.
- For repo transactions amounting AMD 6.6 bln (USD 13.5 mln) within the framework of the Global General Repo Agreement (GMRA) concluded between the Bank and EBRD on January 2018.
The collaboration between ARMSWISSBANK CJSC and EBRD dates back to 2010. The cooperation has developed in a number of directions, particularly, within the scope of SME Lending Program, Trade Finance Program, GCF-GEFF Armenia Energy Efficiency Program and Global Master Repo Agreement (GMRA), which regulates the process of concluding repo transactions with securities in international financial markets.
Ucom
- broadband connection starting at AMD 6,000
AMD Rates
08:58 26/06
Buy
Sell
AMD / USD
476.00
478.00
AMD / EUR
540.00
544.00
AMD / RUR
7.56
7.62
dollars
dollars
BTC/USD
11347.5374639
+0.47%
ETH/USD
314.026458614
+0.25%
BCH/USD
482.579335462
-0.12%
XRP/USD
0.4690931706
+0.08%
LTC/USD
135.523222606
-0.27%
BTC
201,749,990,560
+0.47%
ETH
33,485,386,702
+0.25%
XRP
19,967,699,561
+0.08%
Molybdenum
27183.00
+0.00%
Dow Jones
26548.22
-0.67%
Hang Seng
28221.98
+0.13%
CBA Interest Rates
Refinancing
Refinancing Rate
5.75
+0.00
Lombard Repo
Lombard Repo Rate
7.25
+0.00
Macroeconomy
CEA
Coefficient of Economic Activity
+7.30%
Ind. Prod.
3
Volume of Industrial Production
733.1
+5.60%
Avg. Salary
2
Average salary
176,215
+5.40%
Services
3
Volume of services
737.3
+16.50%
Construction
3
Volume of construction
97.3
+6.10%
1 - mln AMD, 2 - AMD, 3 - bln AMD