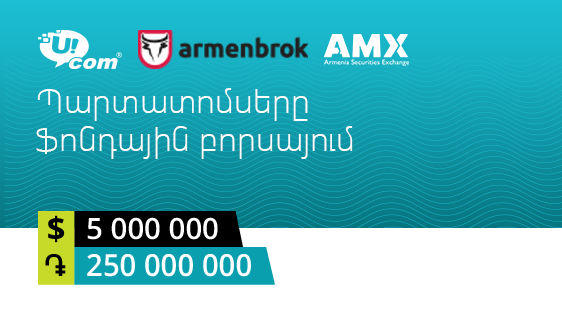 21/08/2019 18:26
First corporate bonds of Ucom allowed to trade on AMX stock exchange
The first corporate bonds of Ucom are allowed to trade on AMX Armenia stock exchange. Currently, the bonds are available to everyone who has not managed to buy them during their placement. It should be noted that on August 16, 2019, Ucom performed the first coupon payments on USD- and AMD-denominated bonds.
"I am pleased to inform that the investors can already sell their bonds or part of them before the maturity date. And our reliable partner, "Armenbrok" investment company, was awarded a status of a market-maker," noted Hayk Yesayan, Co-founder and Director General at Ucom.
"Thus, we have completed the last stage of the placement process. The bonds are already available on the stock exchange, and we are confident that they will become one of the most circulating instruments," said Aram Kaifajyan, Director at "Armenbrok" investment company.
Currently, bonds with a total nominal volume of 5 million USD and 250 million AMD are traded on the stock exchange.
"It is commendable that companies have the courage to attract credit from the public, which is indicative of trust in them. And, it is doubly commendable that the public begins to trust business and make more investments in securities. Thus, we record a very positive dynamics - a growth of issuers, investors and volumes," said Hayk Yeganyan, Director General at AMX Armenia stock exchange.
AMD Rates
09:12 11/12
Buy
Sell
AMD / USD
478.00
479.00
AMD / EUR
528.00
532.00
AMD / RUR
7.48
7.58
dollars
dollars
BTC/USD
7349.08890485
+0.00%
ETH/USD
147.369578521
+0.00%
BCH/USD
208.246711499
+0.00%
XRP/USD
0.2229740668
+0.00%
LTC/USD
44.5634661422
+0.00%
BTC
132,973,496,008
+0.00%
ETH
16,043,476,510
+0.00%
Molybdenum
20062.00
-0.55%
Dow Jones
27881.72
-0.10%
Hang Seng
26436.62
-0.22%
CBA Interest Rates
Refinancing
Refinancing Rate
5.50
+0.00
Lombard Repo
Lombard Repo Rate
7.00
+0.00
Macroeconomy
CEA
Coefficient of Economic Activity
+7.10%
Ind. Prod.
3
Volume of Industrial Production
1,444.4
+9.70%
Avg. Salary
2
Average salary
178,633
+5.90%
Services
3
Volume of services
1,476.8
+15.50%
Construction
3
Volume of construction
251,836
+4.40%
1 - mln AMD, 2 - AMD, 3 - bln AMD