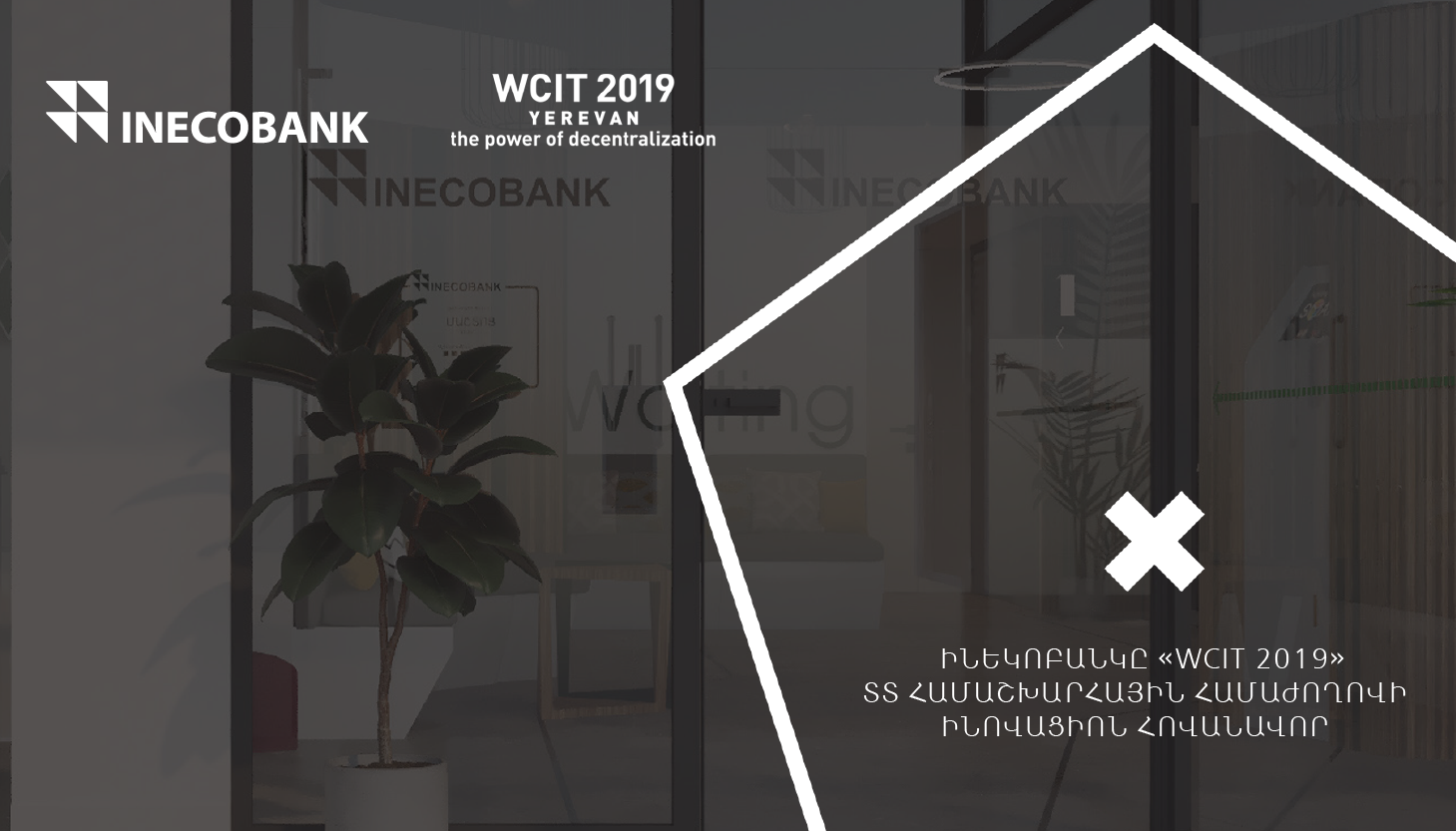 12/09/2019 19:33
Inecobank Innovate Sponsor of WCIT 2019
Today, Inecobank and the Office of the WCIT 2019 IT World Forum issued a joint statement announcing Inecobank as the innovative sponsor of the WCIT 2019 conference.
"Inecobank will sponsor one of the prestigious IT events of the world – "WCIT 2019" congress. As WCIT 2019 innovative sponsor, the Bank aims at boosting the ICT sector in Armenia and supporting to the growth of interest towards Armenia in various international technological platforms. I am convinced that the forum will create favorable prerequisites for attracting new investments, will ensure expansion of partnership and will significantly grow interest towards our country by the international companies," said Aren Naltakyan, Acting CEO of Inecobank.
"One of the most prestigious IT events in the world will take place this year in Yerevan, Armenia. Our country will host ICT giants in October, which is a great opportunity for local companies to discuss the most up-to-date IT topics, build new connections and collaborate with conference partners to implement their boldest innovation solutions, " said Alexander Yesayan, chairman of the WCIT 2019 Yerevan organizing committee, president of the Union of Advanced Technology Enterprise of Armenia (UATE).
The WCIT 2019 IT World Forum will take place in Yerevan on October 6-9 and will host over 2,500 participants from over 70 countries. The conference, headed under the title "The Power of Decentralization: Expectations and Dangers" is hosted in Armenia under the high auspices and support of the RA Government. The event is organized by the Union of Advanced Technology Enterprises.
-----------
Inecobank CJSC is one of the leading banks in the South Caucasus region, focused on individual customers, small and middle market businesses and large corporations offering a full range of banking services including break through and innovative digital banking solutions. For over 23 years the bank has been providing unmatched convenience in Armenia serving more than 500 000 customers and over 200 000 online users.
Inecobank developed and delivered industry-leading digital banking solutions with the purpose of introducing an entirely new culture of banking services.
- In 2009 the Bank digitalized and fully automated the "Point of Sale Loan" product, reducing the loan generation time from 3-4 days to a few minutes.
- In 2012, with the introduction of InecoOnline, the Bank was one of the first to provide 24/7 banking services to its customers.
- In 2014 the Bank launched InecoMobile, its Mobile banking application, which is the most popular banking application in Armenia with over 100,000 users.
- In 2017, the Bank was the first to introduce a fully automated consumer lending solution through its mobile and online applications, which generates consumer loans 24 hours a day, 7 days a week.
- In 2018, the Bank was the first banking institution in Armenia to introduce InecoPay, the cashless payments new system.
- The first full-range digital bank in Armenia, which enables individual customers a 24/7 access to full digital solutions: payments, lending, savings and other related services.
Ucom
- broadband connection starting at AMD 6,000
AMD Rates
09:20 18/01
Buy
Sell
AMD / USD
479.00
480.00
AMD / EUR
530.00
535.00
AMD / RUR
7.77
7.80
dollars
dollars
BTC/USD
8673.50721772
-2.28%
ETH/USD
165.73898062
-1.47%
BCH/USD
331.708983598
-2.02%
XRP/USD
0.2326178884
-0.22%
LTC/USD
57.1719052968
-2.97%
BTC
157,603,801,683
-2.25%
ETH
18,123,971,443
-1.43%
XRP
10,154,649,200
-0.22%
Molybdenum
21164.00
+0.00%
Dow Jones
29348.10
+0.17%
Hang Seng
28795.91
-0.90%
CBA Interest Rates
Refinancing
Refinancing Rate
5.50
+0.00
Lombard Repo
Lombard Repo Rate
7.00
+0.00
Macroeconomy
CEA
Coefficient of Economic Activity
+7.10%
Ind. Prod.
3
Volume of Industrial Production
1,444.4
+9.70%
Avg. Salary
2
Average salary
178,633
+5.90%
Services
3
Volume of services
1,476.8
+15.50%
Construction
3
Volume of construction
251,836
+4.40%
1 - mln AMD, 2 - AMD, 3 - bln AMD