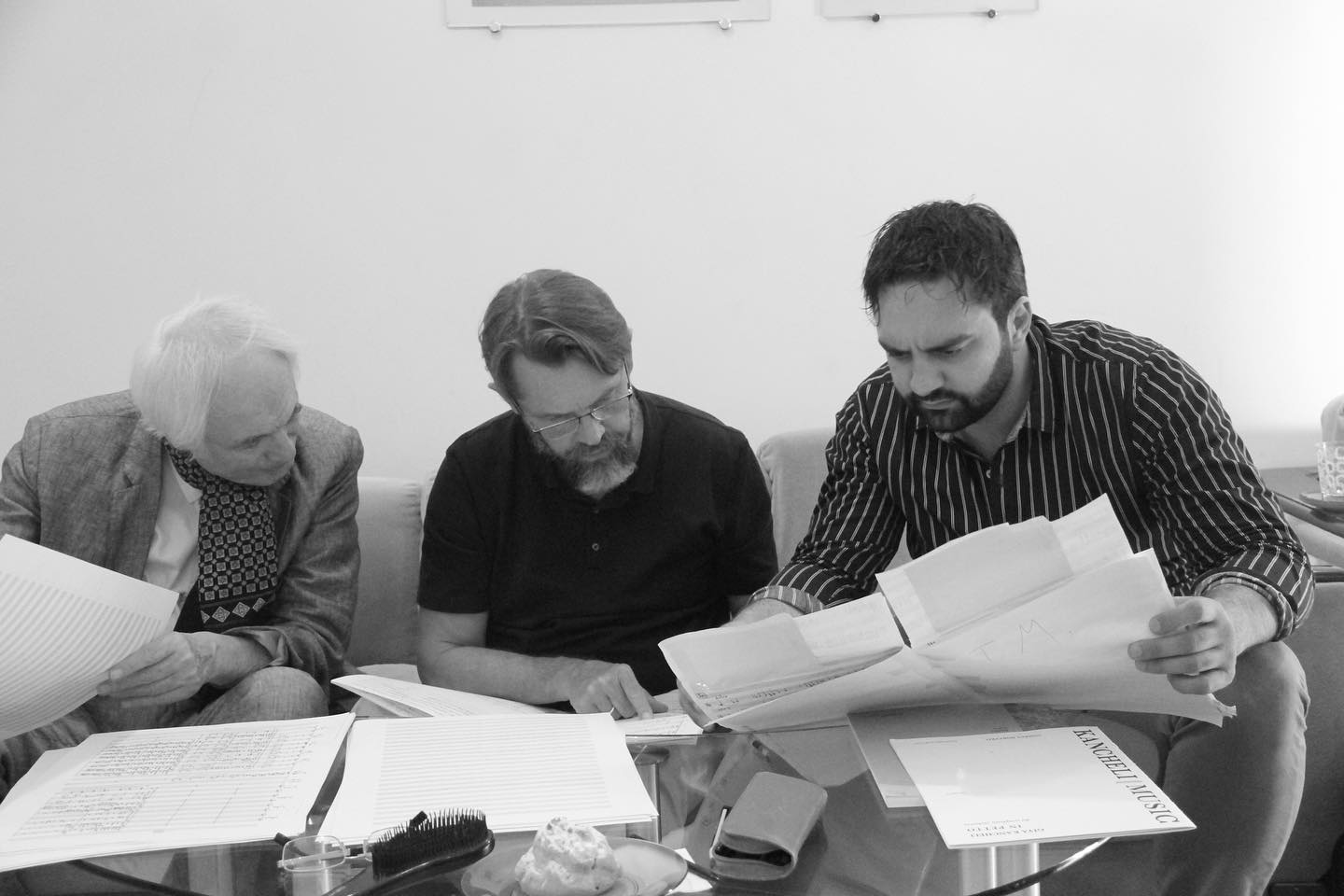 30/09/2019 22:43
Converse Bank and ANPO presented Tigran Mansurian cello concert premiere in Armenia
On September 27, within the framework of Yerevan International Music Festival, the Armenian National Philharmonic Orchestra performed the 4th cello concert of maestro Tigran Mansuryan "Ubi est Abel frater tuus?" ("Where is your brother Abel") for the first time in Armenia. The concert was dedicated to the 80th anniversary of the maestro, with soloist Sevak Avanesyan and conductor Andrey Boreiko, one of the world's leading conductor. Main partner of Yerevan International Music Festival is Converse Bank.
"My concerto for the cello is a one-part piece, consisting of three sub-divisions, based on the slow-fast-slow principle. The world premiere of the concerto was scheduled for April 24. It is the Day of Remembrance of the 1915 Victims for All Armenians, which is demonstrated by "Where's your brother Abel" (Ubi est Abel frater tuus?) headline. This question becomes relevant every time a human hand is raised on another human being. This biblical episode of Abel's assassination by Cain is the first human crime and the symbol of brotherly murder, "said Maestro Tigran Mansuryan, by presenting the concerto.
"This concert is one of the key highlights of the 13th Yerevan International Music Festival. This year the festival will feature classical pieces performed by the most high-ranked soloists in the world and the National Philharmonic Orchestra of Armenia. We are very happy and grateful that Converse Bank backs up Philharmonic Orchestra on this year's festival as well, and supports the successful implementation of our projects, "said ANPO Director Ruzanna Sirunyan.
"During its 13 years of operation, the festival has become one of the most important and awaited musical events in the cultural life of Armenia. Held for the second year in a row with the support of Converse Bank, it shares with its audiences not only well-known classical music pieces, but also be a part of long-awaited music premieres. In particular, last year, in collaboration with the National Philharmonic Orchestra, we were able to present Puccini's "Madame Butterfly" opera, and this year we are happy to present Tigran Mansuryan's 4th cello concert, "said Converse Bank Chief Executive Officer Artur Hakobyan.
It should be noted that the festival will last until October 25. The closing gala concert of the festival will include Gershwin's works, and will be dedicated to the long-term cooperation between the ANPO and Converse Bank.
Ucom
- broadband connection starting at AMD 6,000
AMD Rates
09:13 06/12
Buy
Sell
AMD / USD
477.00
479.00
AMD / EUR
529.00
534.00
AMD / RUR
7.48
7.58
dollars
dollars
BTC/USD
7424.9653481
+1.42%
ETH/USD
148.79822055
+1.73%
BCH/USD
213.386503349
+1.53%
XRP/USD
0.222711019
+3.50%
LTC/USD
44.9057879166
+0.27%
BTC
134,287,269,889
+1.43%
ETH
16,191,515,662
+1.74%
Molybdenum
20723.00
+0.00%
Dow Jones
27677.79
+0.10%
Hang Seng
26498.37
+1.07%
CBA Interest Rates
Refinancing
Refinancing Rate
5.50
+0.00
Lombard Repo
Lombard Repo Rate
7.00
+0.00
Macroeconomy
CEA
Coefficient of Economic Activity
+7.10%
Ind. Prod.
3
Volume of Industrial Production
1,444.4
+9.70%
Avg. Salary
2
Average salary
178,633
+5.90%
Services
3
Volume of services
1,476.8
+15.50%
Construction
3
Volume of construction
251,836
+4.40%
1 - mln AMD, 2 - AMD, 3 - bln AMD