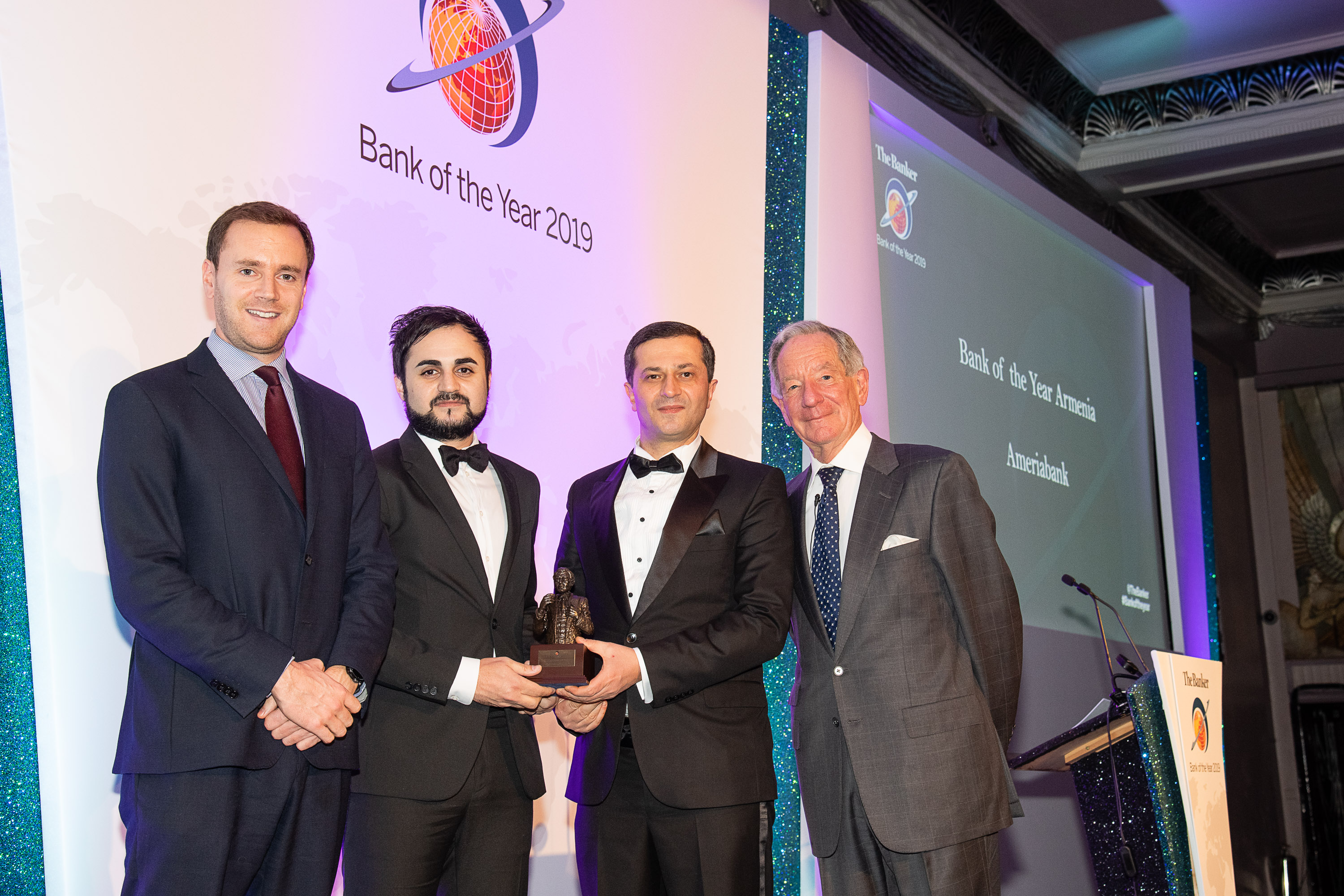 02/12/2019 18:05
Ameriabank Named Bank of the Year 2019 in Armenia
Ameriabank won the "Bank of the Year in Armenia 2019" award by the Banker – a premier publication of Financial Times. The bank is honored with this award for the sixth time, previous awards having been received in 2010, 2013, 2015, 2016, and 2017. Held for the 20th year in a row, The Banker awards are the world's highest standard for recognition of achievements in banking.
The Banker jury was impressed by the efforts made by banks to drive digital transformation around the world and increase efficiency in moving to a new era. This year the awards were announced in 138 countries. The Banker's "Bank of the Year" award continues to be one of the most prestigious in the indsutry.
According to The Banker, in a competitive environment Ameriabank's exceptional growth metrics over the 2018 review period, coupled with the adoption of innovative new products and services, ensured that the bank emerged victorious. At the award ceremony in London the organizers highlighted that Ameriabank won this recognition considering a number of metrics, among them strengthening market position as a major universal bank in Armenia with impressive growth in return on equity fueled by growth of net profit, assets and capital; by the end of 2018 return on equity had increased to 12.6% from 10.2% in 2016. Notably, the bank's net profits in 2018 had been growing by double digits for the third year in a row.
Ameriabank has also worked hard to improve its product offerings. An individual applying for a loan with a value of between 100,000 and 10,000,000 Armenian drams (from $209 to $21,000) can now do so entirely online, thanks to the bank's score modelling system. This offering was highly successful in 2018, accounting for 25% of the bank's consumer loans by total volume. In light of this achievement, Ameriabank made further improvements to the scoring system in order to offer the online loan platform to small and medium-sized enterprises. On the digital banking front, Ameriabank enjoyed considerable transaction growth, with the share of transactions executed through digital or self-service channels (express banking, kiosks, etc.) reaching 77% of the bank's total transactions.
"The factors contributing to our success are good customer experience, up-to-date methods and a professional team," says Artak Hanesyan, CEO at Ameriabank.
Among the winners of the "Bank of the Year 2019" award are such banks as Commerzbank (Germany), Alfa-Bank (Russia), Agricultural Bank of China (China), Santander Group (Western Europe) and other acclaimed financial institutions.
-----------
Ameriabank is a dynamically developing bank and one of the major and most stable financial institutions in Armenia. Ameriabank CJSC is a universal bank offering corporate, investment and retail banking services in a comprehensive package of banking solutions. Ameriabank is the leading bank in Armenia as measured by all key financial indicators (assets, liabilities, loan portfolio, net profit and equity) according to the results of the first 9 months of 2019. For further information, please visit www.ameriabank.am
AMD Rates
09:20 18/01
Buy
Sell
AMD / USD
479.00
480.00
AMD / EUR
530.00
535.00
AMD / RUR
7.77
7.80
dollars
dollars
BTC/USD
8673.50721772
-2.28%
ETH/USD
165.73898062
-1.47%
BCH/USD
331.708983598
-2.02%
XRP/USD
0.2326178884
-0.22%
LTC/USD
57.1719052968
-2.97%
BTC
157,603,801,683
-2.25%
ETH
18,123,971,443
-1.43%
XRP
10,154,649,200
-0.22%
Molybdenum
21164.00
+0.00%
Dow Jones
29348.10
+0.17%
Hang Seng
28795.91
-0.90%
CBA Interest Rates
Refinancing
Refinancing Rate
5.50
+0.00
Lombard Repo
Lombard Repo Rate
7.00
+0.00
Macroeconomy
CEA
Coefficient of Economic Activity
+7.10%
Ind. Prod.
3
Volume of Industrial Production
1,444.4
+9.70%
Avg. Salary
2
Average salary
178,633
+5.90%
Services
3
Volume of services
1,476.8
+15.50%
Construction
3
Volume of construction
251,836
+4.40%
1 - mln AMD, 2 - AMD, 3 - bln AMD