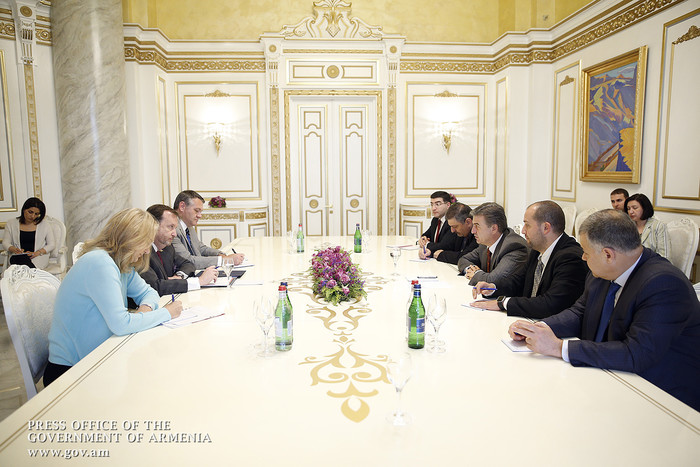 19/05/2017 19:57
Karen Karapetyan received US Ambassador Richard Mills
Prime Minister Karen Karapetyan received today Ambassador Extraordinary and Plenipotentiary of the United States of America to the Republic of Armenia Richard Mills.
The Prime Minister stressed the importance of regular meetings held in this format that provide a good opportunity to exchange views on the prospects for the furtherance of US-Armenia cooperation.
On behalf of US Government, Ambassador Mills congratulated Karen Karapetyan on being reappointed as Prime Minister of Armenia and wished him fruitful work.
The parties went on to exchange views on economic cooperation agenda and joint projects, including investments, improvement of business environment, tax-customs administration and judicial reforms, as well as the cooperation in the fight against corruption.
Karen Karapetyan and Richard Mills took the opportunity to discuss ways of furthering interaction in the fields of energy, tourism, information technology, mining industry and agriculture.
AMD Rates
08:27 16/01
Buy
Sell
AMD / USD
482.00
484.50
AMD / EUR
590.00
596.00
AMD / RUR
8.52
8.64
dollars
dollars
Platinum
15560.19
+164.45
Molybdenum
16000.00
+0.00%
Dow Jones
25803.19
+0.00%
Hang Seng
31904.75
+1.81%
CBA Interest Rates
Refinancing
Refinancing Rate
6.00
+0.00
Lombard Repo
Lombard Repo Rate
7.50
+0.00
Macroeconomy
CEA
Coefficient of Economic Activity
+7.3%
Ind. Prod.
3
Volume of Industrial Production
1,491.375
+12.3%
Avg. Salary
2
Average salary
189.631
+2.6%
Services
3
Volume of services
1,311.188
+14.2%
Construction
3
Volume of construction
324.558
+0.3%
1 - mln AMD, 2 - AMD, 3 - bln AMD