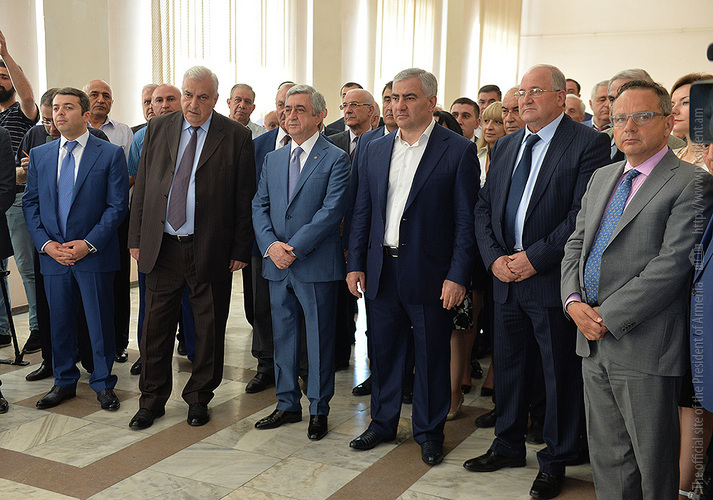 05/06/2017 23:20
Serzh Sargsyan and Samvel Karapetyan Attend Center of Excellence Opening at Polytechnic University
President Serzh Sargsyan visited the National Polytechnic University of Armenia, where he attended the opening of the Center for Excellence. The center was co-founded by Schneider Electric, the world-renowned French company and Russia-based Tashir Group of Companies. The Center of Excellence is being opened in Yerevan in the presence of President of Armenia three months after the signing in Paris of a memorandum of cooperation between Electric Networks of Armenia, a subsidiary of Tashir Group, and the French Company. The memorandum was signed on March 8, 2017 on the sidelines of President Serzh Sargsyan's official visit to France.
Accompanied by RA Minister of Education and Science Levon Mkrtchyan, Tashir Group President Samvel Karapetyan, Schneider Electric Company President for the CIS Johan Vanderplaets, Chairman of the Board of Directors of Electric Networks of Armenia Karen Darbinyan, other officials, and French Ambassador to Armenia Jean-Francois Charpente, the President of the Republic made a tour of the new center, inspecting the work done so far, the conditions and the possibilities of this state-of-the-art high-tech center.
Established on the basis of the National Polytechnic University of Armenia, the center will be the first experience of close collaboration between Schneider Electric and Armenia's scientific community.
As witnessed by the responsible officials, dozens of students and young researchers will have the opportunity to develop their skills and get acquainted with modern technologies in the fields of energy and automation. The new center will also be useful for the practitioners engaged in the field of electricity supply.
During the opening ceremony, a four-party agreement was signed between the representatives of Schneider Electric, Tashir Group of Companies, National Polytechnic University of Armenia and Electric Networks of Armenia.
AMD Rates
09:13 06/12
Buy
Sell
AMD / USD
477.00
479.00
AMD / EUR
529.00
534.00
AMD / RUR
7.48
7.58
dollars
dollars
BTC/USD
7424.9653481
+1.42%
ETH/USD
148.79822055
+1.73%
BCH/USD
213.386503349
+1.53%
XRP/USD
0.222711019
+3.50%
LTC/USD
44.9057879166
+0.27%
BTC
134,287,269,889
+1.43%
ETH
16,191,515,662
+1.74%
Molybdenum
20723.00
+0.00%
Dow Jones
27677.79
+0.10%
Hang Seng
26498.37
+1.07%
CBA Interest Rates
Refinancing
Refinancing Rate
5.50
+0.00
Lombard Repo
Lombard Repo Rate
7.00
+0.00
Macroeconomy
CEA
Coefficient of Economic Activity
+7.10%
Ind. Prod.
3
Volume of Industrial Production
1,444.4
+9.70%
Avg. Salary
2
Average salary
178,633
+5.90%
Services
3
Volume of services
1,476.8
+15.50%
Construction
3
Volume of construction
251,836
+4.40%
1 - mln AMD, 2 - AMD, 3 - bln AMD