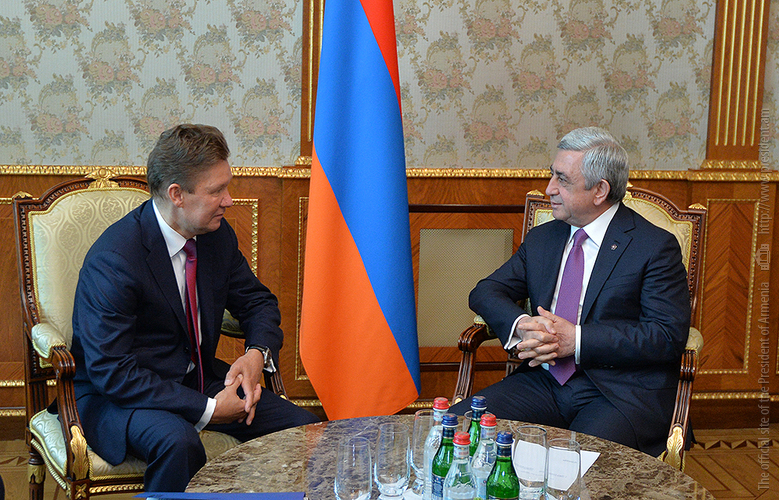 17/06/2017 17:09
President Serzh Sargsyan received Gazprom CEO Alexei Miller
Stressing that this year marks a jubilee for the two countries - the 25th anniversary of establishment of diplomatic relations between the Republic of Armenia and the Russian Federation - the President noted with satisfaction that these 25 years proved to be years of ever strengthened allied partnership in all directions.
The President singled out Gazprom's important role as for the dynamic development and strengthening of the Armenian-Russian interstate relations. Serzh Sargsyan highly appreciated Gazprom's programs implemented in our country, which directly influence the development of other sectors.
Thankful for the reception, Alexei Miller introduced his company's current activities, its contribution to improving Armenia's energy security and development programs, including those investment projects implemented by means of Gazprom-Armenia, which boast a strong welfare component.
The Chairman of the Board of Directors of Gazprom briefed President Sargsyan on the progress in one of the major projects implemented with the assistance of Gazprom-Armenia on Tsarav Akhbyur Street of Yerevan, namely the construction of a training complex under the Gazprom for Children program.
Alexei Miller assured that this exclusively socially oriented and multifunctional complex, which features a kindergarten, a school, a swimming pool, an ice rink and a number of sports halls, will be complete by next yearend.
Stressing the importance of Gazprom's greater involvement in the Armenian economy, as well as its commitment to implementing infrastructure projects in our country, Serzh Sargsyan wished them every success in the implementation of all the proposed programs.
AMD Rates
09:13 06/12
Buy
Sell
AMD / USD
477.00
479.00
AMD / EUR
529.00
534.00
AMD / RUR
7.48
7.58
dollars
dollars
BTC/USD
7424.9653481
+1.42%
ETH/USD
148.79822055
+1.73%
BCH/USD
213.386503349
+1.53%
XRP/USD
0.222711019
+3.50%
LTC/USD
44.9057879166
+0.27%
BTC
134,287,269,889
+1.43%
ETH
16,191,515,662
+1.74%
Molybdenum
20723.00
+0.00%
Dow Jones
27677.79
+0.10%
Hang Seng
26498.37
+1.07%
CBA Interest Rates
Refinancing
Refinancing Rate
5.50
+0.00
Lombard Repo
Lombard Repo Rate
7.00
+0.00
Macroeconomy
CEA
Coefficient of Economic Activity
+7.10%
Ind. Prod.
3
Volume of Industrial Production
1,444.4
+9.70%
Avg. Salary
2
Average salary
178,633
+5.90%
Services
3
Volume of services
1,476.8
+15.50%
Construction
3
Volume of construction
251,836
+4.40%
1 - mln AMD, 2 - AMD, 3 - bln AMD